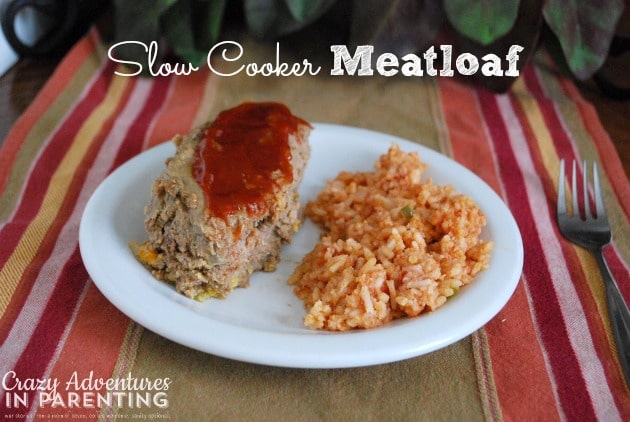 I've been quite obsessed with my Meat Monster meatloaf recipe for years, now. But we're doing a lot more with our slow cooker nowadays, and I wondered if I could make this in my Ninja?
And so, I did.
And it was awesome and delicious and practically falling apart and OhMyFreakingGaw I want to eat it all day, every day. Since first creating it, I've changed the recipe (again) to make it even MORE awesome (if that's possible).

Slow Cooker Meatloaf
This meatloaf prepared in the slow cooker is savory and sweet, chock filled with veggies and love.
Ingredients
3 diced bell peppers - I personally love adding color, so I choose red, orange, and green
2 diced onions
5 ribs of celery, diced
8 cloves of garlic, pressed or minced
3 or so tablespoons of butter
fresh ground salt and pepper
1 tablespoon Worcestershire sauce
1 teaspoon ground nutmeg
1 teaspoon cayenne pepper (or chili powder)
1¼ cups of ketchup (will be split into ½ cup and ¾ cup)
½ cup organic milk
1 - 2 cups seasoned breadcrumbs
1 pound of lean ground beef
1 pound of ground turkey
1 pound ground pork
3 whole organic eggs
2 tablespoons raw honey
hot sauce (optional)
Instructions
Dice up vegetables as finely as you can, the smaller the better (if you have veggie haters in the house, so perhaps the kids won't see you snuck vegetables in it and attempt to pick it out of your beautifully made meatloaf later, because you failed to chop them fine enough). Ahem.
Over medium-high heat, melt a couple pats of butter, and sauté your finely chopped vegetables.
After the veggies begin to soften and the butter begins to brown, season the vegetables with finely ground salt and pepper, Worcestershire, nutmeg, garlic, and cayenne.
Sauté for a few more minutes then add about ½ cup of ketchup; mix well and continue to cook, stirring thoroughly for a few more minutes.
Remove from heat, allowing the mixture to cool for a couple of minutes. (I cooked the veggies in my Ninja, so I turned it off at this point).
Add about ½ cup of milk to the mixture and stir until well combined, then add 1 cup of breadcrumbs to start. It'll need to be paste-like, so if it isn't, continue to add bread crumbs a little at a time, mixed thoroughly in between, until it's the way we need it to be; let it sit and cool some more.
In a mixing bowl nearby, whisk the eggs and add all 3 meats the bowl, massaging until it's thoroughly combined.
Add the meat into the vegetable mixture into the slow cooker and mix really REALLY well (I apologize in advance if your arms are getting tired, but trust me, it's worth it!)
Cover your slow cooker with the lid and set it on high. It will be to temperature (180 degrees) in about 2 or so hours.
About an hour or so before serving, mix together ¾ cup of ketchup with about 2 tablespoons raw honey in a small measuring cup and pour over the meatloaf like a glaze; return the lid to the slow cooker and continue to cook.

Do you see all those ridiculously delicious vegetables in there? DUDE. So so good. (Shoosh, veggie haters. They're pretty and awesome and tasty.)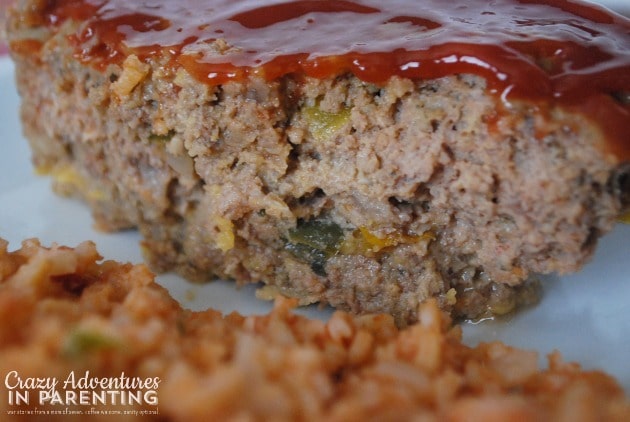 Choosing to make this in the slow cooker made this meatloaf even awesomer (and easier). We paired it with homemade mashed red potatoes one night, and spanish rice for lunch the next day. The kids sliced their meatloaf and placed it on buns for school lunches, too. YES!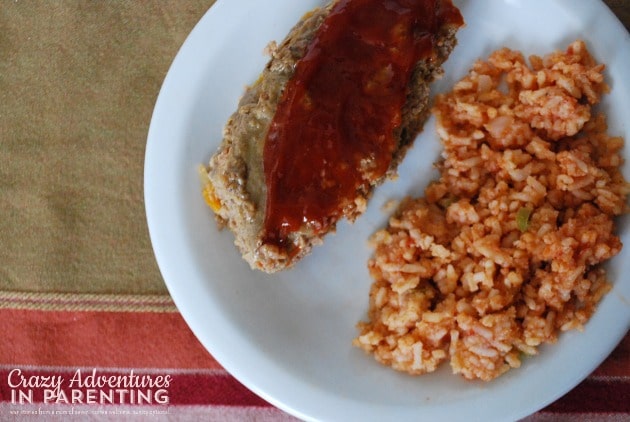 What do you think? Have you ever cooked a meatloaf in a slow cooker before? Do you think this would go over well with your family, too? Be sure to check out my full list of recipes and my Operation Awesome School Lunch page for great school lunch ideas.
Disclosure: This dish was prepared in my Ninja Cooking System a product sent to me to try, and I am so freaking in love with it. Beware, many more ninja cooking system recipes with this forthcoming.
Current ninja cooking system recipes: The BEST Homemade Chili Recipe
Slow Cooker Potatoes au Gratin
Slow Cooker Overnight Breakfast Casserole
Crock Pot Spinach Artichoke Dip Lasagna
Knock Your Socks Off Pork Carnitas
Slow Cooker Barbecue Chicken
Slow Cooker Chili Tater Tot Hot Dog Casserole