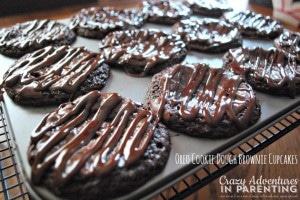 Oreo Cookie Dough Brownie Cupcakes
Author: Lisa Douglas
Prep time: 10 mins
Cook time: 15 mins
Total time: 25 mins
A fusion of two separate cookies and brownies into mega-stuffed cupcakes, these Oreo Cookie Dough Brownie Cupcakes are TO DIE FOR!
1 package Immaculate Baking Gluten-Free Chocolate Chunk Cookies
1 package Oreo-type sandwich creme cookies (we love Newman O's or Back to Nature)
1 package of your favorite brownie mix (we love Ghirardelli's Ultimate Fudge)*
Hot fudge sauce or caramel sauce
*ingredients needed for your favorite brownie mix - we needed one egg, water, and oil.
Muffin cups (optional, but recommended)
Spray the muffin pan both in the wells and on top, as the brownies will spread (spray the paper cups if you use them, and still spray the top of the muffin pan, too)
Massage each cookie dough ball to fit the bottoms of the muffin pan; place gently into the sprayed well.
Layer one Oreo creme cookie on top without pushing down.
Mixing together whatever ingredients you need for your brownie mix, and, using a tablespoon, gently spoon overtop the brownie batter.
If you're using a standard muffin pan, the muffin wells will fill up almost to the top.
Bake at 350 for 15 or so minutes, keeping an eye on the brownies on top - they will be fudgy and soft, but crisp around the edges. Do not overbake.
Set them on a baking rack to cool - drizzle with hot fudge sauce or caramel.
Recipe by
Crazy Adventures in Parenting
at http://crazyadventuresinparenting.com/2014/03/oreo-cookie-dough-brownie-cupcakes.html