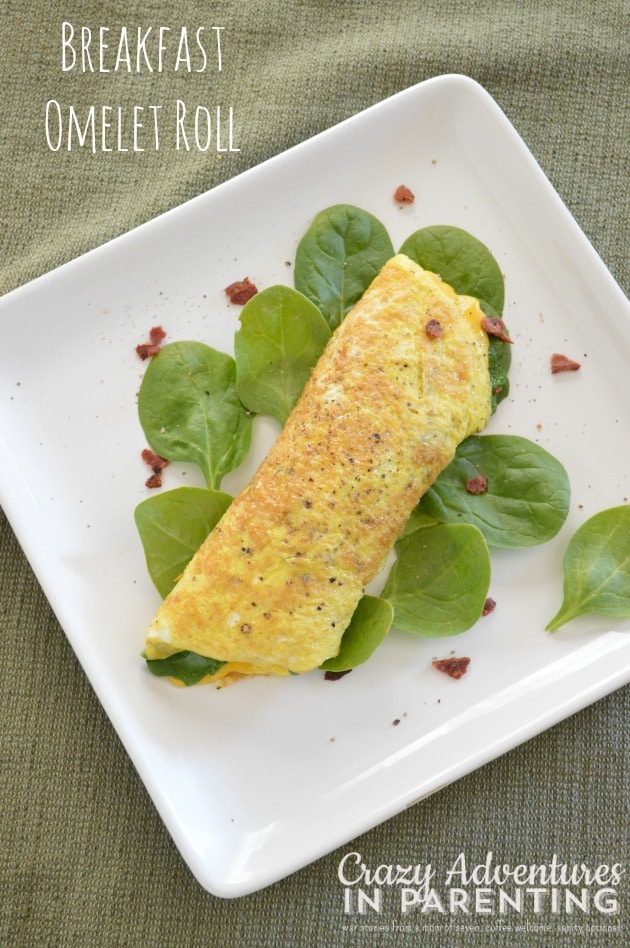 Author: Lisa Douglas
This omelet roll recipe is for a single serving, but you could easy double it, quadruple it (or more) to serve a crowd.
2 Great Day Farms eggs
2 cooked strips of bacon, crumbled
2 slices of cheese, cheddar preferred (or ½ cup of shredded cheese)
handful of raw spinach
couple slices of sliced turkey or chicken (we used lunch meat)
fresh ground salt and pepper
garlic (optional)
(You do not have to bake this to serve, but, should you want to, preheat your oven here at 350 degrees.)
Spray your omelet pan with cooking spray and dab with a little bit of butter, for extra non-stickness. (If you're choosing to add garlic, add it to the butter here to heat up.)
Whisk together both your eggs until really really frothy.
Once the pan is hot and sizzly, pour the whisked egg into the pan, swirling until the bottom of the pan is fully covered and even; season with salt and pepper
Once bubbling and cooked on all edges, flip over with a spatula; season again, and turn off the burner.
Remove the cooked egg from the pan and onto a plate, laying flat.
Start layering the ingredients onto the egg - cheese first (to melt), then bacon, spinach, finally chicken/turkey over top.
Pinching tightly at one end, roll as tight as you can the egg over top the mixture, forming a roll, until you get all the way to the other side.
From here, you can choose to bake it in your toaster or oven in a pie plate for a couple minutes, to really seal together all the flavors.
Serve seam side down on a bed of spinach or over hash browns (or, ooh, even Potatoes O'Brien) and season with salt and pepper gently again over top.
Recipe by
Crazy Adventures in Parenting
at http://crazyadventuresinparenting.com/2014/05/breakfast-omelet-roll.html