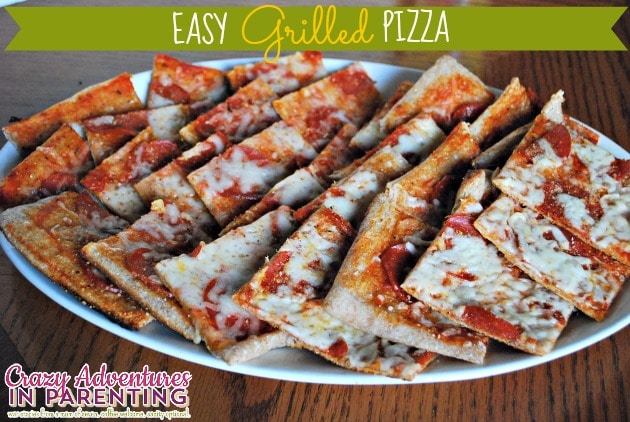 Easy Grilled Thin Crust Pizza (Great for School Lunches!)
Author: Lisa Douglas - CrazyAdventuresinParenting.com
Prep time: 10 mins
Cook time: 10 mins
Total time: 20 mins
This easy-to-make grilled pizza is such a fun and fast dinner, you won't believe it isn't take out!
4 cans prepared pizza dough
2 jars of pizza sauce
2 cups (at least) of mozzarella cheese
grated parmesan
fresh ground salt and pepper
pizza toppings of your choice (we chose turkey pepperoni)
Tools needed:
metal baking sheets (preferably ones without handles)
cooking spray
large tin foil
small, hand-held rolling pin
basting brush
pizza cutter
Lay your foil out onto the baking sheets, and spray with cooking spray.
Open up one can of dough at a time, and roll out onto the foil, until thin and even, as wide as you can go without going over the foil.
Using a basting brush, baste the pizza sauce onto the dough (even the edges).
Grind some salt and pepper onto the sauce, lightly.
Next, lay your pizza toppings on (in our case, the pepperoni), and cover with both cheeses.
Finally, grind a teeny tiny bit more seasoning on top.
Slide the foil onto the grill from the baking sheets with only minimal burners going set to "low." (We have a five-burner grill, and we only light two burners.)
Cover the grill, and let cook for about five minutes.
You'll notice the cheese will be melted, but the dough is not ready until slightly blacked on the bottom with brown, crisp edges - about 8-12 minutes.
Slide the foil back onto the baking sheets to bring back inside - slice with the pizza cutter and serve.
Recipe by
Crazy Adventures in Parenting
at http://crazyadventuresinparenting.com/2013/09/easy-grilled-thin-crust-pizza-great-school-lunches.html