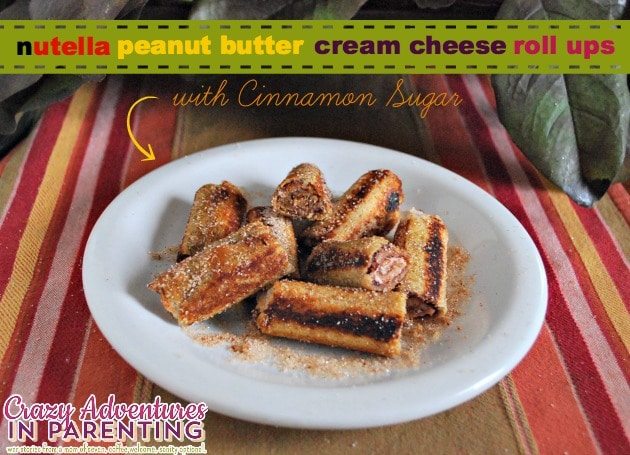 Nutella Roll Ups with Peanut Butter, Cream Cheese, and Cinnamon Sugar
Author: Lisa Douglas - CrazyAdventuresinParenting.com
These roll ups are filled with Nutella and Peanut Butter or Nutella and Cream Cheese, and packed with flavor and yum!
soft bread slices (as many as you'd like to make)
Nutella
Peanut Butter
Cream Cheese
cinnamon & sugar mixed on a plate
butter
sharp knife
teaspoons & butter knives
rolling pin
Using the sharp knife, cut the crusts off of each slice of bread.
Using your roller, flatten your bread slices out, one-by-one, going in all directions until well-flattened.
Place spoons in each filling - serve a half-teaspoonful of Nutella or other filling in the middle of the bread; spread onto the bread with a butter knife.
Repeat with additional fillings using different knives for different combinations.
Roll up one end to the other, as tightly as you can, and press the end to seal it shut.
Heat a skillet on medium heat; melt butter into the skillet.
Roll each roll up around in the butter, until well coated.
Once browned and toasty on all sides of the roll up, immediately transfer the roll ups to the cinnamon sugar plate, and roll around in the cinnamon sugar until coated nicely.
You can choose to cut them in half or keep them whole, but let them cool a bit before serving or packing in lunch containers.
Recipe by
Crazy Adventures in Parenting
at http://crazyadventuresinparenting.com/2013/09/nutella-roll-ups-peanut-butter-cream-cheese-cinnamon-sugar.html