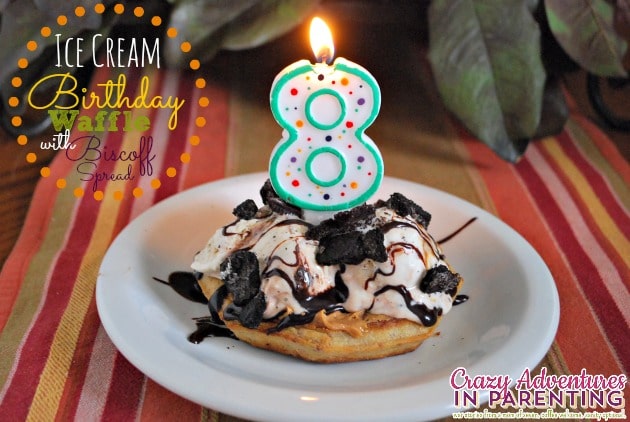 Ice Cream Birthday Waffle Sundae with Biscoff Spread #EggoWaffleOff
Author: Lisa Douglas - CrazyAdventuresinParenting.com
Prep time: 5 mins
Total time: 5 mins
Celebrate a loved one's birthday with a fantastic start with these birthday ice cream waffles!
Eggo® Cinnamon Brown Sugar Thick & Fluffy waffles
Breyers BLASTS!® Girl Scout Cookies® Samoas®
Breyers BLASTS!® HEATH® English Toffee
Biscoff Spread
Chocolate Syrup
OREO Cookies, crumbled
Toast your waffle in the toaster until it's browned and somewhat crisp.
Immediately move it to the freezer to cool down while you take out your ice cream to soften.
Whip the Biscoff Spread around a bit, so it becomes fluffy and easier to spread.
Once the waffle is sufficiently cooled off, place it on a plate (with a dollup of chocolate syrup on the plate to hold it in place) and spread the Biscoff Spread on it.
Using an ice cream scoop, scoop half a scoop of ice cream from the Girl Scout Cookies® Samoas® and fill the rest of the scoop with HEATH® English Toffee; continue doing this until you've filled 3-4 scoops onto the waffle. (They mix together sooo well!)
Drizzle the chocolate syrup onto the ice cream, then sprinkled the OREO cookies on top.
Top with your candle immediately and get ready to sing!
Recipe by
Crazy Adventures in Parenting
at http://crazyadventuresinparenting.com/2013/09/ice-cream-birthday-waffle-sundae-biscoff-spread-oreos-eggowaffleoff.html