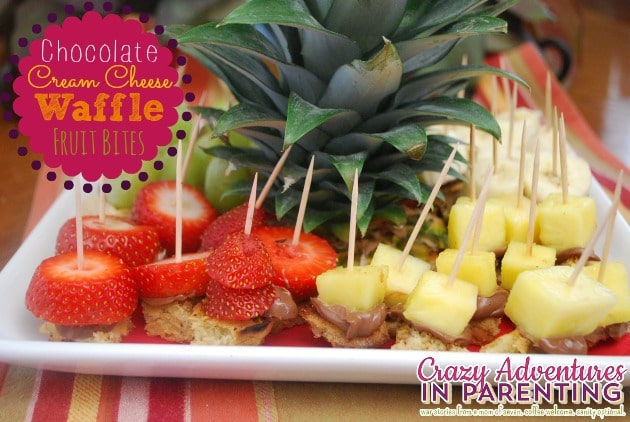 Chocolate Cream Cheese Waffle Fruit Bites #EggoWaffleOff
Author: Lisa Douglas
Prep time: 15 mins
Total time: 15 mins
The fun chocolate cream cheese waffle fruit bites are the perfect complement for your appetizer table.
Eggo® Thick & Fluffy Cinnamon Brown Sugar Waffles
Philadelphia Snack Delights milk chocolate cream cheese
fruit of your choice (I used bananas, strawberries, pineapple, and grapes)
toothpicks
Toast your waffles.
Dice up all of your fruit into bite sized pieces.
Spread a little bit of the chocolate cream cheese onto the fruit, then press into the waffle, and finish with the toothpick on top. (You might want to skewer the fruit first to spread the chocolate cream cheese on - you decide.)
Press down until the toothpick goes into the waffle firmly and can stand on its own.
Arrange on a platter or tray - chill until serving time or serve immediately.
Recipe by
Crazy Adventures in Parenting
at http://crazyadventuresinparenting.com/2013/09/chocolate-cream-cheese-waffle-fruit-bites-eggowaffleoff.html