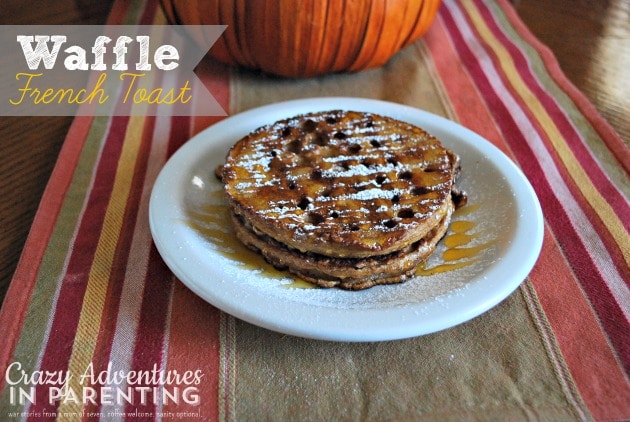 Waffle French Toast #EggoWaffleOff
Author: Lisa Douglas
Prep time: 5 mins
Cook time: 5 mins
Total time: 10 mins
An easy way to dress up waffles and make 'em fancy and more hearty.
2 Eggo® Nutri-Grain® Whole Wheat Waffles
1 egg
1/4 cup of milk
1 tbsp flour
1/2 teaspoon cinnamon
1/2 teaspoon vanilla extract (optional)
powdered sugar
syrup or honey
Toast your waffles lightly in the toaster - just enough to make them crisp but not brown.
Whisk your egg well, then add the milk, flour, cinnamon, and vanilla (if desired); beat together until frothy and well combined.
Lay your waffle into the egg/milk mixture, let it sit for about 20 seconds; flip to other side, let sit.
Spray your pan with cooking spray and add a pat of butter.
Flip your waffle one more time in the egg/milk mixture, and be sure to have plenty of the mixture in each of the squares.
Gently lay the waffle into the melted butter in the pan.
Place the other waffle in the egg/milk mixture while the first one cooks.
After about a minute, flip the waffle over in the pan, ensuring it's crisp and done enough (no ooey gooey parts left).
Flip your second waffle in the egg/milk mixture while the first waffle cooks on its second side.
Once you're satisifed the waffle in the pan has been browned enough and cooked completely, place it on a nearby plate.
Place another pat of butter in the pan to melt; flip your second waffle in the egg/milk mixture one more time, making sure you get as much in the squares as possible.
Lay the second waffle in the melted butter gently, emptying the egg/milk mixture onto the top of the waffle, scraping the bowl.
Continue to cook this second waffle like you did the first, waiting until cooked thoroughly on each side before removing.
Serve warm on a plate with some sprinkled powdered sugar on top and some syrup or honey drizzled over top.
I created this recipe to make it easily double-able. For 1 person you'll need 2 waffles and 1 egg, along with the remainder of the ingredients. This ratio makes it easy to double so you can easily make these to order per person.
Recipe by
Crazy Adventures in Parenting
at http://crazyadventuresinparenting.com/2013/10/waffle-french-toast-eggowaffleoff.html