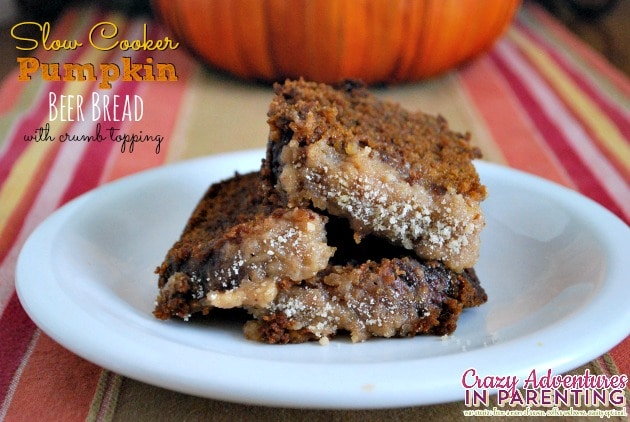 Overnight Slow Cooker Pumpkin Beer Bread with Crumb Topping
Author: Lisa Douglas
Prep time: 25 mins
Cook time: 8 hours
Total time: 8 hours 25 mins
This easy slow cooker pumpkin beer bread recipe makes a LOT of pumpkin bread that can be refrigerated or frozen for later.
1 (15 ounce) can pumpkin puree (but I'm wanting to try fresh pumpkin next time)
4 eggs
¼ cup softened butter
¼ cup unsweetened applesauce
½ cup milled flax seed (optional)
1 cup pumpkin ale (or apple ale. Or water if you'd like instead)
1½ cups sugar
1½ cups light brown sugar
2 tbsp maple syrup
3½ cups flour
2 teaspoons baking soda
1½ teaspoons fresh ground salt
*1 teaspoon ground cinnamon
*1 teaspoon ground nutmeg
*½ teaspoon ground cloves
*¼ teaspoon ground ginger
*These are guesstimations, I like my pumpkin bread spicy and add probably a lot more than this!
For the crumb topping
3/4 cup flour
3/4 cup sugar
1/2 stick of cold butter, cut into pieces
Spray your slow cooker/crock pot with cooking spray.
In a large bowl, mix together pumpkin, eggs, butter, applesauce, beer, both sugars and syrup until well blended.
Add in the baking soda, salt, cinnamon, nutmeg, cloves and ginger (I add plenty of the spices to 'pepper' the mixture well).
Add in one cup of flour at a time, mixing fully before adding another cup.
Mix your crumb topping together with a pastry blender, two knives, or using your hands, until it forms the crumble.
Pour into the sprayed slow cooker/crock pot.
Sprinkle generously the crumb over top.
Bake on low overnight.
Bread is done when a toothpick/skewer/knife inserted in center comes out clean.
Recipe by
Crazy Adventures in Parenting
at http://crazyadventuresinparenting.com/2013/10/overnight-slow-cooker-pumpkin-beer-bread-crumb-topping.html