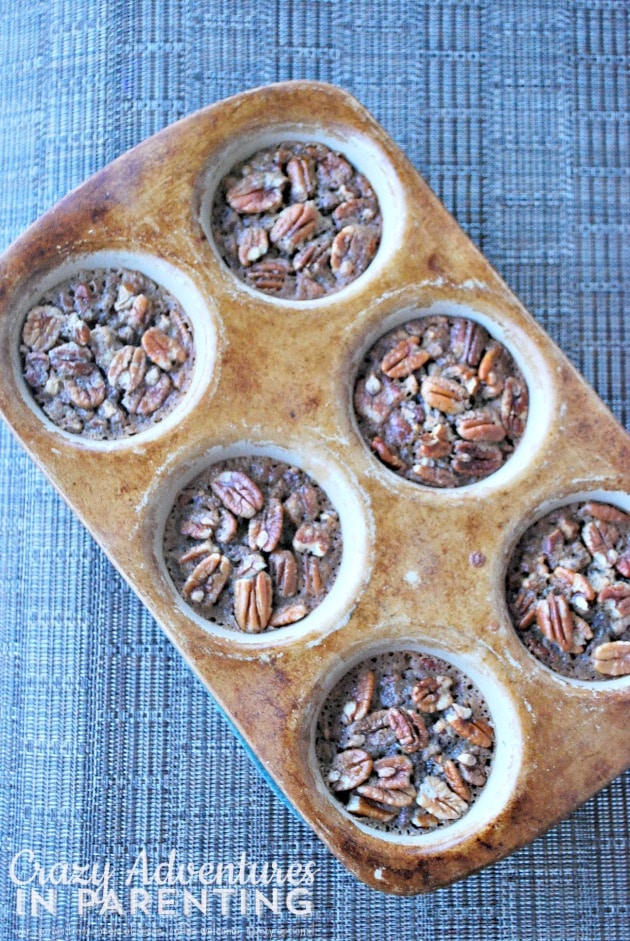 Author: Lisa Douglas
Prep time: 10 mins
Cook time: 40 mins
Total time: 50 mins
This corn syrup-free recipe is for the topping only, so it can be used for anything you'd like, not just pie!
2 organic eggs
½ cup organic butter or vegetable spread, room temperature (or softened)
1 cup organic light brown sugar
¼ cup organic cane sugar (or white)
½ teaspoon cinnamon
1½ teaspoons pure vanilla extract
1 tablespoon organic milk
1 tablespoon flour
¾ chopped pecans
halved pecans to top
Preheat your oven to 400 degrees.
Lightly spray your muffin pan with cooking spray. (A stone muffin pans works the best.)
In a medium batter bowl, whisk together the eggs until frothy; stir in the butter and beat until well mixed (might look somewhat separated, though).
Stir in the sugars one at a time, as well as the cinnamon, mixing well in between.
Add in the vanilla, then the milk, blending until thoroughly combined.
Add in the flour gently, to ensure it doesn't splatter all over the side of the bowl.
Pour the filling into each muffin well to about ¾ full.
Top with a few of the halved pecans.
Bake for 6-7 minutes at 400 degrees; reduce heat.
Bake at 350 degrees for about 30 minutes, or until cooked through. (It should sizzle and have formed cracks around the nuts and look solid.)
Let cool for about 10 minutes before attempting to remove from the pan.
Using a butter knife, lightly separate the filling from the end of the muffin pan all the way around.
Using a spoon, spoon out the topping into a bowl, or directly onto your dish.
This can be kept in the fridge for 2-3 days, covered. It can also be reheated for another dish.
Recipe by
Crazy Adventures in Parenting
at http://crazyadventuresinparenting.com/2013/10/pecan-pie-topping-recipe.html