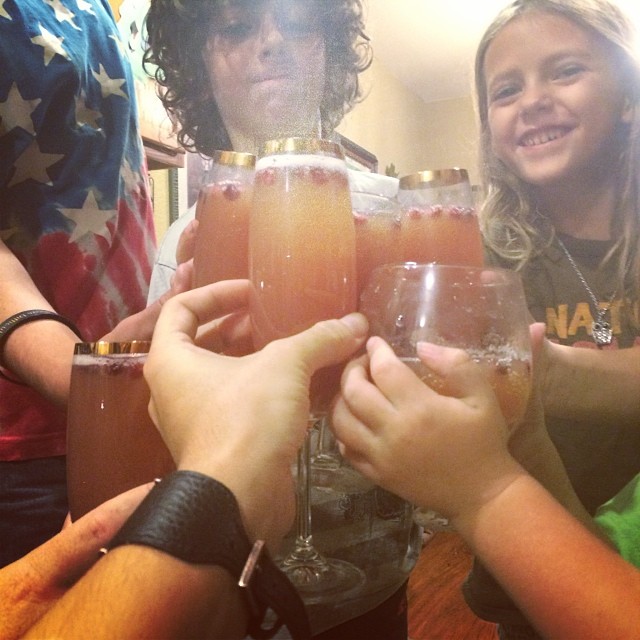 Pomegranate Orange Cranberry Sparkling Cocktail
Author: Lisa Douglas
Prep time: 20 mins
Cook time: 10 mins
Total time: 30 mins
This festive Pomegranate drink can be made alcoholic or no, and is a perfect addition to your New Year's festivities or holiday gathering. Cheers!
1 cup Pomegranate juice or orange juice (your choice)
1 cup unsweetened cranberry juice
Orange Simple Syrup (see full recipe below)
Juice of one large orange (omit if you use orange juice)
Chilled champagne or sparkling cider
Pomegranate seeds for garnish
Orange Simple Syrup
1 orange, zested
1 cup sugar
1 cup water
Using a zester (or peeler, if you don't have a zester), zest the orange rind into a small sauce pan. (Note: you only want the orange portion of the rind only, not the white part, as it's bitter.)
Combined with the orange rind, add the sugar and water.
Bring to a boil, then reduce to medium-low heat.
Stir with a wooden spoon until sugar is completely dissolved and it begins to thicken slightly.
Continue to heat for about five minutes.
Remove from heat and allow syrup to cool completely.
Drain through a fine strainer, to remove orange rind and discard; chill remaining simple syrup in the fridge until you are ready to use it.
To Assemble the Drink
In a pitcher combine the orange simple syrup, pomegranate/orange juice, cranberry juice and optional fresh-squeezed orange juice.
Stir to combine completely, and if not using right away, chill until ready to serve.
To serve cocktail
Fill the flutes/glasses about a ⅓ of the way full with chilled juice mixture.
Top with champagne or sparkling juice.
Add a few pomegranate seeds to each champagne flute or glass.
Don't worry, at first the seeds will sink, but then they will rise to the top.
Recipe by
Crazy Adventures in Parenting
at http://crazyadventuresinparenting.com/2014/01/pomegranate-orange-cranberry-sparkling-cocktail-or-mocktail.html