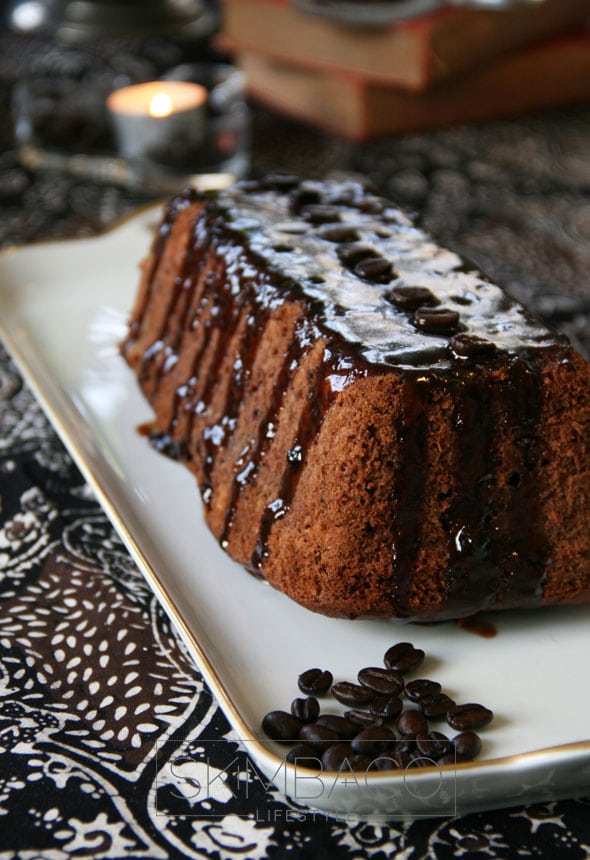 Banana Mocha Coffee Cake with Mocha Topping
Author: Katja Presnal
Prep time: 10 mins
Cook time: 40 mins
Total time: 50 mins
Makes two loafs or one large Bundt pan.
2 ripe bananas
4 oz butter
1 cup strong coffee
2 eggs
1 cup sugar
2 cups flour
¼ cup cocoa powder
2 tsp baking powder
2 tsp vanilla sugar
2 tsp cinnamon
1 tsp ginger
Mocha topping ingredients
3 tbsp butter
2 tbsp strong coffee
1 cup powdered sugar
1 tbsp cocoa powder
1 tsp vanilla sugar
Preheat oven to 350F
Prepare two loaf-sized pans or one large Bundt pan with butter and flour.
Smash your bananas in a small bowl.
Brew some strong coffee; set aside.
Melt the butter and mix with coffee.
Whip the eggs with sugar in a small bowl.
Mix the dry ingredients together, then blend with the egg-sugar mix and bananas carefully.
Pour into the prepared pan/s.
Bake in 350F 30-50 min depending on your oven and the size of the pan.
For the topping
Melt your butter in a small pan.
Once melted, mix in all of the ingredients.
Once your cake is ready, drizzle on the top of the coffee cake.
Recipe by
Crazy Adventures in Parenting
at http://crazyadventuresinparenting.com/2014/01/have-coffee-with-skimbaco-lifestyle-and-this-amazing-mocha-coffee-cake-recipe.html