Despite our Steelers not playing in the Super Bowl this year, we're still die-hard football fans, and we planned to celebrate and watching football nonetheless. For the big game Sunday, we wanted to entertain with some easy-to-eat appetizers for dinner (easy for little fingers as well as for us adult folks, too). We stuck with some tried-and-true winning appetizer recipes, all while incorporating some new favorites into the mix, to make our party a success.
One of our new favorite recipes is for Chicken Bacon Ranch Quesadillas, inspired by the dish you'll find on a Chili's menu. We discovered this recipe while we were looking for a house here in Texas; the hotel we stayed at had a Chili's in the same parking lot. It was nice to be able to walk over there and drown our house-hunting sorrows in El Presidente Margaritas and Tex-Mex and schlep back to our hotel room in hopes that the next day would be better. You remember our saga well.
Weekend after weekend, we drove the six hour drive to look for a house, and with every rejection and failure, our dinner trips to Chili's were failing to solve our issues, only amplify them. Eating out was beginning to put on the pounds, as well as the stress. I truly loved that delicious dish, but one night, long after the moving woes had ceased and we were brainstorming new dinner ideas in our new kitchen, deciding to create this recipe myself, I Googled and gasped to find my beloved recipe had a whopping 1480 calories and 3900 grams of sodium! Needless to say, I suddenly know where that "moving" weight came from! I knew I could make this from home cheaper and way better for you.
As you know, I make many things from scratch, healthifying them as much as possible. For this recipe, we chose to create our own ranch dressing (and you can, too, whether from scratch or from a mix – and for this recipe, we used a mix). I'm not sure what Chili's used inside their quesadillas, but we decided to finely chop up grilled chicken and bacon finely (in order to use less but still offer the flavor), as well as use low-fat milks and cheeses, while only lightly spraying our skillet with low-fat cooking spray. This way, we are able to bring down the calorie count considerably while still making it just as delicious.
Normally, to further healthify this dish, we would choose to use turkey bacon, but for our big game shindig, we were asked to purchase and try for the first time a Texas brand of bacon called Petit Jean for our recipe. We chose their Peppered Bacon variety that we purchased from our local HEB. (Side note: HEB is one of my favorite stores since moving here to Texas, they offer a ton of discounted coupons throughout, and have a decent organic selection, too.)
I was excited to try peppered bacon in this recipe to see how it fared as opposed to our normal turkey bacon. I will say, though, in price tag comparison alone, it's much more expensive than what we normally buy (however, it is, also, twice the size, at 24oz instead of 12oz). Still, I'd only consider buying this for special occasions/special recipes. Perhaps a peppered bacon-wrapped filet mignon for an anniversary dinner or birthday?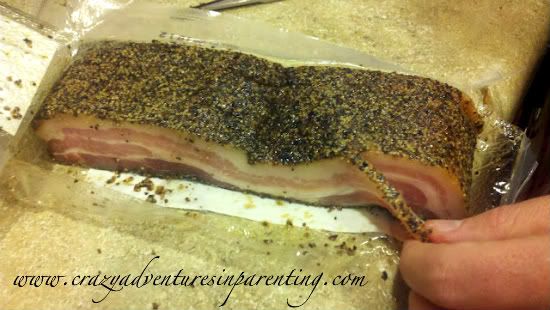 Look at that! Very peppery and beautiful to look at, isn't it?
Chicken Bacon Ranch Quesadillas Recipe
While grilling or baking your chicken until fully cooked, break out a skillet and brown your bacon until golden brown and cooked, setting aside to cool.
Prepare your ranch dressing (if you didn't purchase it bottled) and set aside. Chop your bacon and chicken up finely, and get ready to make magic! (Or, just quesadillas. I think they're pretty magic, though.)
Spray your heated skillet with low-fat cooking spray, and place two tortillas down to brown. Drizzle ranch lightly onto the tortillas, or "paint" it on lightly using a basting brush (the ranch acts like glue for your ingredients). Sprinkle the bacon and chicken onto the ranch, topping with shredded cheese.
Place a tortilla over top, smoosh down with your hand to set it together, and flip (but be careful)! Once browned on both sides, remove from heat onto a plate. Once you've finished cooking all the tortillas, cut each one up into triangle sections with a pizza cutter or super-sharp knife, approximately eight triangles per tortilla.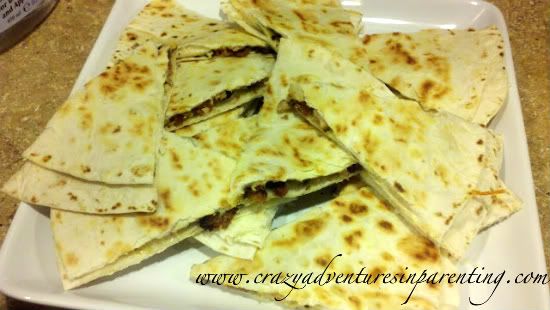 Don't they look delicious!
This is one of those recipes that you can prepare ahead of time and not worry about serving hot, because it can sit for a bit while you're busy making other things. Plus, it allows for little fingers to eat right away while other items cool on their plate. This is also pretty fantastic cold. Store it in your fridge in one of those gallon storage bags that zip for easy access to snack or cram food quickly when you find your ravaged and have little time (such as us busy moms do).
Despite all we made, we had a considerable amount of peppered bacon left over, so we felt inspired to add it to other appetizer recipes, too, like our spinach and artichoke dip and as a topping to our mini muffin pizzas.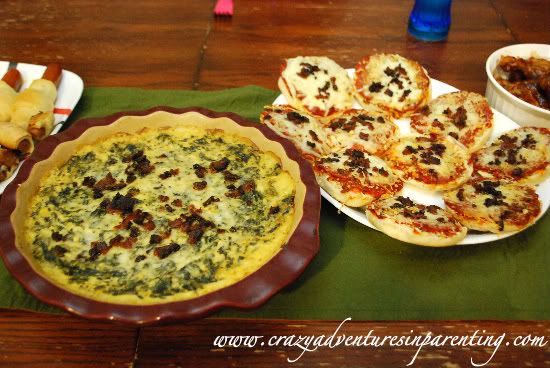 And yes, it tasted just as good as it looked. What a scrumptious addition it was!
Here was our 'big game' spread – check it out! Alongside the quesadillas and saucy meatballs (not pictured), we served hot buffalo and barbecue wings, pigs-in-a-blanket as well as crescent-wrapped hot dogs (I couldn't resist the craving) and crescent pizza roll-ups (found that recipe on Pinterest).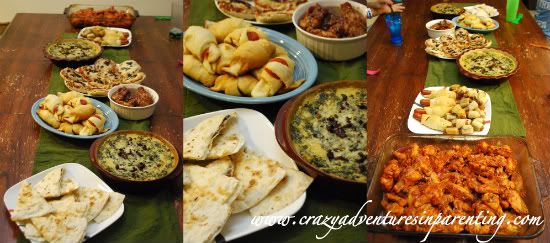 Oh, the deliciousness! Oh, the full bellies! Oh, the leftovers!
Overall I liked the spicy quality the peppered bacon that Petit Jean meats provided, but, considering the low-fat, low-calorie turkey bacon we're used to, I'd only probably only splurge on this well-spiced, hickory smoked bacon for a special occasion, to really jazz up whatever I'm making. I did enjoy using it, and I am going to enjoy adding the remnants to things I create this week, since we still(!!) have some left over.
If you're in Texas and interested in trying this brand, you can find Petit Jean Meats at your local Walmart or HEB grocery store. You can also find more wonderful entertaining recipes using Petit Jean bacon and ham by searching Twitter using the hashtag #TXBacon, too.
Did you entertain for the Super Bowl, too? What did you create and serve to your guests? I'd love to know, I love to entertain and I'd love to try some of your recipes, too!
Never miss a thing! Subscribe today for all kinds of crazy parenting fun!