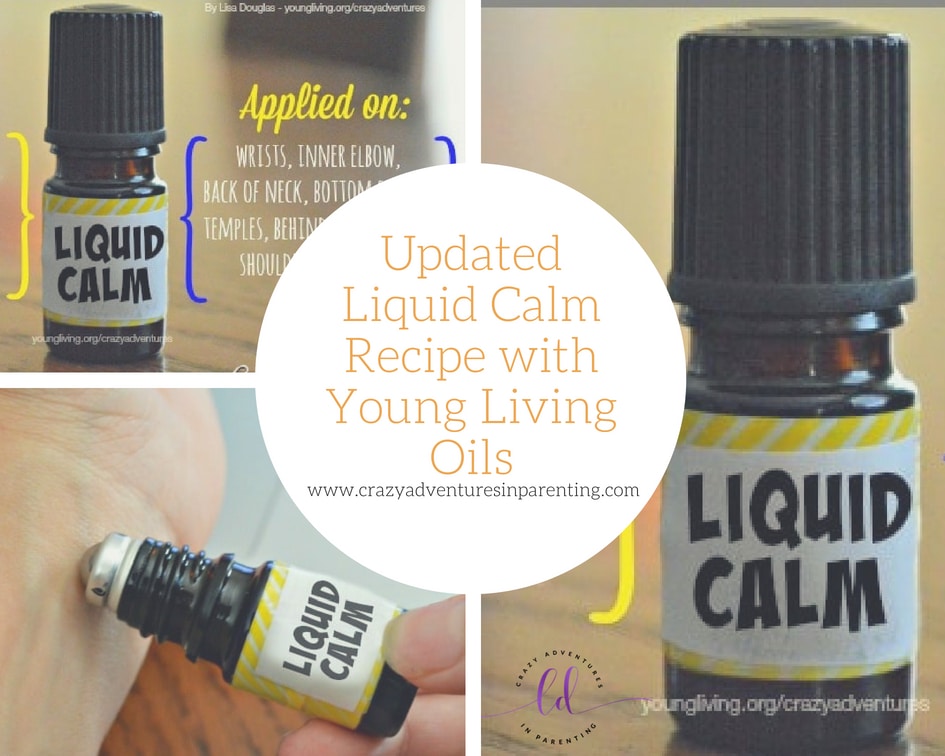 Lisa's new Liquid Calm recipe is updated and includes favorites like Joy™, Release™, and Cedarwood.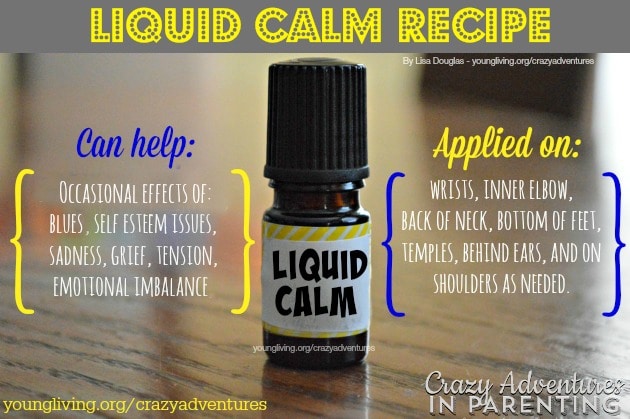 Updated Liquid Calm Recipe with Young Living Oils
While on a brand trip a couple weeks ago, my friend Christine was gushing about an oil combination she uses regularly to help keep her calm and relieve her occasional anxiousness. I use essential oils for that myself, having my own concoction of oils and other products to aid in keeping me calm, but I wanted to thoroughly investigate and try her recommendation to see if it helped me, too.
The original version of the liquid calm recipe calls for Patchouli, which I did NOT have on hand, and didn't include things that calm/strengthen me regularly, like Joy™, Release™, Cedarwood, and Grapefruit. This lead me to breaking out a small mixing bowl with a q-tip and hitting my large collection of oils, playing chemist, until I created something I'm quite proud of, something I can use as a go-to when the everyday stresses of life begin to bog me down.
Introducing my new, updated recipe for Liquid Calm, stored in 5ml bottle instead of a 15ml bottle with roller fitment: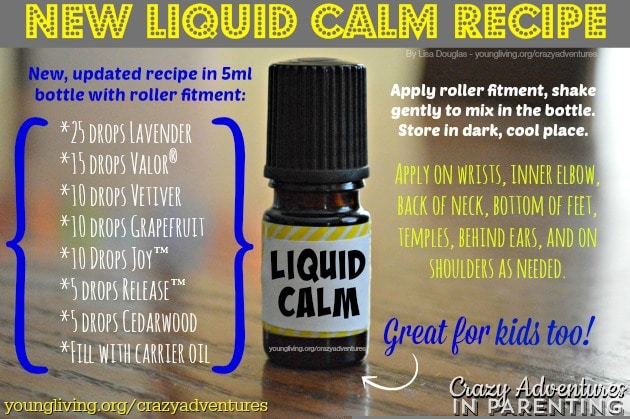 Full instructions and ingredients for this liquid calm recipe can be found below: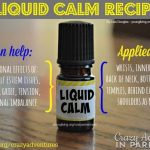 Ingredients
25 drops Lavender

15 drops Valor®

10 drops Vetiver

10 drops Grapefruit

10 drops Joy™

5 drops Release™

5 drops Cedarwood

Fill with carrier oil
Notes
Disclaimer: This statement has not been evaluated by the Food and Drug Administration. This product is not intended to diagnose, treat, cure, or prevent any disease.
I knew I'd come up with a winning concoction when I tested it right out of my mixing bowl. After laying the q-tip down, I began screwing all the oil tops back on as my husband walked in the door from work. He commented how it smelt "oily" in here, wanted to know what I was up to, and I explained as I screwed the last top on tight. I showed him the bottle, and before he finished sniffing, I realized how calm I felt right then – it was THAT fast, maybe a couple of minutes? I didn't expect it to be, but it WAS!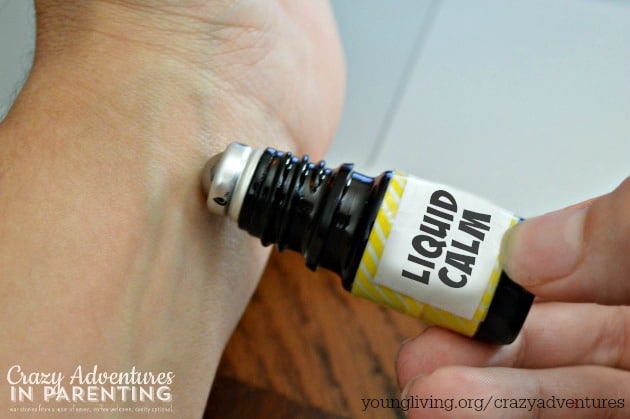 I like how easy this liquid calm recipe is to use. If I'm feeling occasional stress, I grab my bottle, roll it on, and feel calm within minutes. I also used one of my old 5ml bottles for this. It was super easy to get the label off, too – I just ran what was left of the label under hot water, scrubbing with my nail until it came off clean. After wiping, the bottle was good as new, ready to use!

Would something like this liquid calm recipe benefit you at all?
Essential Oil Deal
Our Black Friday Deal last year was so popular, we've decided to DRASTICALLY improve on that offer for 2018 for the BEST YET! (Coupled with Young Living's HUGE promotions this month, too!) Check out all you can get for free for becoming a wholesale member (like Costco)!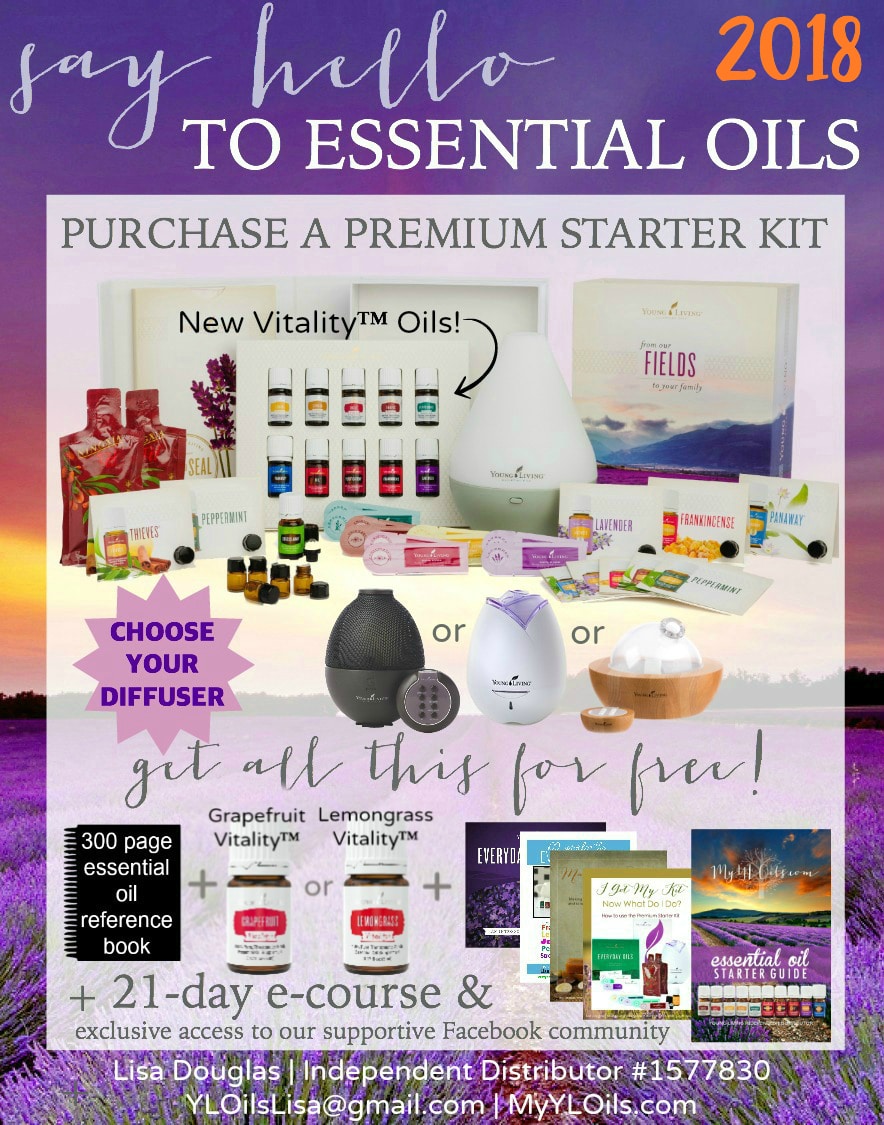 We love and trust using Young Living essential oils, having used them for years. For more information, check out my Young Living information page.