(I am a compensated Great Day Farms and Goodrich Farms ambassador.)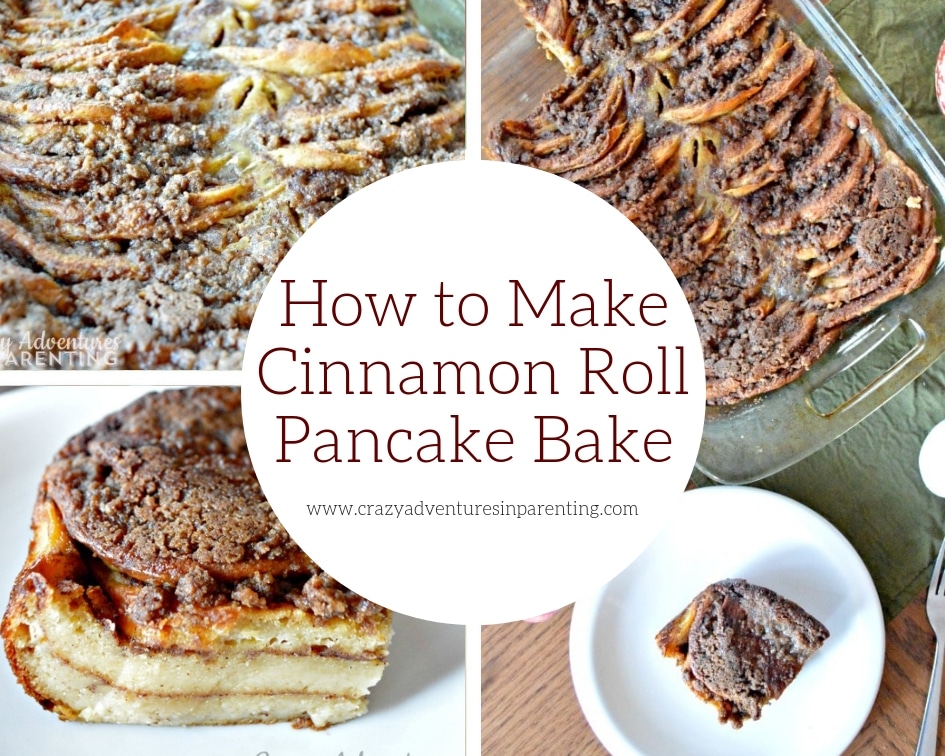 Cinnamon Roll Pancake Bake
My family is a bit cinnamon obsessed. Cinnamon rolls are "up there" on our list of favorite breakfast items to have, as are pancakes and waffles. My kids ADORE it when I sprinkle a little cinnamon into their pancake or waffle batter, but THIS? This recipe took it a whole new level of awesome, combining their love of cinnamon rolls and pancakes into one incredibly tasty Cinnamon Roll Pancake Bake.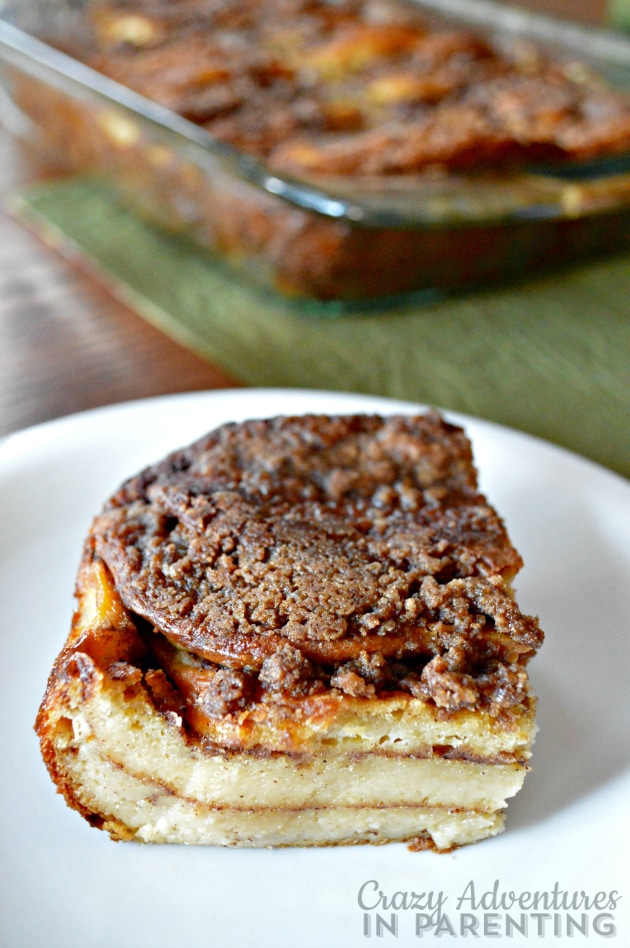 How to Make Cinnamon Roll Pancake Bake
To start, you must make these buttermilk from-scratch pancakes as the center of the bake. (I mean, it wouldn't be a pancake bake without perfect pancakes, right?) This batter was so light and fluffy, it was almost as though there were marshmallows in there! I mean, look at that lovely marshmallow texture to the pancake batter! My goodness!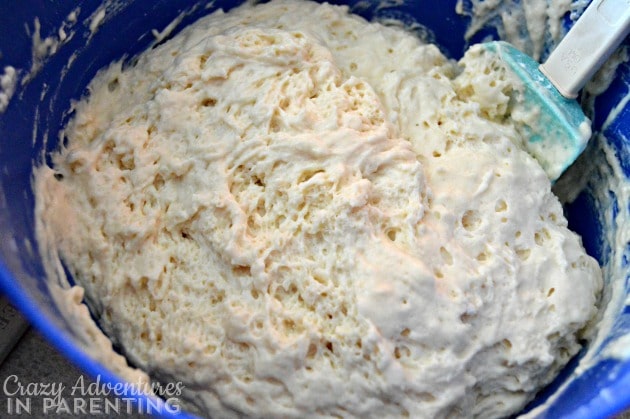 They were so airy and soft. My kids had a hard time keeping their hands off the platter of cooling pancakes for the bake. I don't blame them! I do believe these pancakes are the best, ever on their own!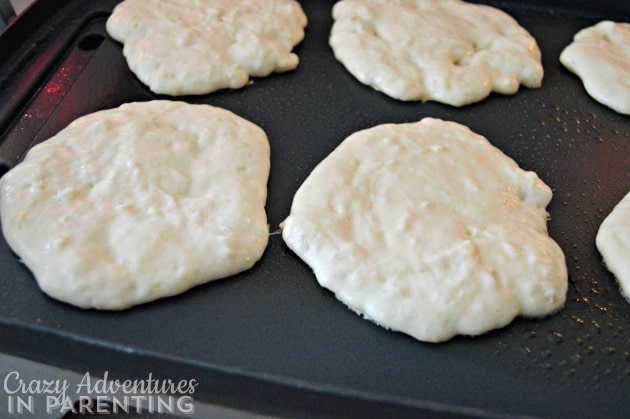 They browned up so beautifully, too. Perfect coloring.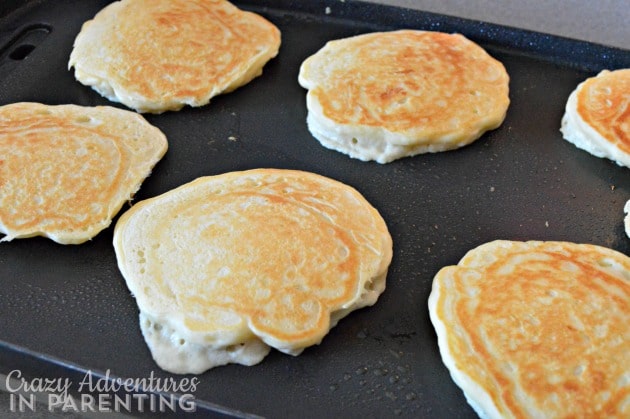 As the last of the pancakes are created, mix up your cinnamon roll mixture to go on each pancake. Once mixed, have a spreader handy.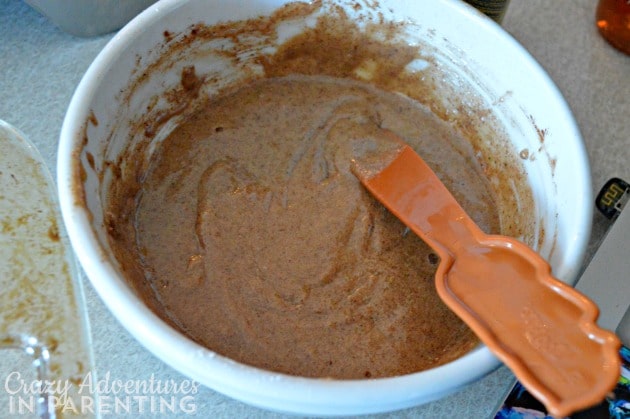 Once fully cooled, slice each delicious pancake in half, laying cut-side down, so that it lays flat. In between each pancake, spread the cinnamon roll spread in between.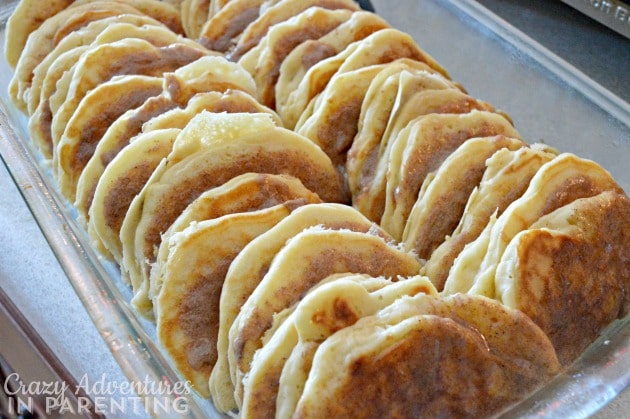 Whisk the buttermilk mixture together that will get poured over the pancake bake.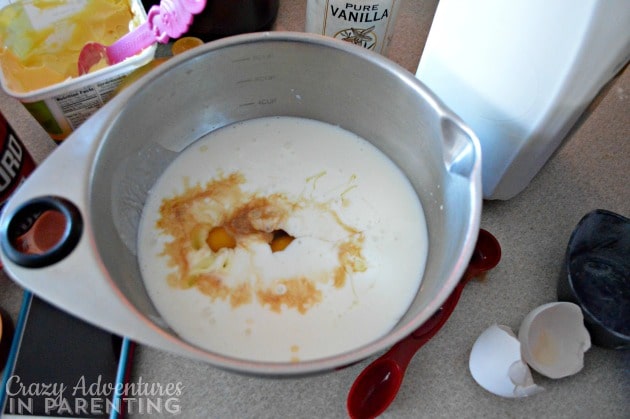 Then, pour this over top the pancakes, make sure to get everything good and covered on all sides.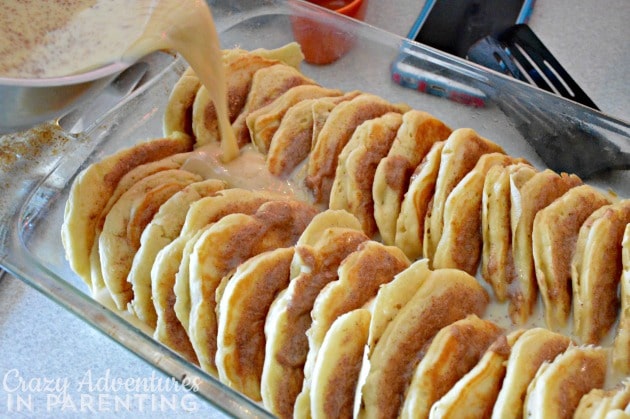 Place the streusel topping over top, cover, and bake!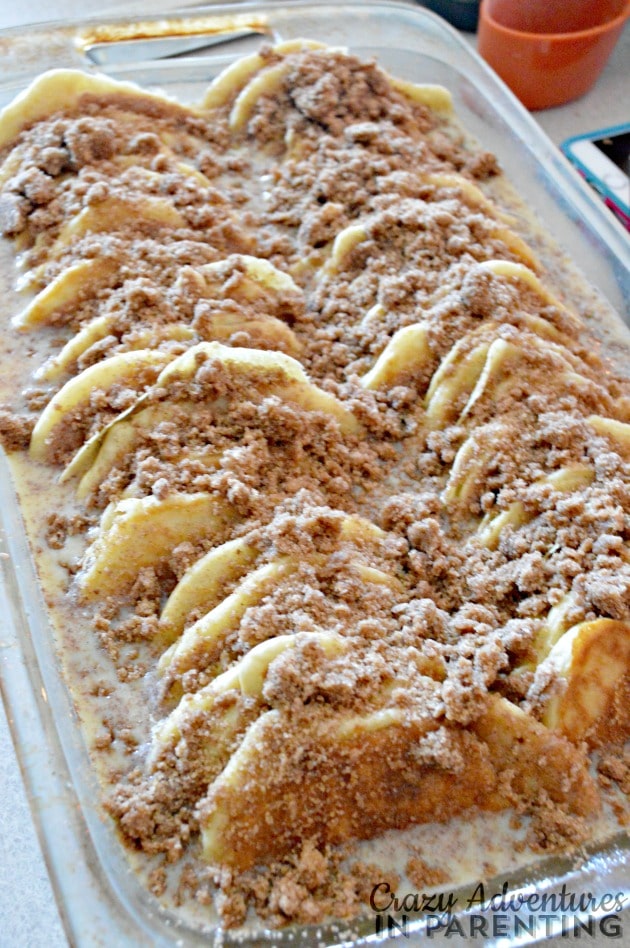 Once it comes out, try not to grab a fork and dig in just yet, you'll want it to cool somewhat (plus, sharing is caring).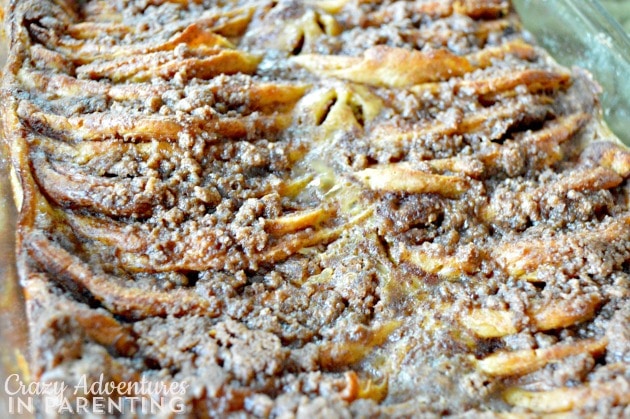 Isn't it stunning? Drizzle some syrup on top and be prepared for a breakfast to remember!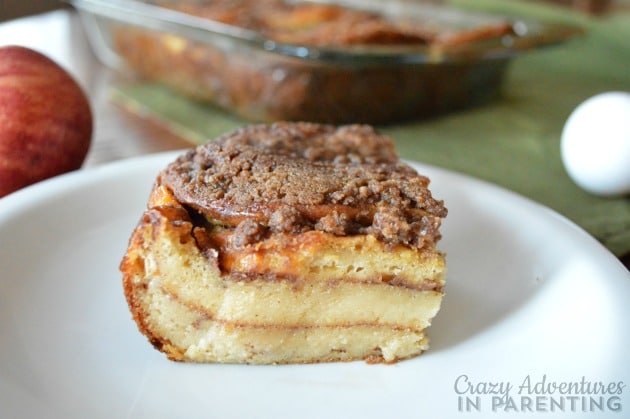 This recipe is PERFECT for Mother's Day, brunches, and more!
Other Tasty Breakfast Recipes to Try!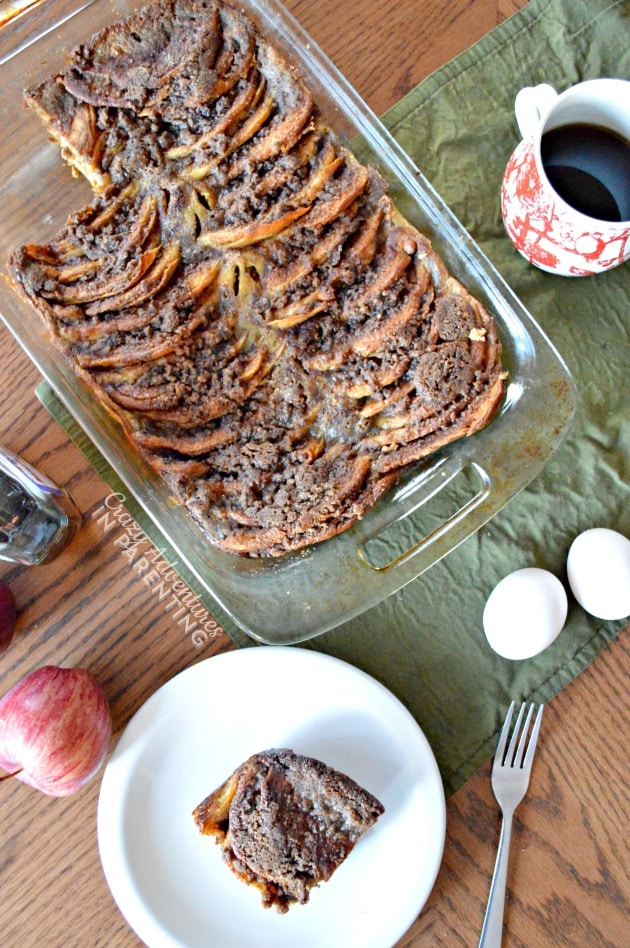 What do you think? Would this be a huge hit in your house, too?

Here's the full recipe! I hope you enjoy making it!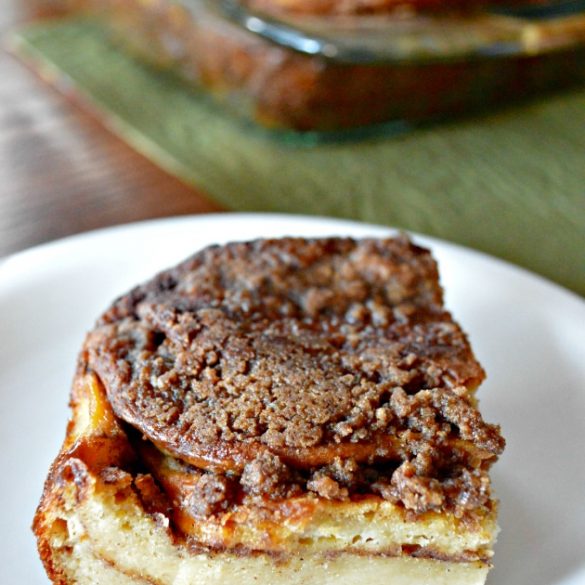 Ingredients
Instructions
To make the pancakes:
Combine the dry ingredients (flour, sugar, baking powder, baking soda, and salt) in a bowl; mix together.

In a separate bowl, whisk the eggs, and then add in the liquid ingredients (buttermilk, butter, and vanilla), whisking until well combined.

Add the liquid ingredients into the dry ingredients, and stir until combined.

Spray your skillet with cooking spray (or use butter).

Using a soup ladle (or measure 1/4 measuring cup), pour the batter onto the skillet.

Cook for 2-3 minutes on each side; let cool on a plate.

(Pancakes can be made up to 3 days ahead and stored in the fridge.)
To assemble the pancake bake:
Preheat oven to 350 degrees Fahrenheit.

Spray a 13×9-inch baking dish with cooking spray.

Cut the pancakes in half, and being placing the pancakes in the baking dish cut side down, layering them up against each other.

Continue until each pancake is cut and layered into the baking dish.
To make the cinnamon roll filling
Mix together all the ingredients in a small bowl.

With a spreader, layer the filling in between each cut slice of pancake until every pancake has the cinnamon roll filling on it.
To be poured over the bake:
In a large bowl, whisk together the eggs, and add the milk, buttermilk, sugar, and vanilla.

Pour this mixture over the pancakes, making sure each pancake has been coated.
To make the streusel topping:
Mix together the flour, sugar, cinnamon, and salt in a small bowl.

Add into the dry mixture the butter, cutting it into the dry ingredients with a pastry blender or fork until the mixture looks like coarse sand (there will be some pieces larger than others).

Sprinkle the streusel slowly over the pancakes.

Cover the baking dish with sprayed foil and bake for 50 minutes.

Remove the foil and bake for at least another 10 minutes or so, in 10 minute increments, until the top browns and the middle is set (test doneness with a knife – it will come out clear)

Let cool for 15-30 minutes before serving to let it cool before serving.

Serve drizzled with maple syrup and sprinkled with powdered sugar.