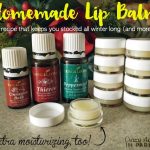 Print Recipe
Homemade Lip Balm Recipe
Lisa shares her recipe for a super moisturizing lip balm to help with lip dryness.
Measure all your ingredients (except for essential oils) into a double boiler or metal bowl over a medium-sized pot with boiling water.

Mix gently with a metal spoon as the ingredients begin to melt.

When ingredients are fully melted, quickly remove from heat and add in essential oils, stirring quickly.

Before it begins to harden, pour quickly into lip pots with a steady hand, but don't worry! If it spills, you can wait until it begins to harden, remove it from the counter/table, and re-add it back into the mixture to soften and pour again. (But still, act fast!)

Lip balm will cool within 10-15 minutes (in the small lip pots, longer for the larger tins/containers) - wait until it's completely solidified and cooled before moving.