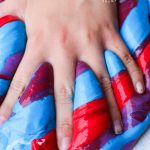 Print Recipe
Spiderman Slime Recipe
This Spiderman Slime recipe is an easy slime recipe to make made with Liquid Starch and no Borax. Want to find out how to make Spiderman slime that your kids will LOVE to play with? Check it out below!
Acrylic Paint

DecoArt brand is preferred as it gives you wonderfully bright colors

Food Coloring

if you don't want to use paint

Glass bowl or plastic containers with spoons

one of each for each color
In each of your containers, start off with about 1/3 cup of Liquid Starch in 1/2 cup of white glue.

As you begin to stir you will notice it begin to form immediately – great! Stir, stir, stir! Get it good and gloppy!

Add in equal amounts of the paint at first, stirring to get the color throughout.

Once all your colors are created, lay each color out on your work surface side-by-side.

Have a blast!