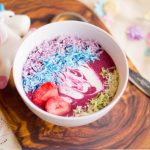 Print Recipe
Unicorn Smoothie Bowl Recipe
Learn how to make this Unicorn Smoothie Bowl with this easy smoothie bowl recipe using berries and protein-packed greek yogurt!
Add blueberries, strawberries, milk, honey, and cinnamon in a blender. Blend until smooth and pour into a bowl.

Dollop your Greek yogurt into the smoothie and if desired, create a marbled look with a fork or toothpick.

Get 3 sandwich bags and fill each one with 2 tbsp of shredded coconut. Add one color of food coloring into each bag and shake until coconut shreds are tinted.

Pour over your smoothie bowl and enjoy.

Top with fruit, if desired.