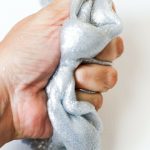 Print Recipe
How to Make Glitter Slime
This silver glitter slime is an easy slime recipe to make made with Liquid Starch and no Borax. Find out how to make glitter slime with glitter glue by reading more about this slime recipe below!
Pour one cup of glue into a bowl. You can add additional glitter here.

Add about 1/2 cup of liquid starch and stir. Check the consistency and add a tbsp or two at a time until it's not sticky anymore. (This might seem like a lot more starch than normal slime, and you would be correct, because the clear glue is stickier than white glue.)

Once the stickiness is gone and it peels off your hands easily, peel the slime out of the bowl and knead it in your hands.
To make slime, you have to understand that it isn't an exact science. I can give you basics as to what to start off with when learning how to make glitter slime, but you have to add a little here and a little there in order to get the desired result, ESPECIALLY when it comes to glitter slime, because glitter glue is sticky.