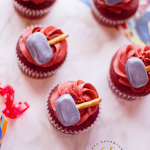 Print Recipe
Thor Cupcakes for Marvel AVENGERS: INFINITY WAR
AVENGERS: INFINITY WAR, one of the biggest super hero movies on the planet, EVER, just came out, and we gotta get festive, now. Y'know? Gotta do it up right 'n stuff. This demanded we create Thor Cupcakes.
Prepare your red velvet mix according to the box's directions (they usually yield 24 cupcakes).

Allow baked cupcakes to cool completely on a wire rack before decorating.

Using a mixer, start beating butter and slowly add confectioners sugar.

Add milk and mix on high until your buttercream has formed. (In terms of consistency, you'll want it to form stiff peaks.)

Add cocoa and red food coloring to the buttercream and continue mixing on high until it is completely colored.

Using a piping bag with frosting tip, frost each cupcake.

Line a baking sheet with wax paper. Roll your fondant into ½ inch circles (you'll want to make 24 of them) and then shape into rectangles, dusting your fingers with cornstarch while preparing them so they don't stick to your hands..

Place each rectangle on lined baking sheet.

Brush each fondant piece with silver luster.

Insert a pretzel stick at the bottom of each one (you can break off a piece of the pretzel stick if they are too long).

Place on each cupcake and tada!