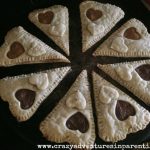 Print Recipe
Homemade Pop Tarts {Heart-Shaped}
These homemade pop tarts are as tasty as they are gorgeous, and easier to make than you might think.
2

ready-made pie crusts

or make your own

Nutella or Biscoff spread

or both

Metal-pronged fork & 2 teaspoons

Small heart-shaped cutter

Pizza cutter
Preheat oven to 350.

Use pizza cutter to divide the pie crusts into 8 triangles.


Using the heart-shaped cutter, cut 8 hearts out of 8 triangles, and place cut-out hearts to the side for now.


Using a teaspoon, measure out about 3/4 teaspoon of Nutella or Biscoff spread and place in the center of the triangle, smearing outward, almost to the edge.


Smearing a small amount of the filling on the cut-out heart, placing the filling side down onto the pastry, to help keep it stuck down.

With point side down, massage the top of pie crust into forming two semi-circles for the top of the heart. Pinch as you go to keep both the top and bottom together, massaging the corners smooth, rounding it out as gently as possible.


Once formed into the heart shape, using the fork, press the edges closed all the way around.


Repeat until all 8 pop tarts are assembled.


Bake at 350 until sizzling and slightly golden brown. Do not leave these unsupervised, they will cook quickly, as they are thin. Keep a close eye on them - enjoy a cup of coffee in the kitchen, or a light snack while you wait and watch.


Once out of the oven, be very careful removing them, as they are still warm and pliable. Place them on a flat plate or cooling rack until cooled.