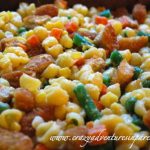 Print Recipe
Chicken Nugget Macaroni and Cheese Casserole
This super delicious casserole combines two kids favorites into one spectacular meal. *Please note: I did not put quantities, because I make for a family of 8 people. You can choose to make as much as you feel would feed your family, so quantities are up to you.*
Heat your oven to 350 degrees.

Boil water in a saucepan to prepare your macaroni and cheese as you normally would.

Microwave your chicken nuggets on a plate for 3-4 minutes each plateful (depending upon how much you make/need).

After the chicken is heated through, cut into quarters and set aside while you microwave mixed vegetables and continue to prepare the macaroni and cheese.

Once the macaroni and cheese is boiled, mixed and ready, combine everything into a sprayed baking dish, cover, and bake for 20 minutes.

Uncover, sprinkle with additional shredded cheese if you like, and bake for an additional 5 minutes to brown the top a little.

Let cool a few minutes before serving. And then? Be prepared for the ooh's and ahh's and compliments galore.