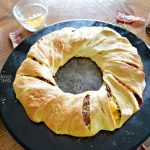 Print Recipe
Bacon Egg and Cheese Breakfast Ring
I looooove using crescent rolls in delicious ways, and this bacon egg and cheese breakfast ring inspired by Pampered Chef is one tasty recipe for breakfast or brunch!
2

packages

crescent roll dough

8-10

eggs

scrambled

1/2

package

turkey bacon

fried

shredded cheese

salt and pepper

melted butter
Preheat oven to 350 degrees

Brown your bacon and prepare your scrambled eggs, set aside.

Open up your packages of crescent roll dough and arrange each slice around the edge of the round pizza dough in the shape of a sun, overlapping corners and layering one after the next.

Use a dough roller to press down on the overlapped seams to seal them.

Arrange your scrambled eggs onto the dough first, then the bacon (you can crumble the bacon or lay half-slices over top).

Top shredded cheese onto the eggs and bacon, and season well.

Begin folding up each dough triangle over the egg/bacon/cheese, tucking the points into the dough on the other side.

Continue doing this with each triangle until completed.

With a basting brush, brush some melted butter onto the dough; season.

Place it into the oven for about 10-15 minutes or until golden brown.

Slice with a pizza cutter and serve.