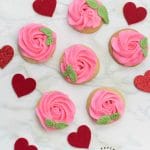 Print Recipe
Rose Sugar Cookies Recipe
If you're looking to make a special dessert for Valentine's Day this year, try making these gorgeous Rose Sugar Cookies! They are as gorgeous as they are easy to make!
Ensure that your cookies are cool to the touch before decorating.

The key element to these cookies is the beautiful pink buttercream. To make, begin by beating softened butter, confectioners' sugar and milk on medium. Increase the speed to high.

Add small drops of red gel food coloring and continue beating until buttercream is completely tinted. The buttercream is ready once it is smooth and forms semi-stiff peaks.

Scoop the buttercream into a piping bag with a star tip attached. Starting in the center, carefully frost each cookie in a circular motion. Repeat for each cookie.

Roll 12 small spheres out of your green fondant and another 12 that are slightly smaller. Flatten them out slightly and give them one pointed end, like a teardrop shape. Be sure your leaves aren't too big.

With a toothpick, score little lines on each leaf to give them a more realistic and texturized look. Place two (one of each size) on each cookie.

Serve and enjoy!