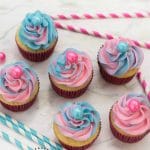 Print Recipe
Bubblegum Cupcakes
These Bubblegum Cupcakes couldn't be any sweeter for a candy-themed birthday party! With bubblegum topped ombre piped icing, these are your new favorite cupcakes to make!
Before starting the decorating cupcakes, ensure that all of them are cool. It's best to cool them on a wire rack so the frosting won't melt off.

In a large bowl, beat together your softened butter, confectioners' sugar, and milk with an electric mixer.

Start on a slow speed and then gradually increase to high speed.

Your buttercream is ready once all the ingredients are smooth and form semi-stiff peaks.

Divide the buttercream into two bowls.

Add red gel food coloring to one and blue gel food coloring to the other.

Mix each buttercream well until the buttercreams are completely tinted and well blended.

Attach the star tip to the frosting bag.

Scoop both buttercreams into a frosting bag, keeping each color on their own sides in the frosting bag.

Begin to frost each cupcake swirling out from the center then back up in the center to form the desired design.

Top each cupcake with one bubblegum candy.

Serve and enjoy!