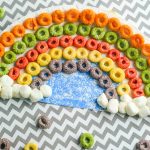 Print Recipe
Cereal Rainbow Craft
If you're on the hunt for a fun Spring activity for your children, take a look at our Cereal Rainbow Craft! Made with fruity cereal, your little ones will love making this colorful craft!
Gather your ingredients and place them into separate bowls keeping some spare ingredients nearby in case.

Cut each paper plate in half to form a semi-circle.

Ask your child to help you sort the cereal into piles according to colors. Colors will vary based on the cereal you bought :)

Using a blue crayon, have your child color the bottom half of the paper plate blue to represent the sky.

Starting at the outer edge, glue the first color of cereal along the outside arc of the plate, using a different color for each row. Be sure to leave space at the bottom for the marshmallow clouds.

When all colors have been glued in their individual rows, glue the mini marshmallows at each end as clouds. You can double stack and make them into any shape cloud you'd like!

Let the craft dry fully before your child handles it.

You can poke a hole at the top and string yarn through it to display it, glue magnets to the back to have it on the fridge, tack it on the wall, or whatever your heart desires!