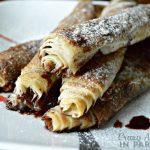 Print Recipe
Chocolate Cinnamon Roll Churros
Combining a cinnamon roll with the idea of a chocolatey churro using phyllo dough, Lisa has made this delectable dessert healthier while keeping the crunch and cinnamon sugar taste front and center.
1

box of phyllo dough

Hershey's Simply 5 syrup
Preheat oven to 350.

Mix butter, sugar, cinnamon, and honey in a bowl until it makes a thick paste.

Unwrap thawed phyllo dough and separate into 6-8 smaller sections evenly.

With a baster, baste cinnamon butter mixture gently and thinly onto the phyllo dough.

Drizzle lightly the Hershey's Simply 5 Syrup on top of the cinnamon butter mixture.

Roll tightly (but softly) starting from one edge to the next; twist gently to meld the ingredients together, and repeat until all phyllo dough sections are complete.

Baste each phyllo twist generously with butter and sprinkle with cinnamon sugar.

Bake for 10-15 minutes until golden brown and sizzling.

Serve with optional sprinkled powdered sugar or additional Hershey's Simply 5 Syrup drizzled over top.