This is a sponsored post on behalf of Hershey's via MomTrends.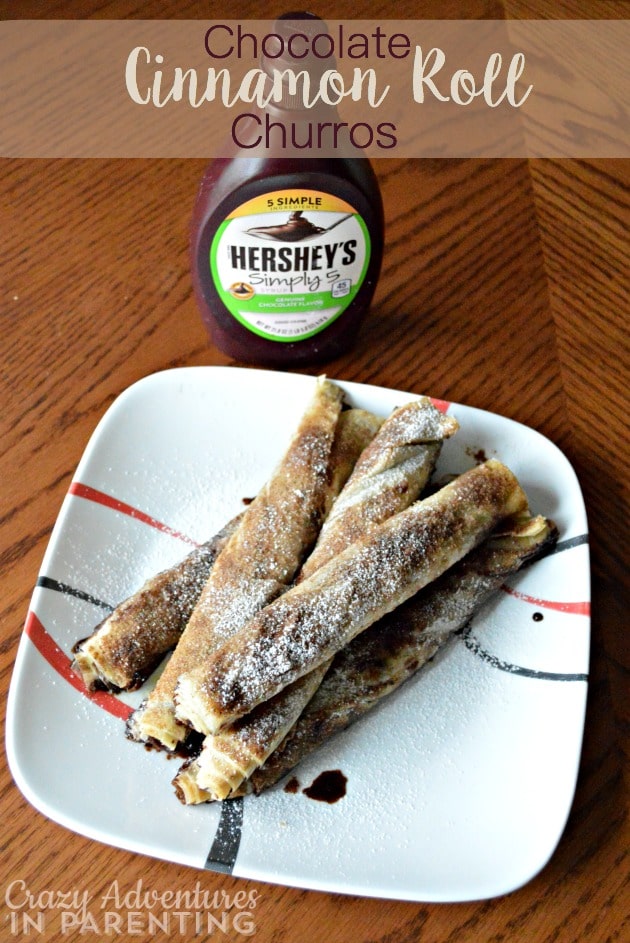 Chocolate Cinnamon Roll Churros
Whenever I think of a churro, I think of a carnival, fair, or theme park we've visited in the past. Those smiley vendors selling those delectable treats beautifully warmed and crusted with cinnamon sugar. It just makes me smile to think of all the fun times we've shared together where a churro was split between us. I've tried recreating that magic at home, but I'm not the best when it comes to piping frosting let alone piping churro dough into hot oil to be fried. Besides, I really wanted to try to recreate the churro in a healthier, non-fried way. What crisps up nicely when baked, yet is light? Phyllo dough does, yes! And that's when my Chocolate Cinnamon Roll Churros idea was born. Hershey's Simply 5 Syrup would be the PERFECT addition here!
No, I just don't want to make a regular churro, I wanted it to be a combination of a cinnamon roll and churro, except with drizzly smooth Hershey's Simply 5 Syrup inside as well. I mean, can you blame me here? No, no you can't. Haha!
How to Make Chocolate Cinnamon Roll Churros
To start, preheat your oven to 350 degrees and begin mixing together your butter, cinnamon, sugar, and honey mixture together.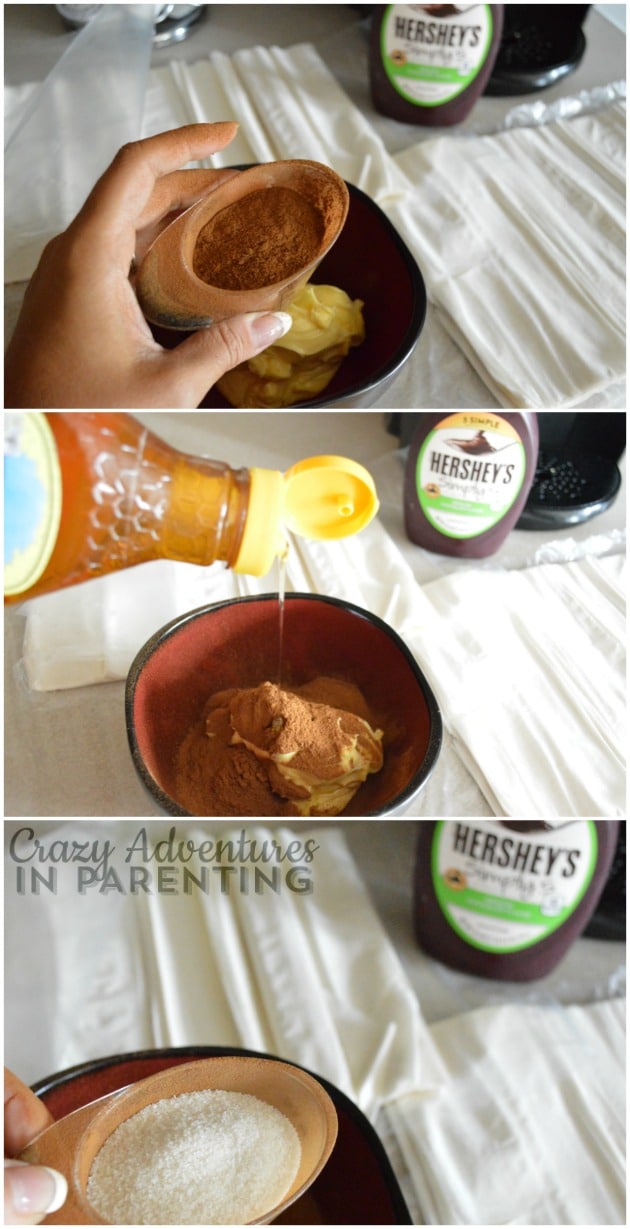 It'll make a nice thick paste when you're through. Like this: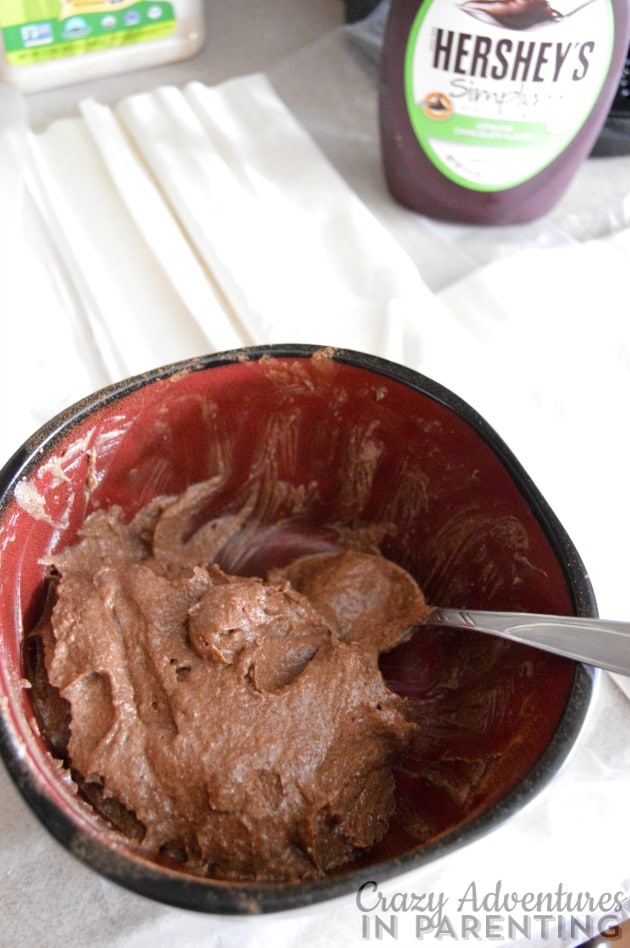 Unroll your thawed phyllo dough, leaving it on the plastic it comes with. It's okay if some of it seems cracked, we can work around that.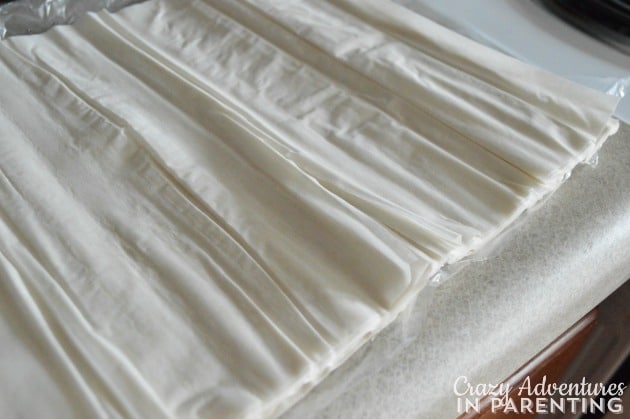 Separate the phyllo dough into smaller sections – begin by dividing it in half (eyeball it), then in half again until you get 6-8 separate sections. Fold and set aside extra phyllo until later.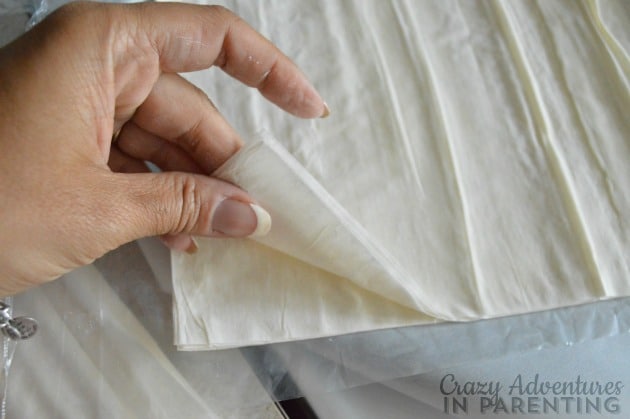 With one set of phyllo sheets in front of you, baste the thick cinnamon roll mixture onto the phyllo dough CAREFULLY and GENTLY, but thinly.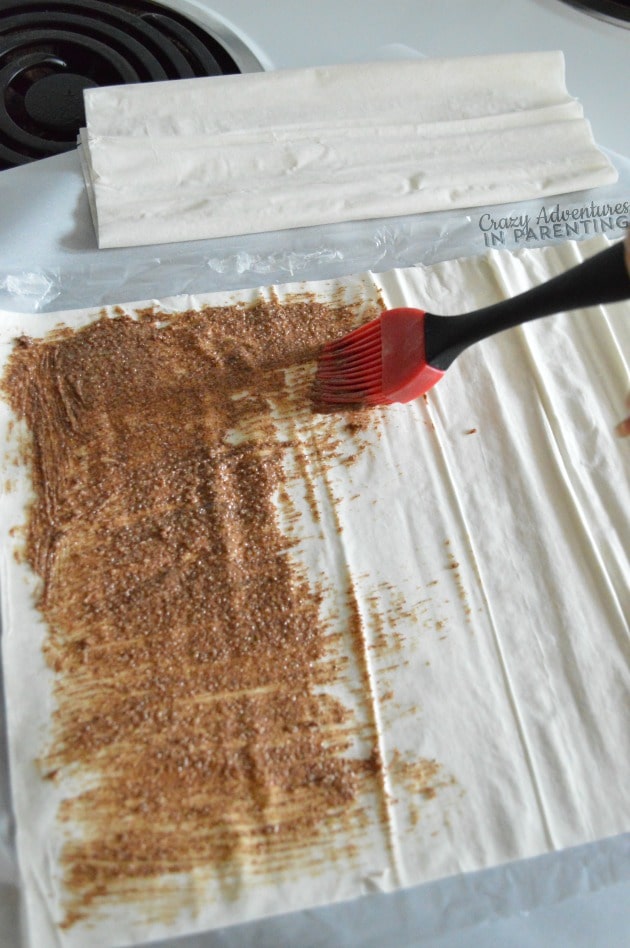 Once basted thoroughly, drizzle Hershey's Simply 5 Syrup lightly over top. You don't have to be perfect or anything, because it's all going to melt when you bake it 🙂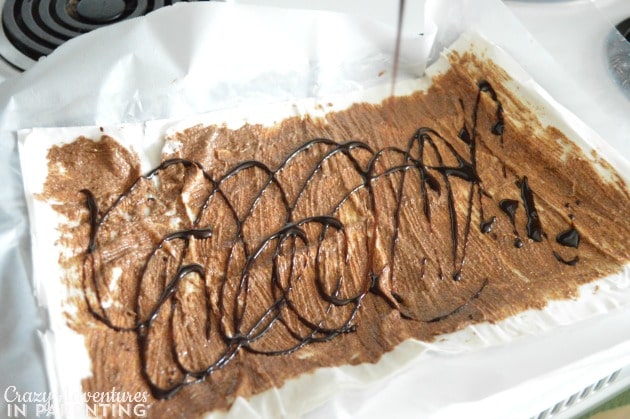 Fold up the edge tight (but gentle) and start rolling gently until you reach the other side.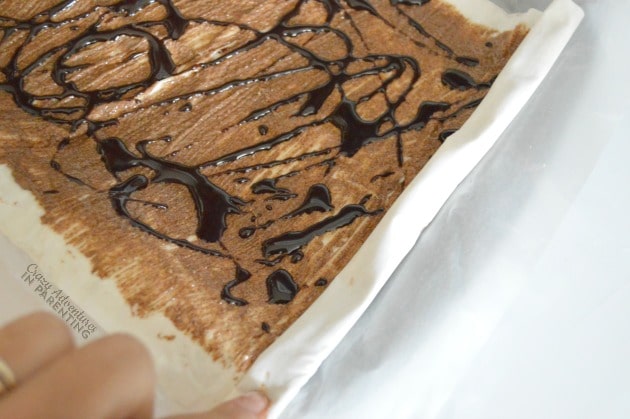 Once rolled, twist gently to meld all the ingredients together inside (it also helps it stick together nicely, too). Set these on a parchment paper lined baking sheet or stone. Repeat with all remaining phyllo sheet sections until completed. Then, generously baste melted butter onto both sides of the phyllo twists followed by a generous sprinkling of cinnamon sugar.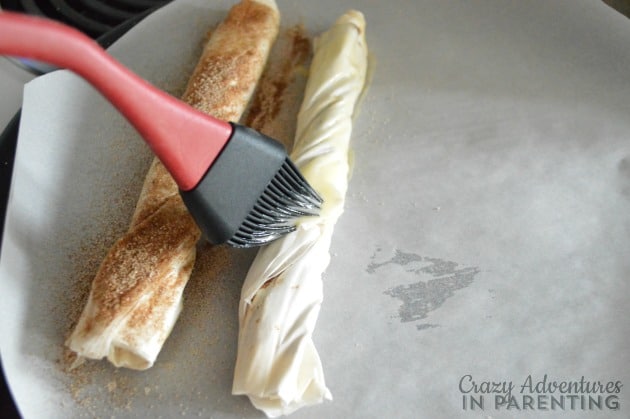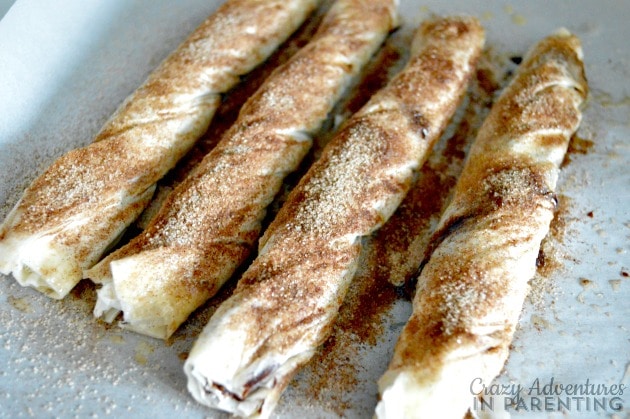 Pop these in the oven for about 10-15 minutes until sizzly and ooey-gooey. You'll know when it's ready because the smells will be intoxicating. There will be ingredients spilled out onto the parchment paper, but that's okay! That tastes pretty good on its own (or heck, save it to dip in later).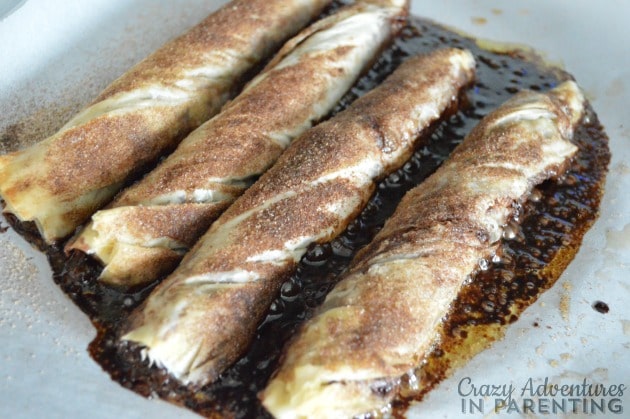 Plate these delicious chocolate cinnamon roll churros immediately and sprinkle handsomely with powdered sugar. You can choose to drizzle a little more Hershey's Simply 5 Syrup on top here, or leave it as it is, if you wish.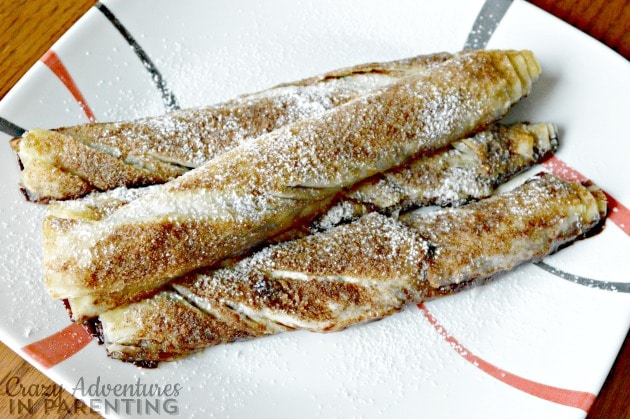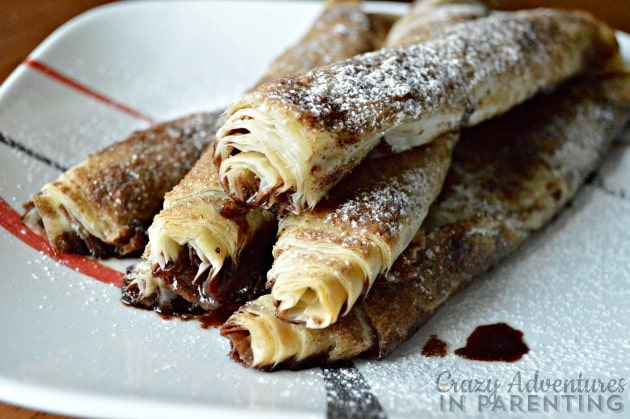 Chocolate Cinnamon Roll Churros
Combining a cinnamon roll with the idea of a chocolatey churro using phyllo dough, Lisa has made this delectable dessert healthier while keeping the crunch and cinnamon sugar taste front and center.
Print
Pin
Rate
Ingredients
1

box of phyllo dough

Hershey's Simply 5 syrup
Instructions
Preheat oven to 350.

Mix butter, sugar, cinnamon, and honey in a bowl until it makes a thick paste.

Unwrap thawed phyllo dough and separate into 6-8 smaller sections evenly.

With a baster, baste cinnamon butter mixture gently and thinly onto the phyllo dough.

Drizzle lightly the Hershey's Simply 5 Syrup on top of the cinnamon butter mixture.

Roll tightly (but softly) starting from one edge to the next; twist gently to meld the ingredients together, and repeat until all phyllo dough sections are complete.

Baste each phyllo twist generously with butter and sprinkle with cinnamon sugar.

Bake for 10-15 minutes until golden brown and sizzling.

Serve with optional sprinkled powdered sugar or additional Hershey's Simply 5 Syrup drizzled over top.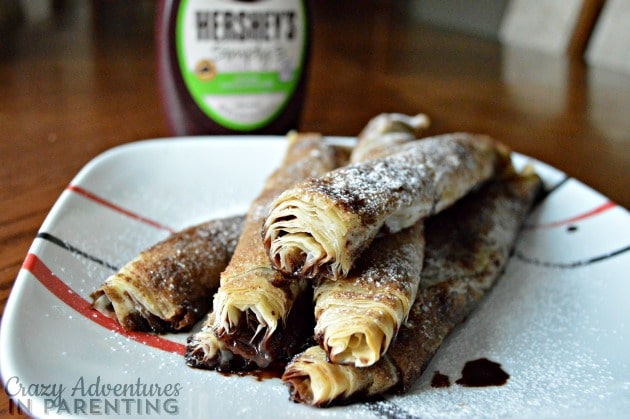 Can you EVEN with this right now?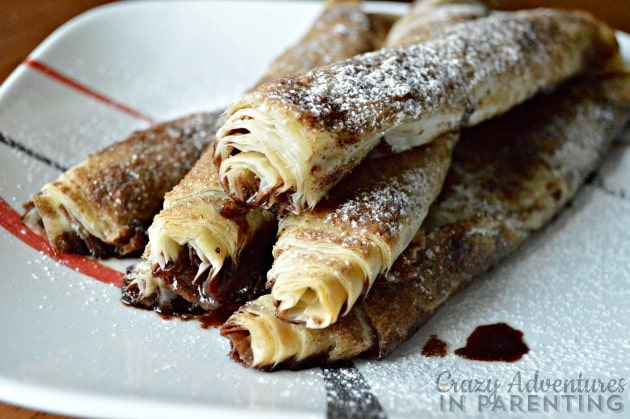 I think I forgot what I was saying. Or thinking. Because that drizzly, chocolatey, cinnamon sugary, buttery treat is staring at me, making me lose all train of thought.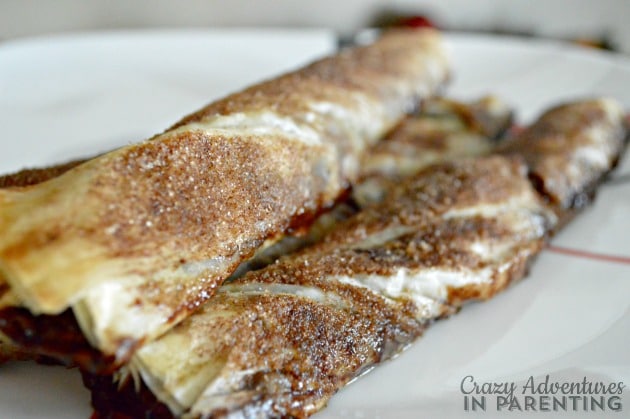 Hershey's Simply 5 Syrup is available in 21.8oz bottles at mass and grocery retailers, and will be available in 48oz bottles at Costco starting this spring – oh yeah! Visit www.Hersheys.com for more information, or follow them socially on Twitter, Facebook, YouTube, or Instagram.
In the hustle and bustle of everyday life, making time for traditions can sure seem pretty daunting, but it really doesn't have to be! Some of the best moments can be and are the simplest ones! How do you help make your family's day sweet, or sweeter? Take a moment to "stop and smell the chocolate" and share with us your "Simply 5" – a five word recount of what makes your day sweet, using hashtag #Simply5 on social media.
Now, if you'll excuse me, I have a date with a churro.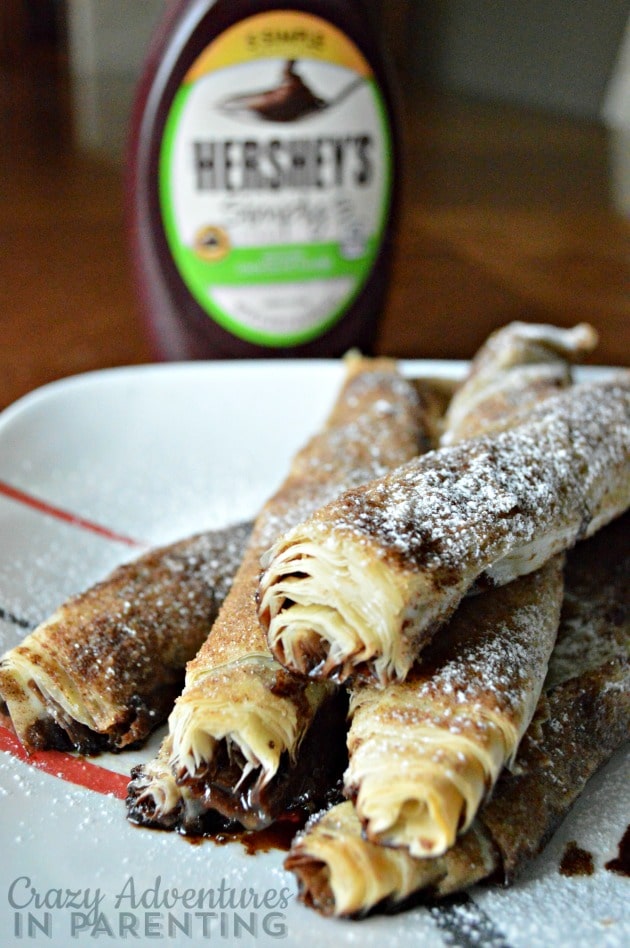 Compensation was provided by Hershey's via MomTrends.  The opinions expressed herein are those of the author and are not indicative of the opinions of Hershey's or Momtrends.