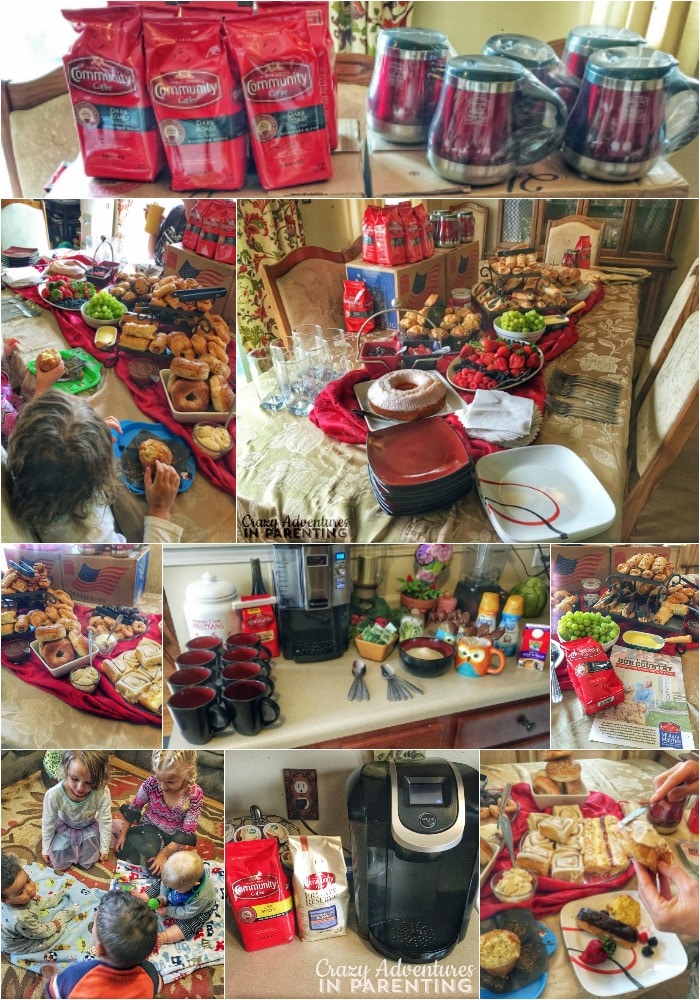 May is Military Appreciation Month, and I couldn't be more thankful that Community® Coffee wanted me to host a little breakfast-and-coffee shindig at my house for my fellow military spouse friends in honor of their Military Match program. YES, PLEASE! I have some wonderful friends here in North Carolina, some of which are enduring a LOT of military stresses right now with deployed husbands or ones away for schools/training. Some of these spouses are working from home (like me), or going to school in their "spare time" (which, as parents, we all know is quite elusive). It was an absolute honor to treat them to a morning of luscious treats and delectable coffee.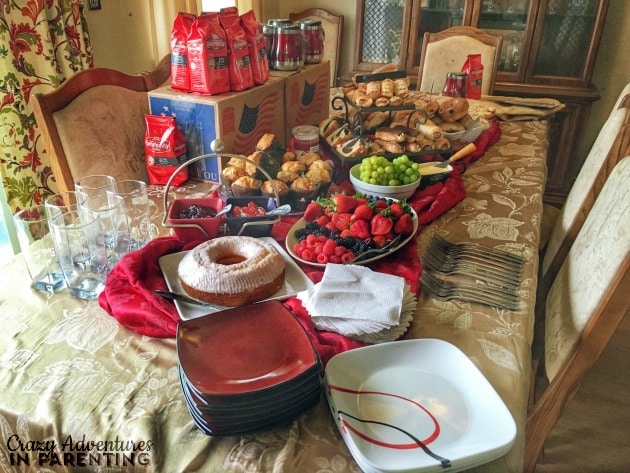 It can be tough to find time sit down in May with the end of school and sports with PCS season in full swing. But, if ever there were a time needed to take a break, May is IT! Haha! To celebrate our independence from our crazy lives, even just for a few hours, I felt the need to get a little fancy – I broke out the shiny linens, the sparkling silverware, and glassware. I set up the breakfast table boutique buffet-style to make it easier for my friends to take and eat, leaving us (a lot) more time for us to talk and decompress. Even just a couple hour break from the everyday craziness we face helps keep us (somewhat) sane, you know?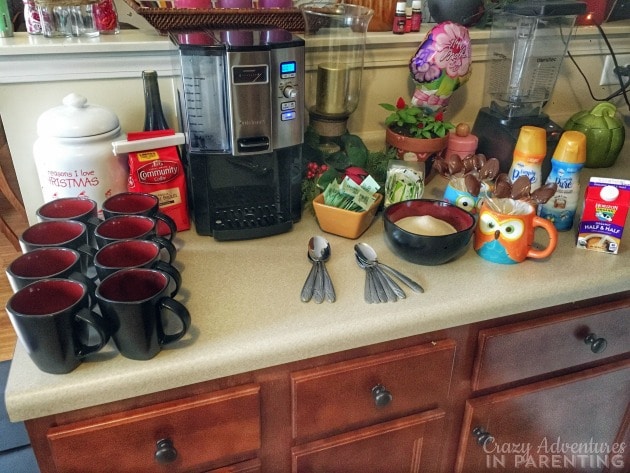 I delved into the brimming boxes that Community® Coffee sent (that I then used as a display in the middle of the table, so my friends would see what the packages would look like), and just knew that the Community® Vanilla Crème Brûlée would be a huge hit. I decided to make the coffee bar extra special (in light of this special event) so I made chocolate spoons for our coffee. I also offered vanilla, caramel, and regular half-and-half as well as 3 different types of sweetener to really lighten and sweeten things up. (By the way, the Community® Vanilla Crème Brûlée paired soooo amazingly with both vanilla and caramel creamers. I would definitely suggest that combo if you're a coffee creamer lover!)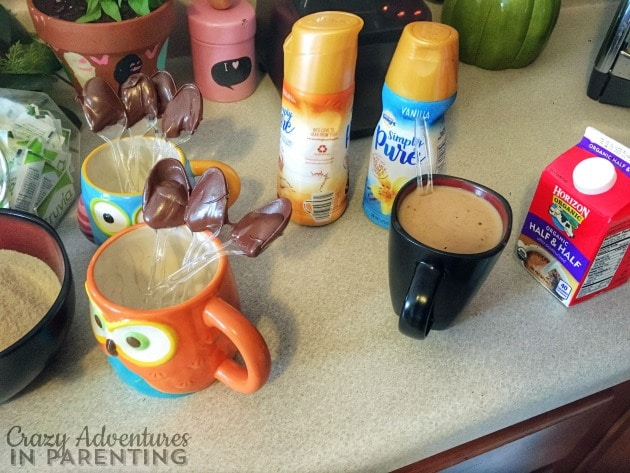 Here's a closer look at the breakfast buffet table – I offered two types of jam for the danishes, a lemon pound cake, two types of bakery fresh muffins, a huge platter of fresh berries plus grapes, a veritable bakery on a platter front and center with bakery favorites of mine (apple turnovers, eclairs, croissants, and the like). Rounding out the other end of the table were two types of large bagels with two types of cream cheese (honey pecan, helllooooo), regular and Apple butter, a strawberry cream cheese pastry, cinnamon rolls in two sizes, and small doughnuts for the kiddies. I even added a red white and blue military candle to add to the festive nature of the event 🙂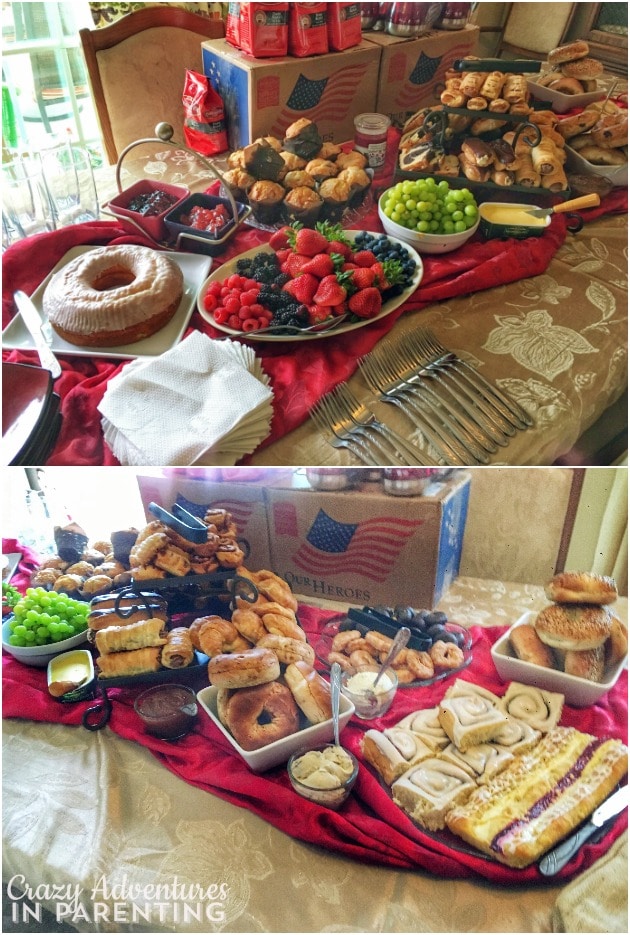 Right smack dab in the middle of the table I used the Community® Coffee boxes that were sent to display the coffee and mugs they were taking home with them. These are the exact mugs that get sent in the Military Match sets!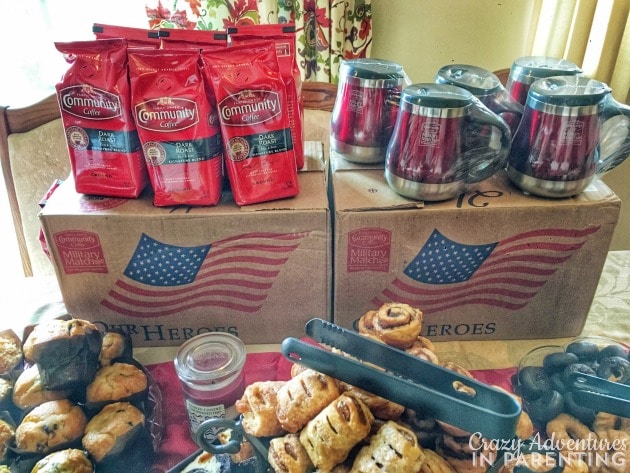 I also offered two other blends at the Keurig® (with a refillable filter) should they want to sample other Community® Coffee blends. (That  Community® Private Reserve Evangeline Blend is YUM-MO!)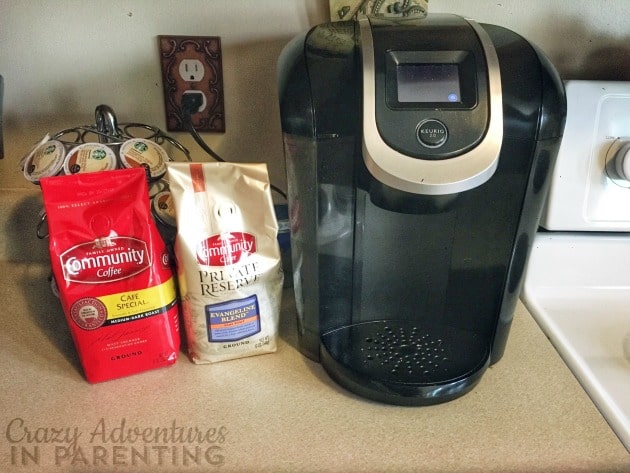 Along with all the goodies and treats, I set out the Military Match information card so my guests could read as they sipped on Community® Coffee and enjoyed their breakfast.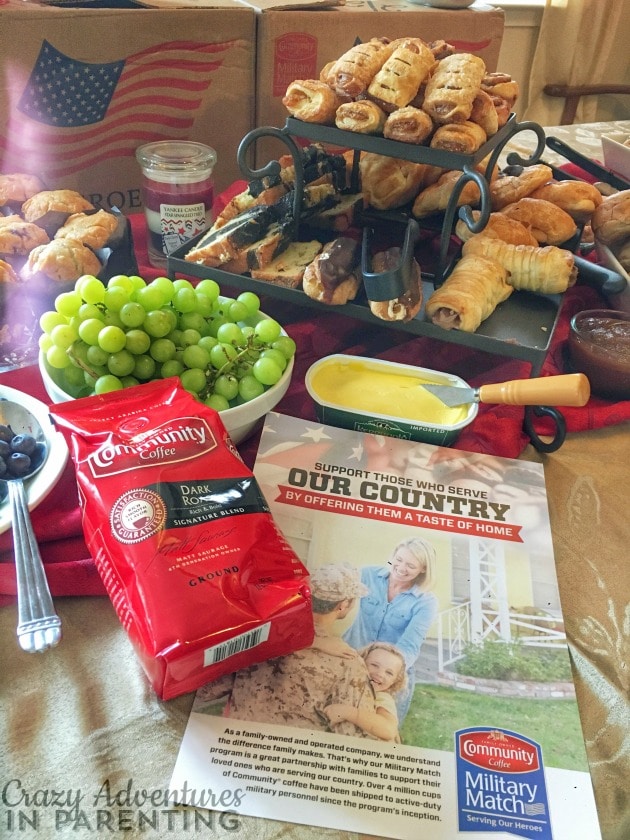 Armed with a massive amount of treats and coffee, courtesy of Community® Coffee, not only did we get to celebrate and appreciate each other, but we got to learn more about Community® Coffee's Military Match program.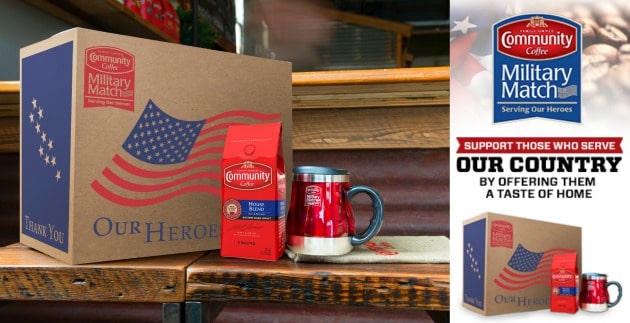 More than 2.2 million men and women serve in the U.S. military today – that's 2.2 million reasons to ensure servicemen and women get a cup of home. Community® Coffee has been thanking the men and women in the U.S. Military by doubling customer coffee orders for free through our Military Match program.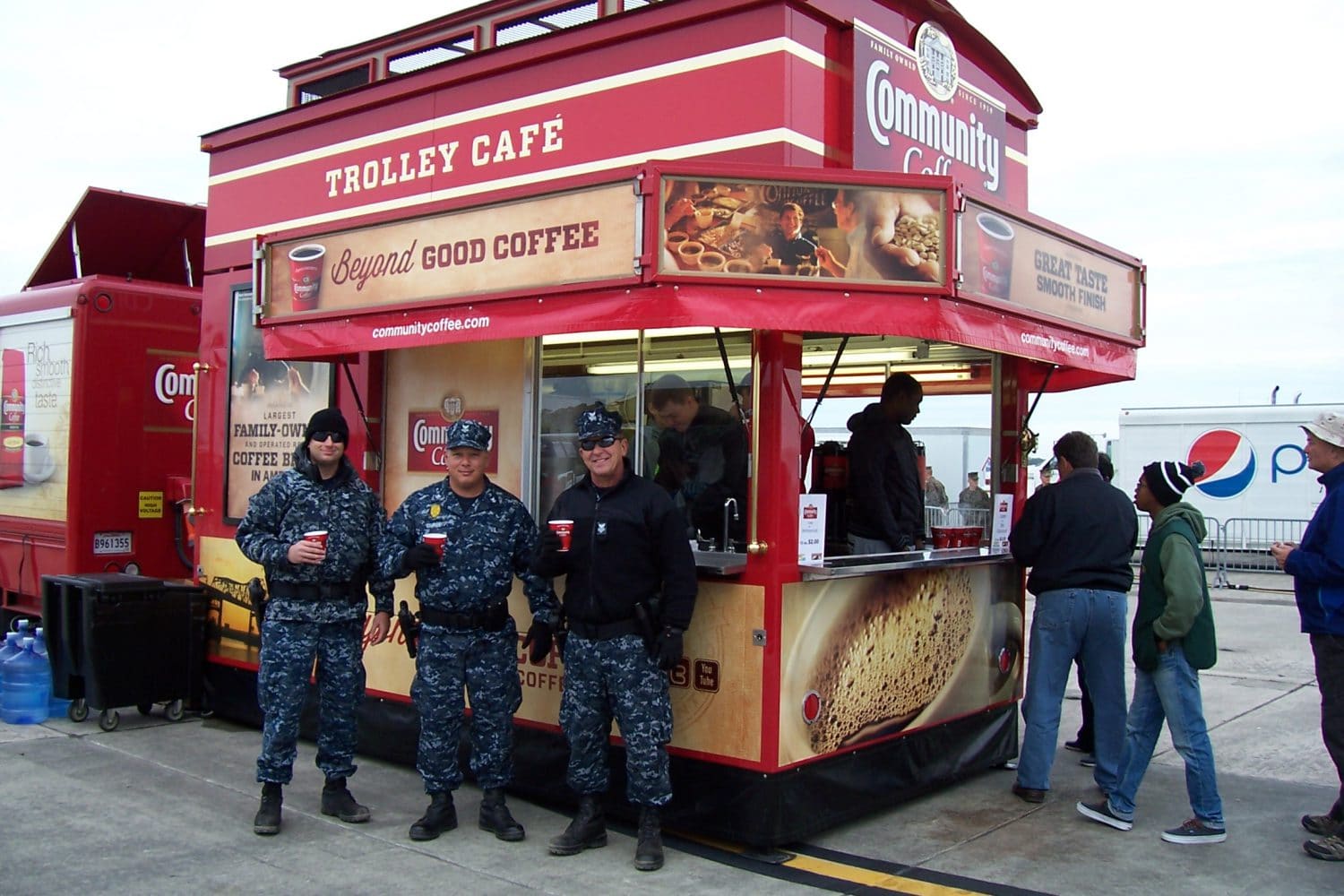 This past year, Community Coffee Company reached a new landmark with more than 4.2 million cups of coffee shipped to military personnel since the program's inception.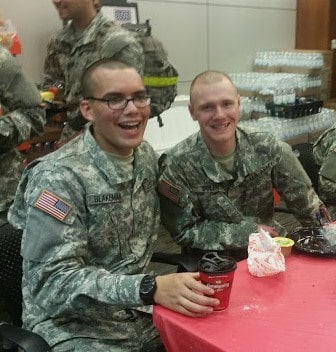 When you purchase four bags or boxes of Community® coffee from CommunityCoffee.com for those serving in the military, the company then matches the order with four additional bags or boxes of Community® coffee, ships the extra four items at its cost, and sends a total of eight bags or boxes of coffee plus a signature Military Match mug to the chosen overseas (APO/FPO) or stateside military base address. 
Military Match sets can be purchased online at CommunityCoffee.com. I highly encourage you to visit their website and order a few packages for your favorite servicemen or women. My husband told me every package he'd receive overseas helped him connect to home, and maintaining that connection is ohsoimportant to them.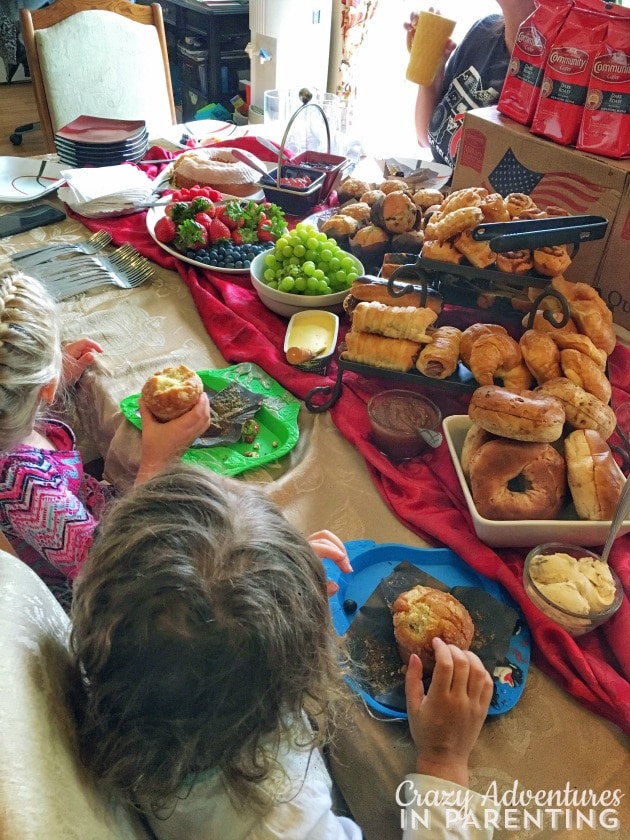 Not everyone I invited could come and let me spoil them – one dear friend (whose husband is deployed) had a horrible migraine. I decided to brighten her day just a little, allowing her to enjoy a little breakfast and coffee at home alone.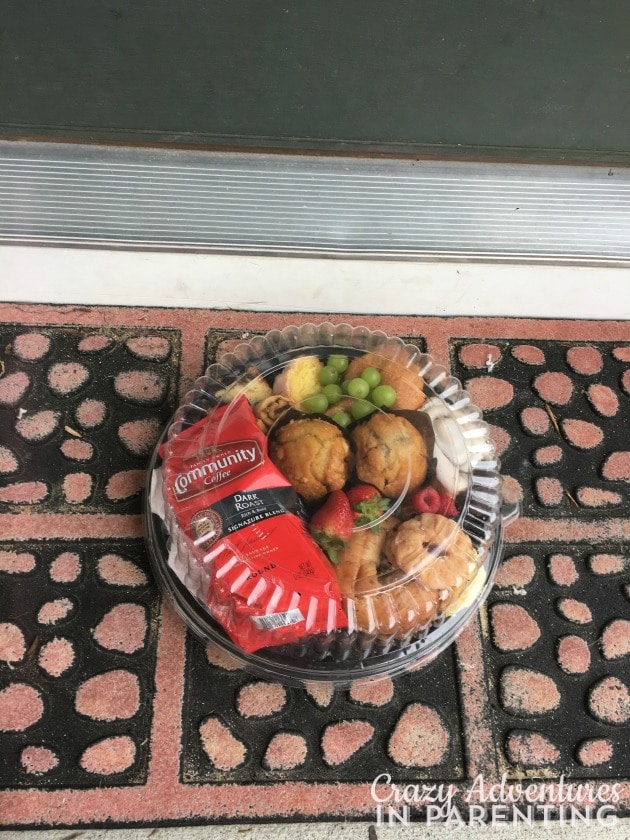 Even if it isn't May's Military Appreciation Month in May, if you know any military families (whether personally or through a friend-of-a-friend), a little surprise treat or package sent their way makes a huge, huge difference, and is appreciated more than you'll ever know.
Military Match Contest!
Do you know of a deserving active military member? Share a picture of them to Twitter or Instagram with the hashtag #MilitaryMatchContest to enter to win a Military Match set plus one for YOU, the submitter! The Military Match set will contain 8 packages of 12-oz coffee or 8 boxes 18-ct single-serve coffee cups plus a signature Military Match mug! All you need to do to enter is tweet or share to Instagram a picture (any photo is fine, even a casual one), and your entry will appear here! The winner will be determined by the photo that receives the most votes, so share your image and the voting page link with your friends and family to increase your votes. Complete Terms and Conditions can be found here.