Are you looking for ways to work with me other than advertising? Check out how else we can partner together.
But if you already know what you want, and you're looking for advertising, read on, you've come to the right place. And thank you for your interest in wanting to advertise with me here at Crazy Adventures in Parenting! Now, let's talk, shall we?
You're obviously looking to connect with smart and savvy parents, mothers and fathers who have their fingers on the pulse of what's hot and who always want what's best for their family.
Popular ways you can get your product, service or brand in front of my readers is:
Banner and Graphic ads (see below for available sizes)
Text link ads
Sponsored posts (hosted here on my site)
Gift Guide
Ad sizes currently available: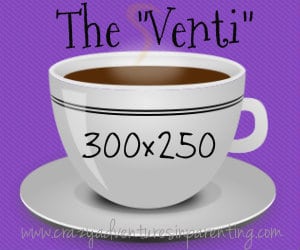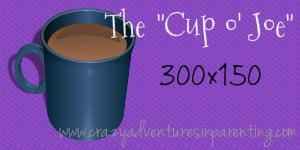 Not pictured here (yet), the "Cappuccino" (468×60 under every post), the "French Press" (160×600 skyscraper in the sidebar) and the "Grande" (120×240 in the sidebar).
I offer discounts for bloggers, Etsy shops, and for longer advertising terms purchased in advance. Email me at ads.crazyadventuresinparenting (at) gmail.com for a promo code or for more information.
If you'd just like to purchase advertising for one month at this time, you can go ahead order below, or, if you feel more comfortable working one-on-one with me, you can email me to order advertising, or to combine it with another service offered.