Let this post serve more as a warning to you folks attempting to make your own Princess Doll Cake, m'kay?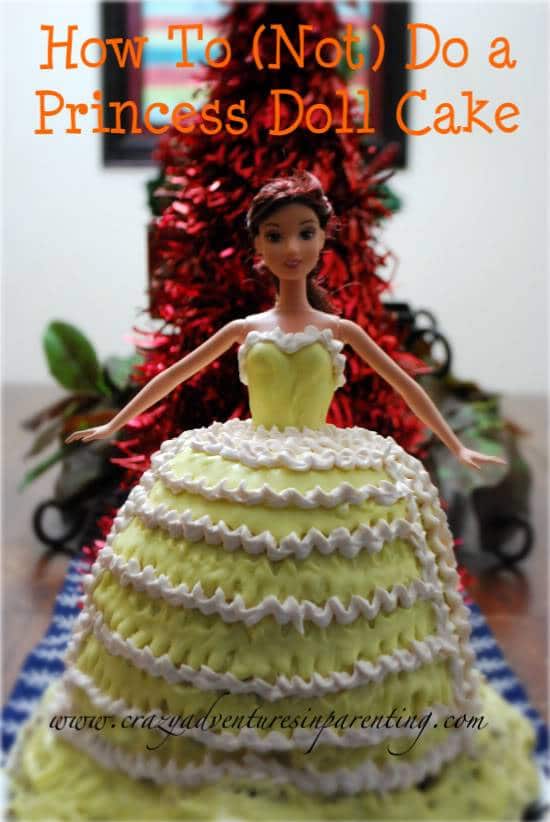 Note the strategic blurring of the photo around the edges, particularly the bottom. Don't ask what happened to the bottom cake. It wasn't pretty.
First, save yourself some trouble – not every cake needs to be made from scratch. I'm not a big boxed cake fan to begin with, but there are some decent all-natural and organic cake mixes out there you can use. Take my advice, use them. Don't be like us. Frosting and decorating this monstrosity is enough of a hassle without the added torture of baking a cake entirely from scratch added to it.
Second, be sure to follow directions, especially when it concerns the decorative frosting. Y'know, the frosting you're not familiar with using, haven't made in a long time, using all-natural food coloring you've never used before. Yeah. That.
Don't wing it. Read and follow the directions. Completely. And when you get to the part of the directions when it tells you to "let it sit for fifteen minutes" before using it, LET IT SIT FOR FIFTEEN MINUTES. Or else your yellow icing is too drippy to be decorative, and instead of ruffles, you get drips. (See top picture for details.) See how the pinky-white is so much better than the yellow? Yeah. That's because it sat while I messed up did the yellow. *slaps forehead*
Thirdly, if you use a real doll (as we did), and use a batter bowl (like ours from Pampered Chef), the doll's feet will stick out below, requiring the need for a second cake to go underneath. By making a second cake, we were able to thwart the foot dangling issue, but for the love of whatever you consider holy, do yourself a favor, and don't make it look like mine.
(For the doll cake recipe, cooking times and more, go here. And for the doll cake "picks" to use instead of a real doll, to ensure no feet dangling issues, see Wilton's site for a good selection, or your local crafty store, like Joann's.)
Also, allow yourself extra frosting, and make sure you use regular frosting on the intended "frosted" parts (those you plan to frost with a knife or spreader, especially on the second cake) or else, be prepared to smear harder-than-normal frosting on the bottom cake. You'll be left wondering what the H-E-double-hockey-sticks you're doing, and whether you can take pictures of the top part of the cake without getting the bottom, since it's a complete and total disaster area. (See below.) *facepalm*
But in the end, it's actually funny (in an ironic, kind-of way), because the kids actually marveled at the cake. (No really, they did!) "Wow, mom! You made the cake look like her dress!"
(Even if I didn't think it looked that great, it sure did to them. Mostly.)
Besides, it was pretty cathartic to hack into that bad-boy once the singing ceased, the appetites were whetted, and the knife was sharp. After all the pain we'd gone through, and mistakes we'd made, seeing the cake being served, and half gone, gave me a weird accomplished sense of pride (and thankfulness the dang thing still tasted good despite being only semi-okay to look at).
I'll never look at my poor daughter's doll the same again.
(P.S. See more of my #dessertfail posts here. Further proof that mom needs to step away from the kitchen every so often.)
Never miss a thing! Subscribe today for all kinds of crazy parenting fun!
Look no further for more great Dessert Fails: