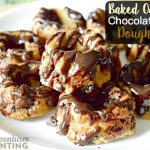 Print Recipe
Baked Oatmeal Chocolate Chip Doughnuts #CookingwithGerber
This healthy mini doughnut recipe uses baby food and alternate flour with no sugar added to allow for a scrumptious tasting doughnut without all the calories or guilt.
Preheat oven to 350 degrees and spray your mini doughnut pans.

In a medium-sized bowl, blend together all your ingredients until well combined.

Fold in mini chocolate chips.

Using a teaspoon, lay mixture inside doughnut well.

*NOTE* This is not your typical doughnut dough/batter, so it will require you to press down a little to remove any air bubbles.

Bake for about 15 or so minutes, watch closely - doughnuts should be golden brown around the edges.

Let cool in the pan for 5-10 minutes before removing to baking rack using a spoon or butter knife to gently release it from the pan. (It will end up really moist and brownie-like, which means delicate.)

Drizzle with glaze (optional).
For the glaze (optional)
Melt chocolate until creamy (two or three 25 second microwave increments should do it.

Add in coconut oil, vanilla, almond milk and mix gently.

Reheat in the microwave for 20 seconds and stir.

(Can be cool to be drizzled, does not need to be done right away)

Drizzle gently with a spoon over top the doughnuts on the baking rack