This fantastic and easy baked oatmeal chocolate chip doughnuts recipe isn't too sweet for those who don't want something too over the top.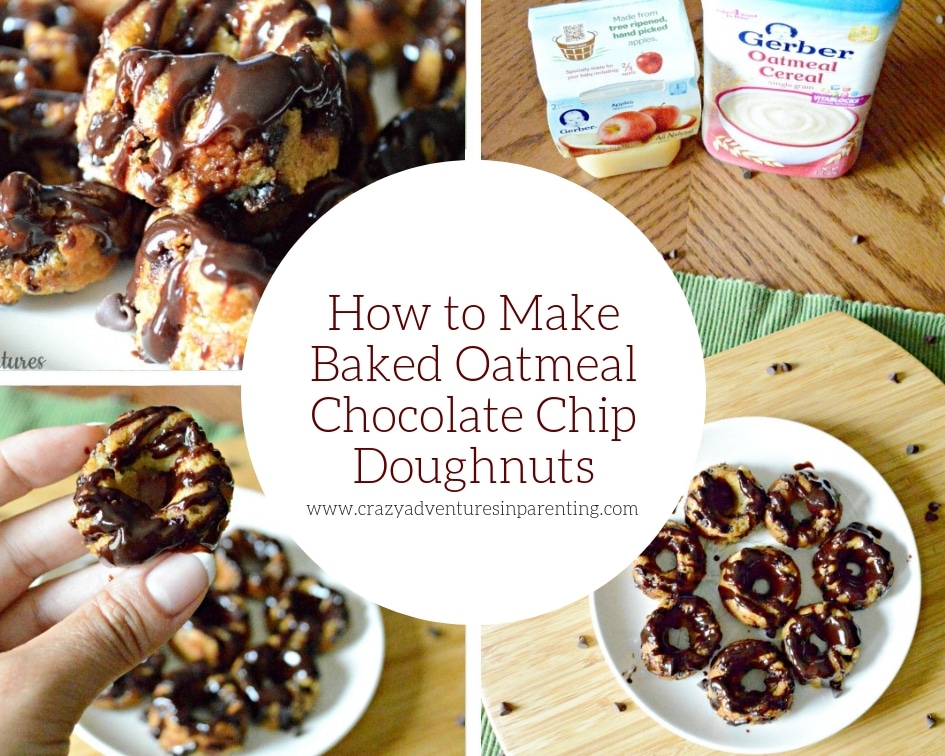 This is a sponsored recipe project to share the goodness of Nestle Gerber® Cereal from The Women Bloggers,
Kendal King Group, #SoapboxInfluence and @SoapboxKKG. All opinions and deliciousness are my own.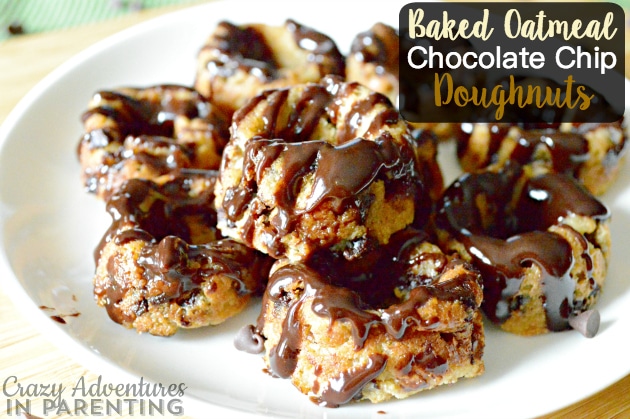 Baked Oatmeal Chocolate Chip Doughnuts
I'm gonna share you a baking secret of mine, come closer! *whispers* When a recipe calls for mashed bananas, apples, or any other fruit? Use baby food. YES! I mean, why add that extra step to your recipe, and struggle to get it to the proper consistency? I don't even use regular apple sauce, I would MUCH rather use baby apple sauce because it's been blended to perfection! Using baby applesauce in my baked oatmeal chocolate chip doughnuts recipe feels like cheating because it's so easy! Think of how much easier it would be to make banana nut muffins or apple cinnamon pancakes with this trick up your sleeve? For reals, friends – baby food doesn't have to be just for babies!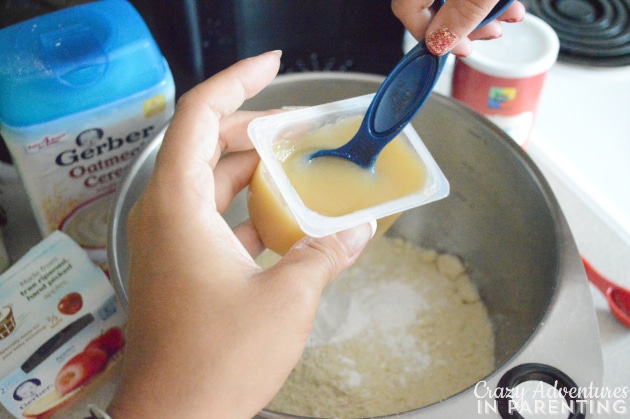 It just about blew my mind into eleventy-billion pieces when it occurred to me that baking with baby cereal would be just as amazing, too. OH YES! Think about it for a second – how many times have you baked with oatmeal, but had the oatmeal grains not fully soften while baking? News like that isn't earth shattering for everyday oatmeal eaters, but when you've got picky eaters who have to be tricked into eating oats in recipes, and you want it to stay no the down-low? Using baby food oatmeal allows you that same oatmeal flavor without the large grains in recipes. Hallelujah!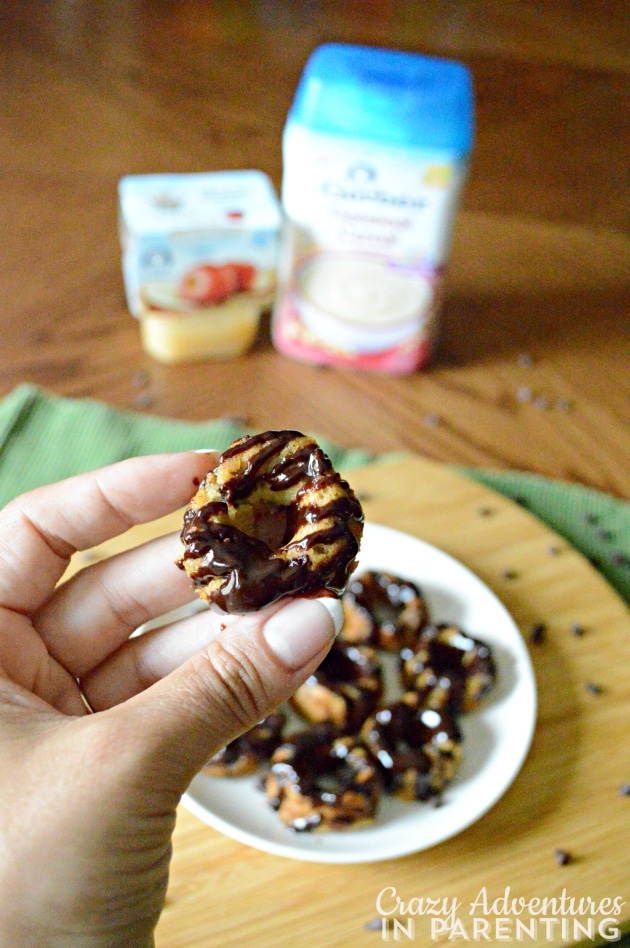 It's actually almost criminal how easy using baby food can make your recipes. After shopping at Walmart, we used Gerber® Oatmeal Cereal Single Grain and Gerber® Apples for our fancy pants yet easy to make our baked oatmeal chocolate chip doughnuts, along with the following healthy ingredients: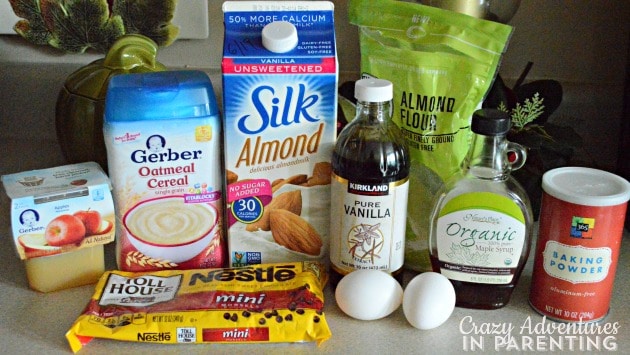 How to Make Baked Oatmeal Chocolate Chip Doughnuts
We chose mini chocolate chips because we're making mini doughnuts, getting more chocolatey taste into every bite. You see here that the only sweetener being used is maple syrup, since the apples are naturally sweet, and the chocolate chips will only accentuate that in this recipe! Yay!

I could tell almost immediately when using the baby cereal and applesauce that this was a mixture so easy to mix, my little ones could do it without any supervision, and I was right! It mixed so beautifully, in fact, it resembled a light and fluffy cookie dough.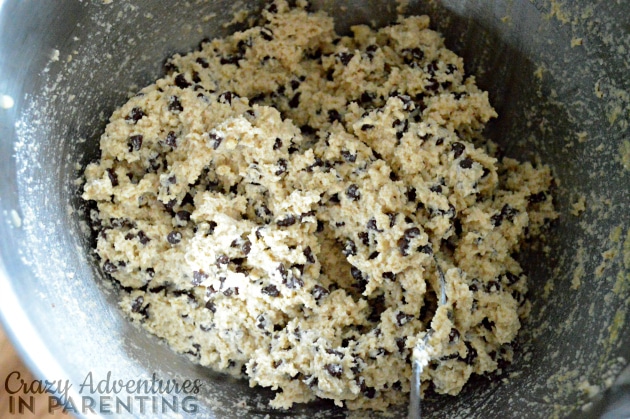 After spraying our mini doughnut pans (and a heart-shaped mini muffin pan), we packed down the dough/batter and baked it for 15 or so minutes, until golden brown on top.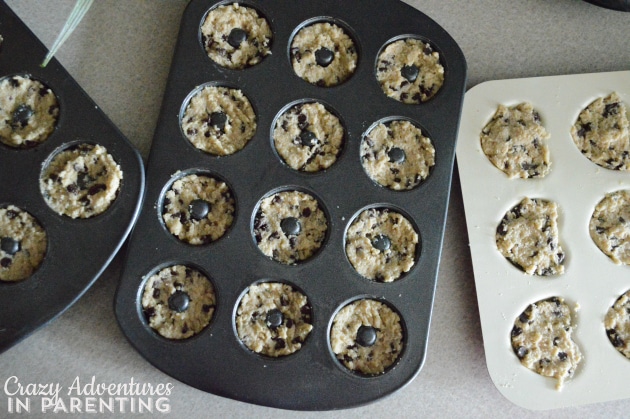 Once baked, we flipped them out of their pans and onto the cooking rack and drizzled them generously.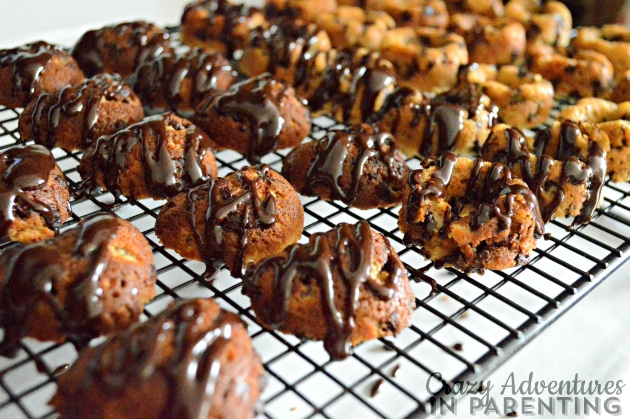 Did I say generously? I mean… G-E-N-E-R-O-U-S-L-Y… mmmmm…..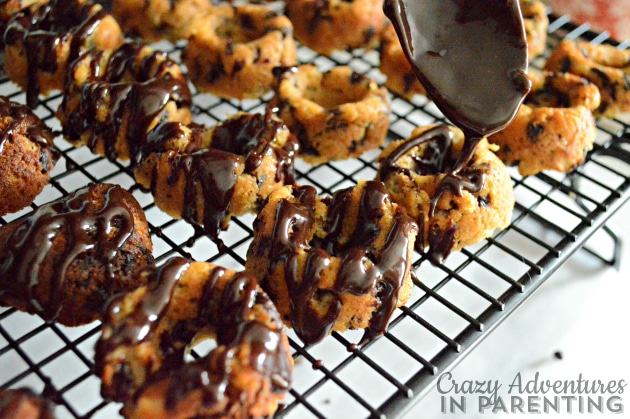 I think we need a closer view of the drizzle happening. I need to be sure it's going on properly. *ahem*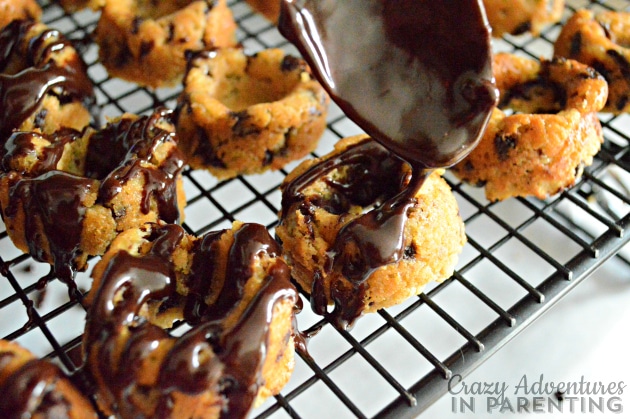 Oh yes. That drizzle is DEFINITELY working for me. Is it working for you? *licks lips*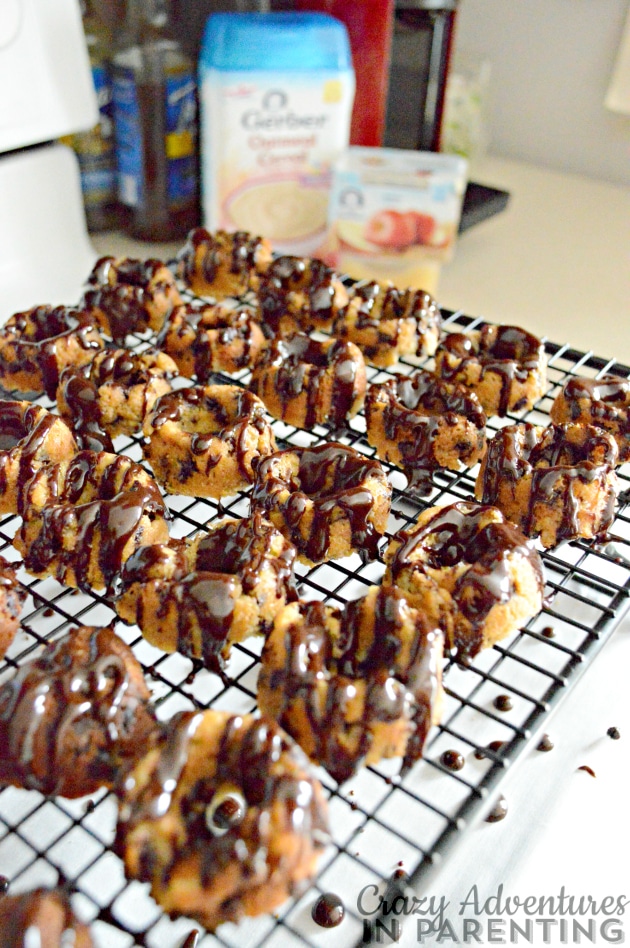 Just a little bit of time cooling and drying on the wire rack before serving. And? Ohhh, mama…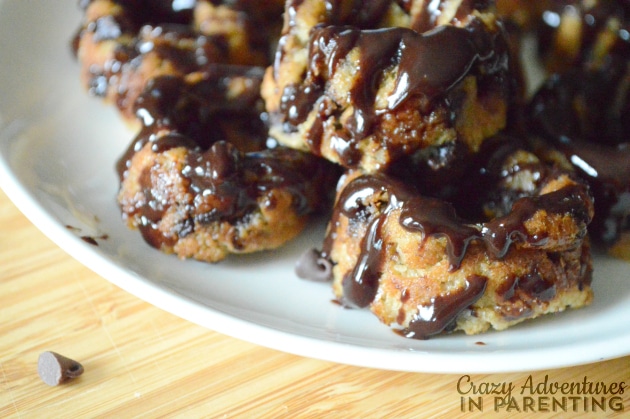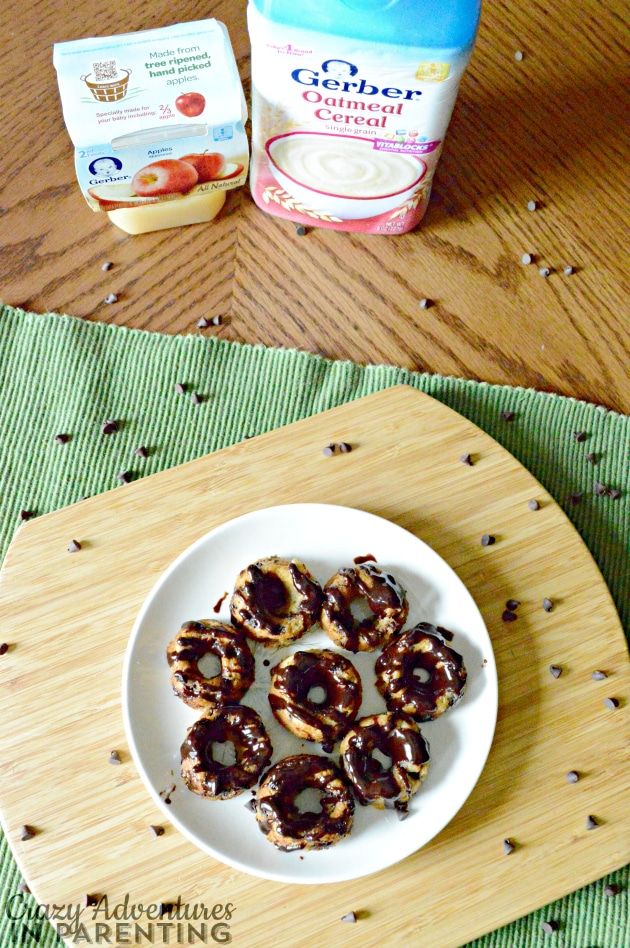 My Baby Dude was in loooooooove!😍After he ate four or five doughnuts, I told him there was baby food in it. This was his reaction: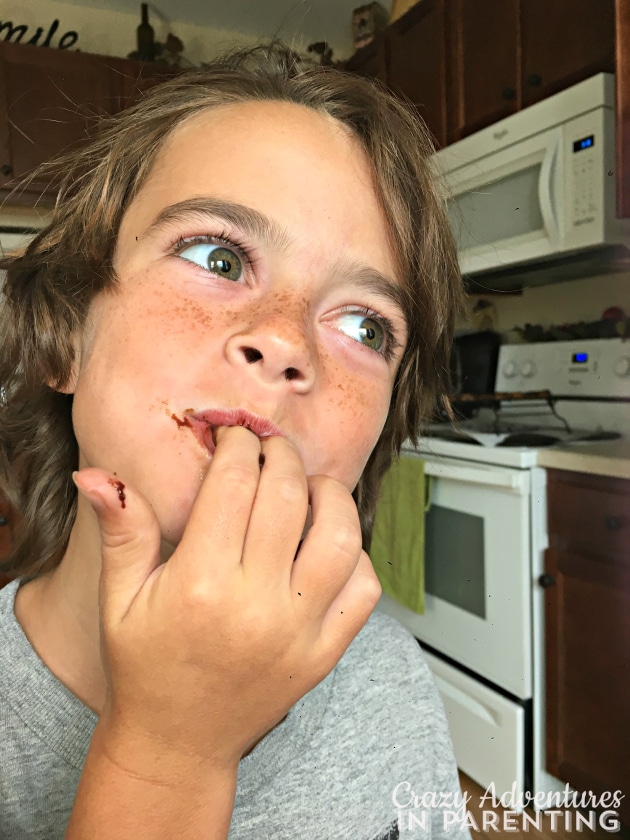 He was NOT CARING! His eyes may have widened at the news, but he licked his fingers, continuing to devour that one before asking for two more. Haha!
These little healthy bites of awesome have just the right bit of sweetness without being too over the top. Eager to try these yourself? Here's how to make 'em!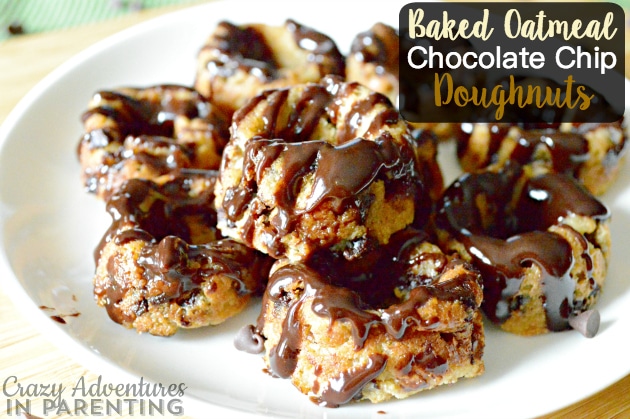 Baked Oatmeal Chocolate Chip Doughnuts #CookingwithGerber
This healthy mini doughnut recipe uses baby food and alternate flour with no sugar added to allow for a scrumptious tasting doughnut without all the calories or guilt.
Print
Pin
Rate
Instructions
Preheat oven to 350 degrees and spray your mini doughnut pans.

In a medium-sized bowl, blend together all your ingredients until well combined.

Fold in mini chocolate chips.

Using a teaspoon, lay mixture inside doughnut well.

*NOTE* This is not your typical doughnut dough/batter, so it will require you to press down a little to remove any air bubbles.

Bake for about 15 or so minutes, watch closely – doughnuts should be golden brown around the edges.

Let cool in the pan for 5-10 minutes before removing to baking rack using a spoon or butter knife to gently release it from the pan. (It will end up really moist and brownie-like, which means delicate.)

Drizzle with glaze (optional).
For the glaze (optional)
Melt chocolate until creamy (two or three 25 second microwave increments should do it.

Add in coconut oil, vanilla, almond milk and mix gently.

Reheat in the microwave for 20 seconds and stir.

(Can be cool to be drizzled, does not need to be done right away)

Drizzle gently with a spoon over top the doughnuts on the baking rack
Ohhhh, baby. Perfect for kids (and moms) alike. (Okay, and maybe dads, too.) Check out Gerber's baby food recipes e-book chock-full of awesome recipes to try!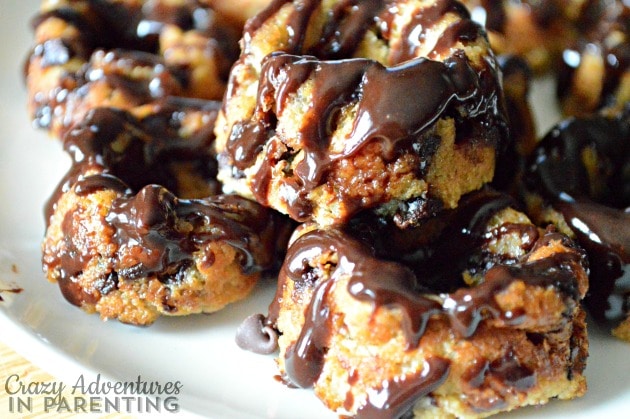 What do you think of my baked oatmeal chocolate chip doughnuts? Have you ever cooked or baked using baby food before? I'd love to hear what you made!