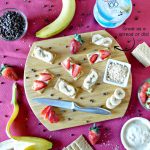 Print Recipe
Protein-Packed Peanut Butter Chocolate Chip Yogurt Spread or Dip
Lisa pairs her two favorite ingredients (chocolate and peanut butter) into her favorite yogurt to make a wonderfully filling snack!
Add the powdered peanut butter and mini chocolate chips to the yogurt in the original yogurt cup and stir gently.

Break apart your graham crackers along the score lines in half, and then half again.

Add a dollop of the yogurt spread onto each cracker, approximately 1/2 teaspoonful - spread slightly.

Add two to three slices of fruit on each cracker.

Serve immediately.