This is a sponsored conversation written by me on behalf of General Mills®. The opinions, recipe, and text are all mine.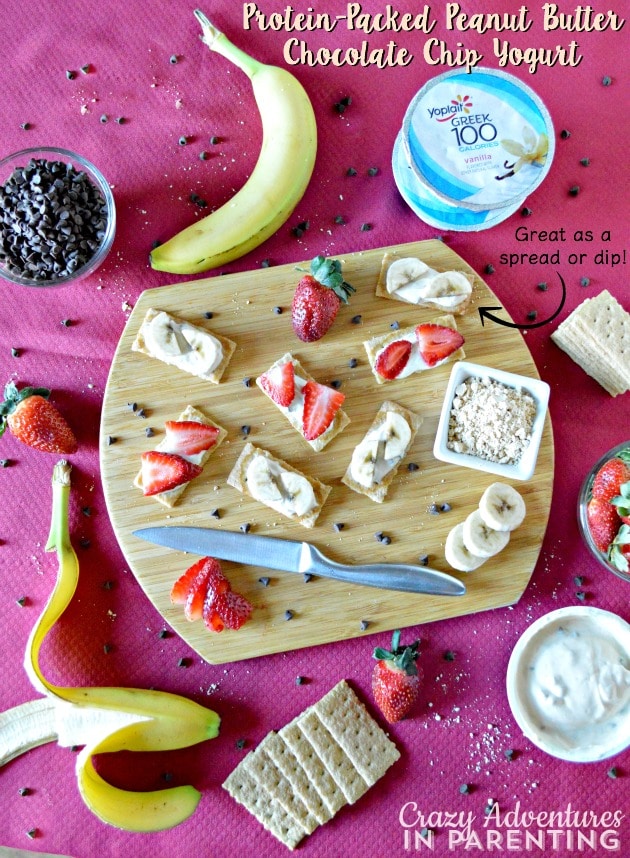 Snacking gets a bad rap. I am a HUGE advocate for it, given I'm pretty passionate about the six small meals a day idea (or, three meals with three snacks in between). I do my best to switch things up often,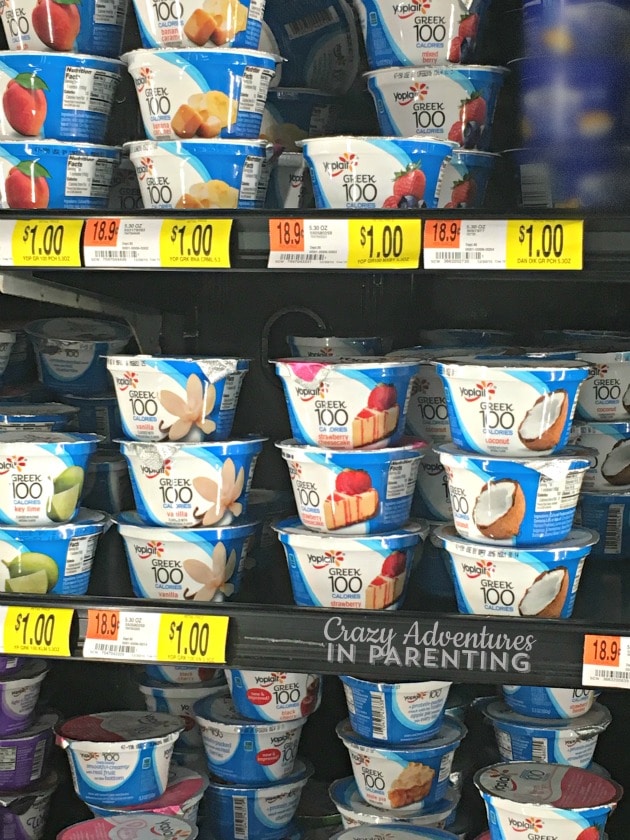 instead of eating the same healthy snacks over and over. Busting out of your norm can be TOUGH, though, especially if you don't want to sacrifice taste. You tend to gravitate towards what you're used to, what's easy and convenient, and when you're getting bored with the same-ol' same ol', if you're not careful, you can veer into unhealthy territory.
The folks at General Mills® asked me to come up with a fun and simple recipe using Yoplait® yogurt purchased from Walmart, jazzing up my cup of Greek 100 by "1-up"-ing my cup (of yogurt). (Is that not an adorable way to say it? This gamer mom thinks so!) Yoplait's greek yogurt is high in protein, and always helps me stay on my healthy track. Adding a few key delicious add-ins only makes it more fun for everyone (including the little ones)!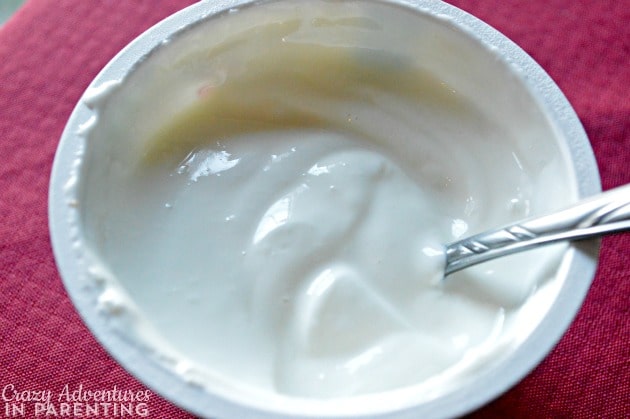 Given Yoplait's Greek 100 is already pretty creamy and smooth on its own, I decided to stick with that scrumptious consistency and kick it up a notch, adding in some powdered peanut butter and mini chocolate chips to create a velvet-like dippable spread (or is it a spreadable dip?)

This Peanut Butter Chocolate Chip Yogurt Spread is decadent while remaining light, and mixes up quite easily, too! Heck, you could even enjoy it straight from the cup if you wanted to! (I doubt you'd mind!) 🙂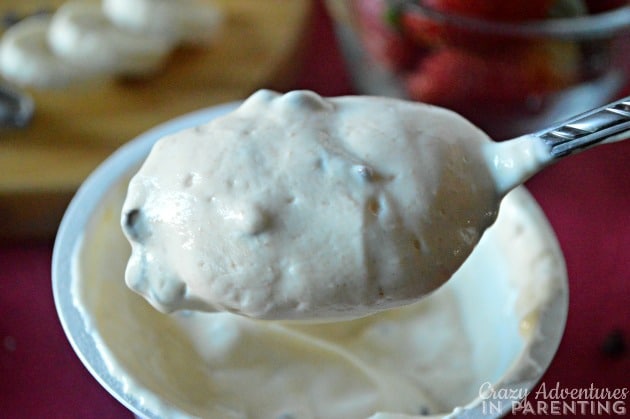 However, my preferred method of eating this glorious spread (or dip!) is to pair it with crunchy graham crackers and sliced fruit. SO DE-LISH!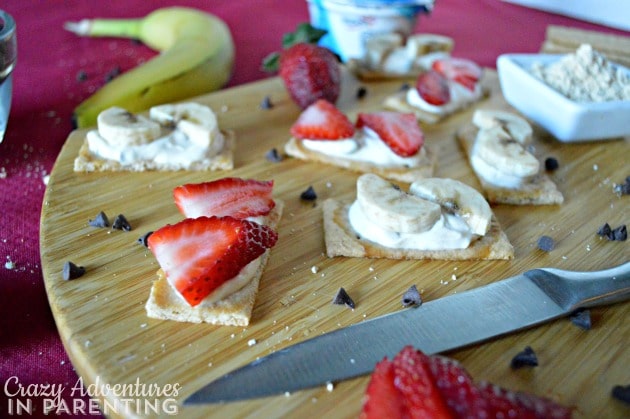 This makes such a wonderful, protein-packed snack, especially for those school-aged kids who come home ravaged (as if you hadn't fed them all day)! You can easily set everything out for them, and let them assemble their fruit and spread on the graham crackers themselves, however they'd like it! They could even make little baby yogurt/graham sandwiches! The fun just does not end!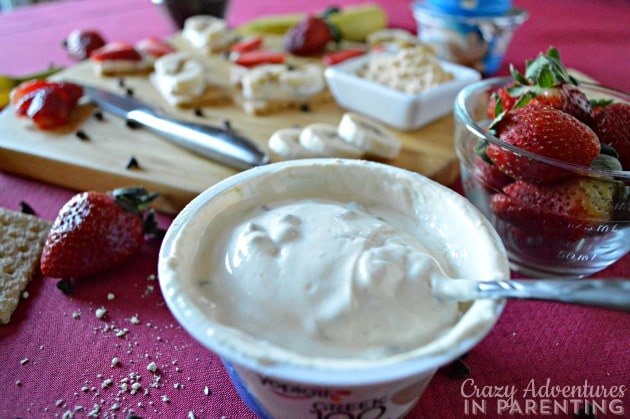 Stomach growling yet? Mine sure is! I won't tempt you any longer, here's what you'll need and how to make 'em: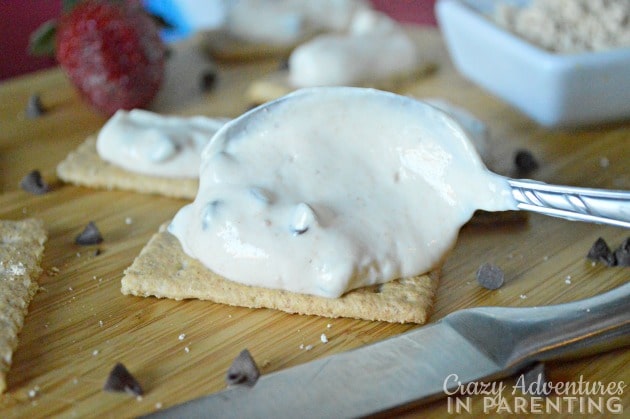 Protein-Packed Peanut Butter Chocolate Chip Yogurt Spread or Dip
Lisa pairs her two favorite ingredients (chocolate and peanut butter) into her favorite yogurt to make a wonderfully filling snack!
Ingredients
1 Yoplait® Greek 100 vanilla yogurt cup, found at Walmart
1 heaping tablespoon of powdered peanut butter
1 heaping tablespoon of mini chocolate chips
*optional - splash of vanilla extract or chopped nuts
half a banana, sliced
3-5 strawberries, sliced
Instructions
Add the powdered peanut butter and mini chocolate chips to the yogurt in the original yogurt cup and stir gently.
Break apart your graham crackers along the score lines in half, and then half again.
Add a dollop of the yogurt spread onto each cracker, approximately ½ teaspoonful - spread slightly.
Add two to three slices of fruit on each cracker.
Serve immediately.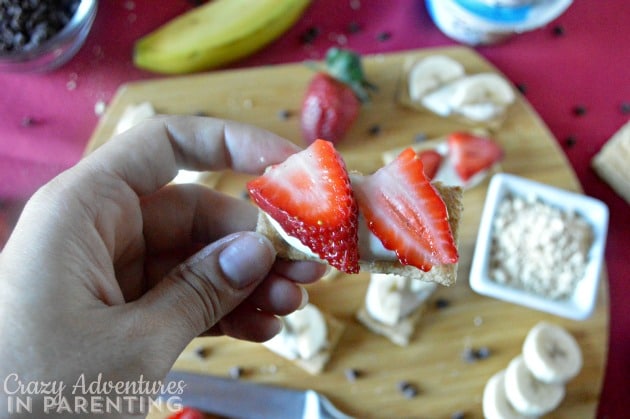 Perfect bite-sized, protein-packed yogurt snacks for any time of day! If one of your New Year's resolutions is to eat better, and make fresher, easier, fun and nutritious choices, this recipe and yogurt is for you!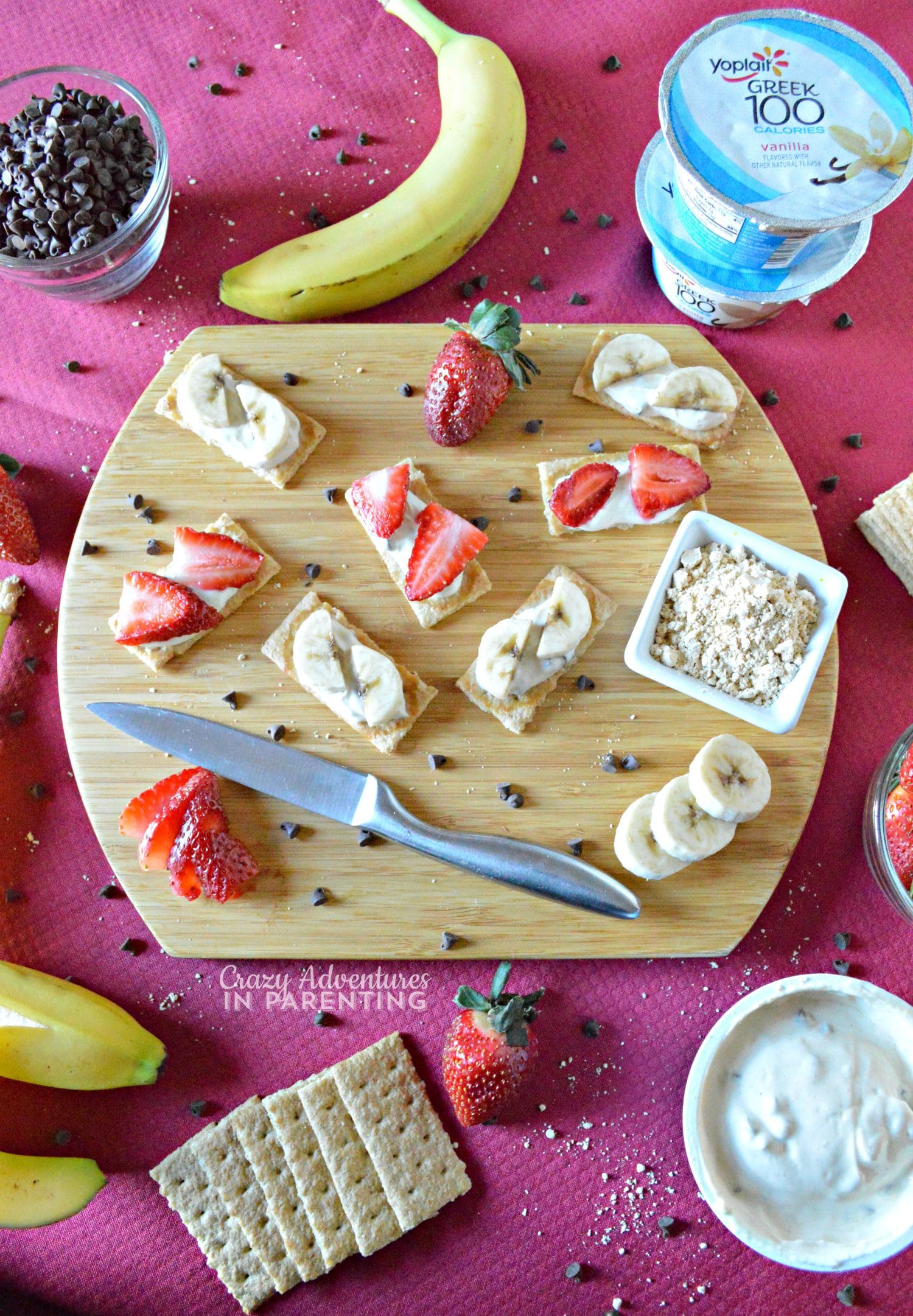 What is your favorite way to 1-Up Your Cup?
This is a sponsored conversation written by me on behalf of General Mills®. The opinions and text are all mine.