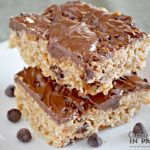 Print Recipe
Nutella Cookie Dough Rice Krispies Treats
This is a nuttier, chocolatier twist on the classic Rice Krispies Treats® involving classic cookie dough flavors with a Nutella peanut butter drizzle.
For the treats
16oz

bag

mini marshmallows

3

tbsp

butter

½

cup

almond butter

1

package

Biscoff Cookies

pulverized into crumbs

12

cups

Kellogg's® Rice Krispies® cereal

1

bag

Ghirardelli Semi-Sweet Chocolate Chips
To make the treats:
Line wax/parchment paper into two 13x9 baking pans.

Pulverize the cookies in a food processor.

Melt 3 tbsp butter in a medium saucepan; add in the marshmallows and almond butter.

Mix until melted and smooth, making sure all the marshmallows are fully melted.

Pour the cereal into a large bowl and add in the pulverized cookies.

When melted, add the marshmallow mixture into the cereal and mix quickly.

Once fully mixed, sprinkle chocolate chips in gently as you pour into the pan.

Add more chocolate chips to the top before pressing down into the pan.

Top with another piece of wax/parchment paper over top and use a roller to press down the mixture firmly and evenly.

Repeat with the other pan, set both pans aside.
To make the drizzle:
Place butter in a small saucepan on medium; add in your chocolate chips, peanut butter and Nutella.

Stir gently but repeatedly with a rubber spatula until all the chocolate chips melt and the nut butters are blended well, and the mixture begins to liquify easily.

Remove from saucepan as you drizzle with the rubber spatula over each pan of treats.

Continually dip the spatula into the mixture and drizzle over top, returning to heat every 3 or 5 drizzles to keep it warmed and fluid, making it easier to drizzle.

Continue until all the Nutella mixture has been used.

Place the pans into the freezer for at least 15 minutes until drizzle sets to make it easier to cut.