Lisa decided to combine her favorite ingredients to make these Nutella Cookie Dough Rice Krispies Treats!
This is a sponsored recipe, but the deliciousness is all mine.
Nutella Cookie Dough Rice Krispies Treats
I apologize in advance. I mean, what can I say? I'm just a really evil person for doing this to you, I know. I can't help it, though. I love cookie dough, chocolate, Nutella, peanut butter, Rice Krispies treats®, and making my favorite things even awesomer by combining them. I couldn't be stopped.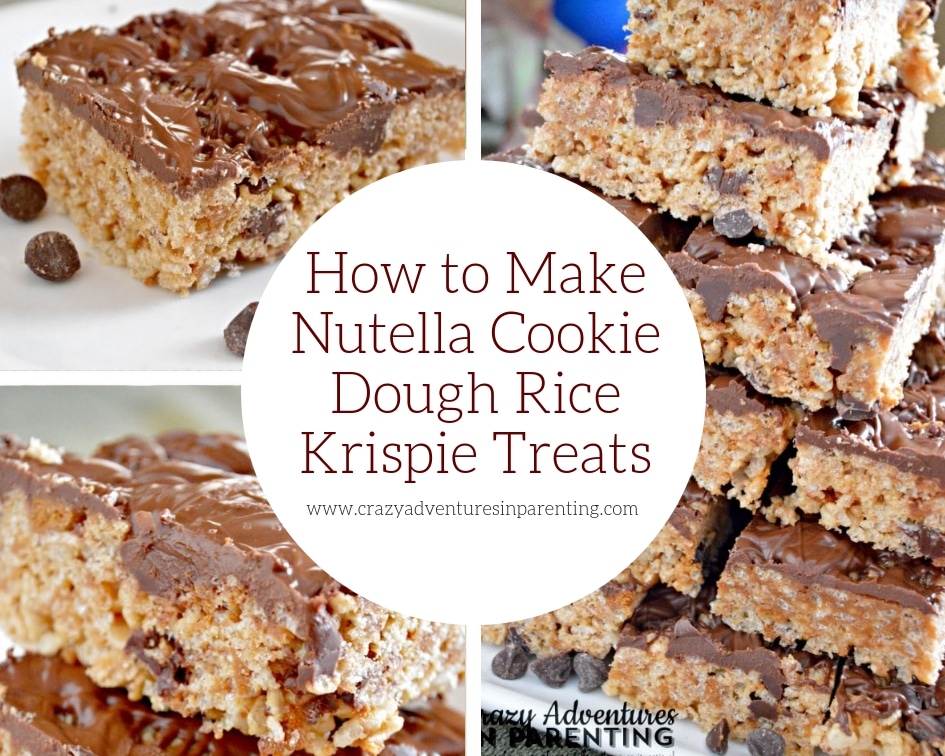 I also apologize in advance for any sharing you decide to do when you make this recipe, suddenly making you exceptionally popular amongst your friends and family. I hope they don't demand these from you the way Monica's neighbors did in the Friends episode, "The One with All The Candy." Consider this Rice Krispies Treats® recipe "The One with All The Awesome." Heh.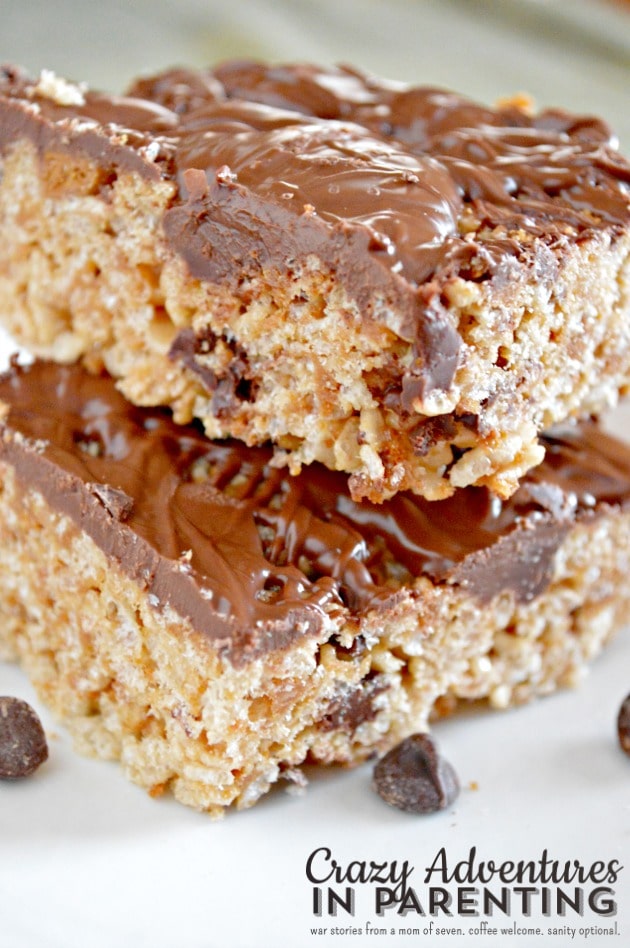 How to Make Nutella Cookie Dough Rice Krispies Treats
That said, the second I was asked by Kellogg's to recreate a Rice Krispies Treats® recipe originally found on Pinterest in my own way, I knew it had to be this recipe with these ingredients. I saw many combinations of chocolate and peanut butter on there, but THIS? Oh yeah, baby. This had to happen.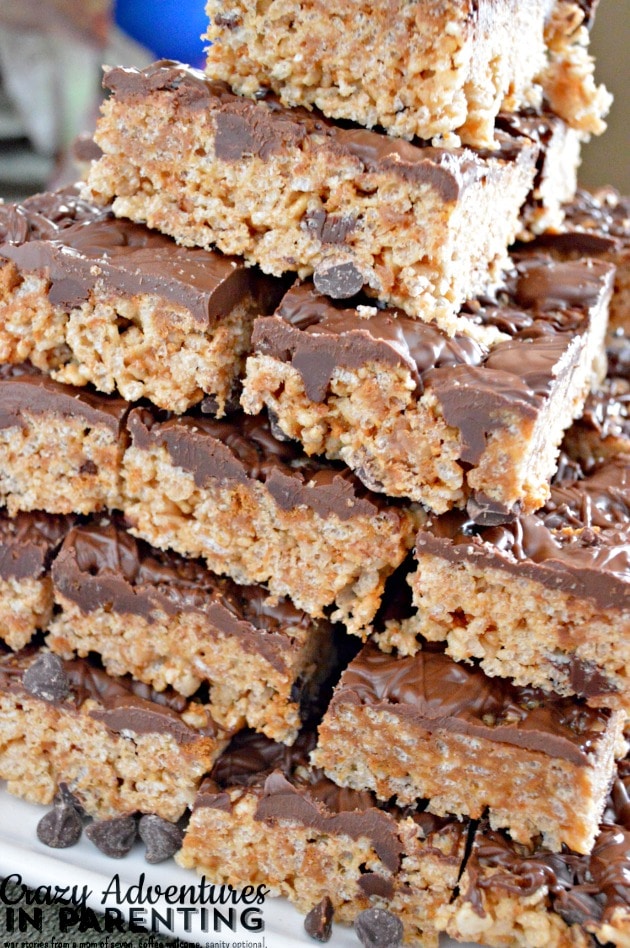 Sure, you might have to workout a little longer, or run a little faster or farther in order to work off these calories, but I promise you, IT'S WORTH IT.
Plus, I share with you my trick for packing Rice Krispies Treats® down so easily – use a baking roller and wax paper! It makes it so much easier to get it nice and tightly packed down if you do it this way.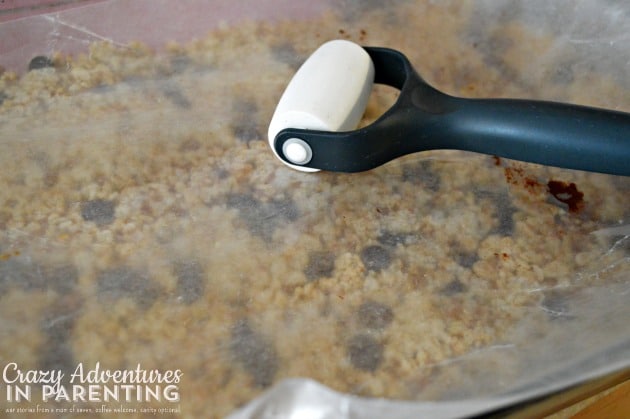 I have to tell you, while these are really easy to make, having a helper makes it all the more sweeter. Besides, my helper is cute and gives me good kisses, so I'll keep her.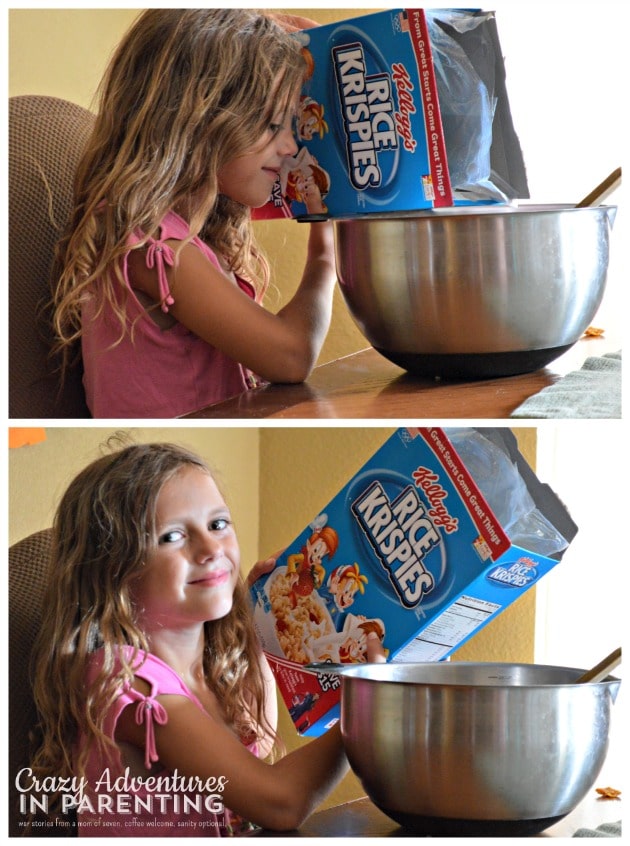 Now, I hate to trick you but, it doesn't really have cookie dough in it. *gasp* I know! But, it does have almond butter mixed with pulverized Biscoff cookies which give it that delicious cookie dough taste. The cookie chunks you come across mixed with the marshmallow will make you want to kiss me through the computer screen.
Also, I had to go "all in" on this recipe by creating a Nutella peanut butter drizzle for the top. I know, I already told you I'm evil.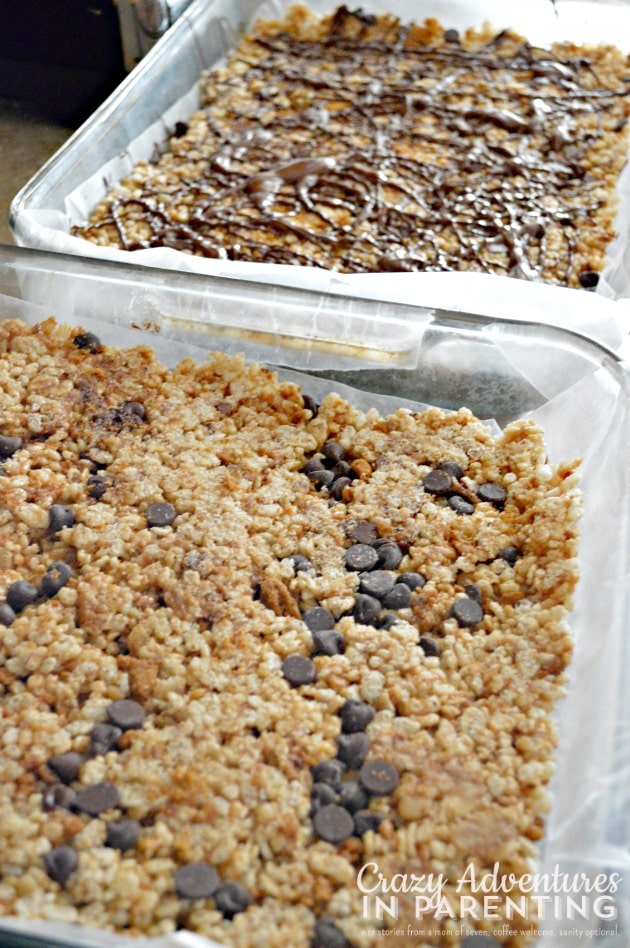 I started off lightly drizzling, but quickly realized I'd made so much to really get a nice thick coat on there, so I drizzled to my heart's content. Soooo worth it.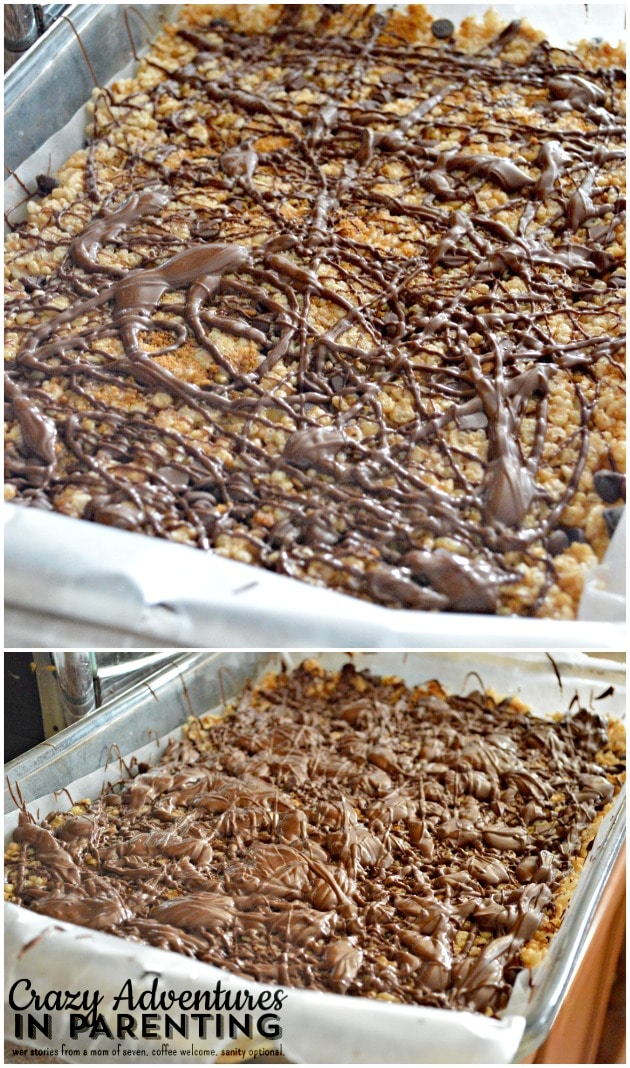 Once I gave it around 15 minutes in the freezer to set and cool off, they were ready to be cut into squares.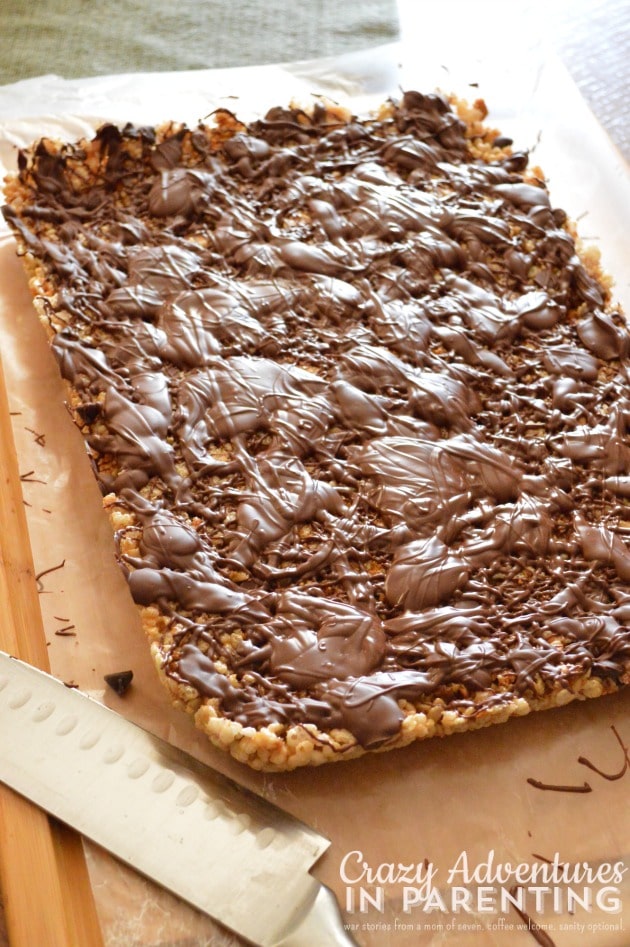 They were really easy to cut, and gosh! They look insanely sinful, don't they?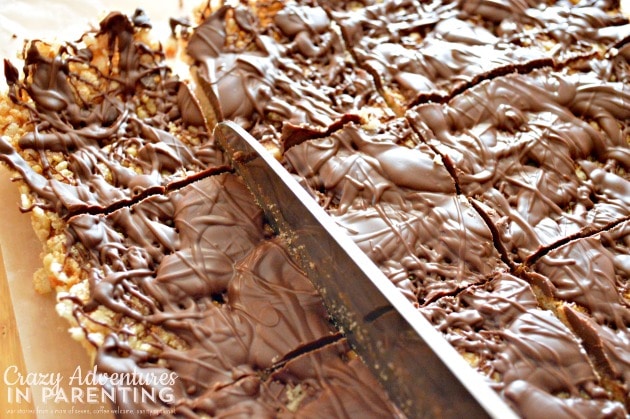 I worship at the church of peanut butter and chocolate anyway, but cookie dough has always been up there as far as being worship-worthy, too. My husband says this is cookie dough in a Rice Krispies® treat topped with a Nutella peanut butter cup. I call that WINNING!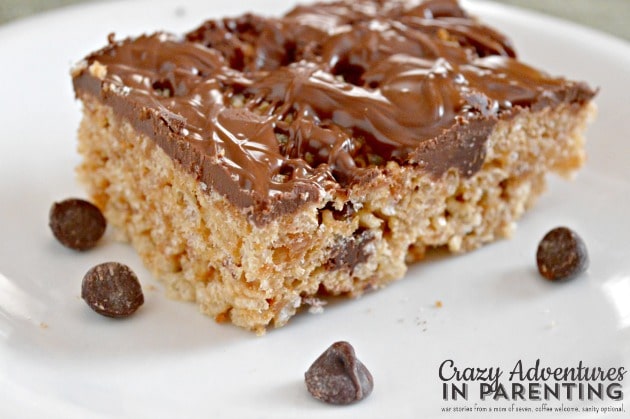 If you've got a special occasion coming up, don't hesitate to make these for someone you care about (even if you cut the recipe in half, and make less). Just be prepared for them to really know and appreciate how you feel about them as a result, heh.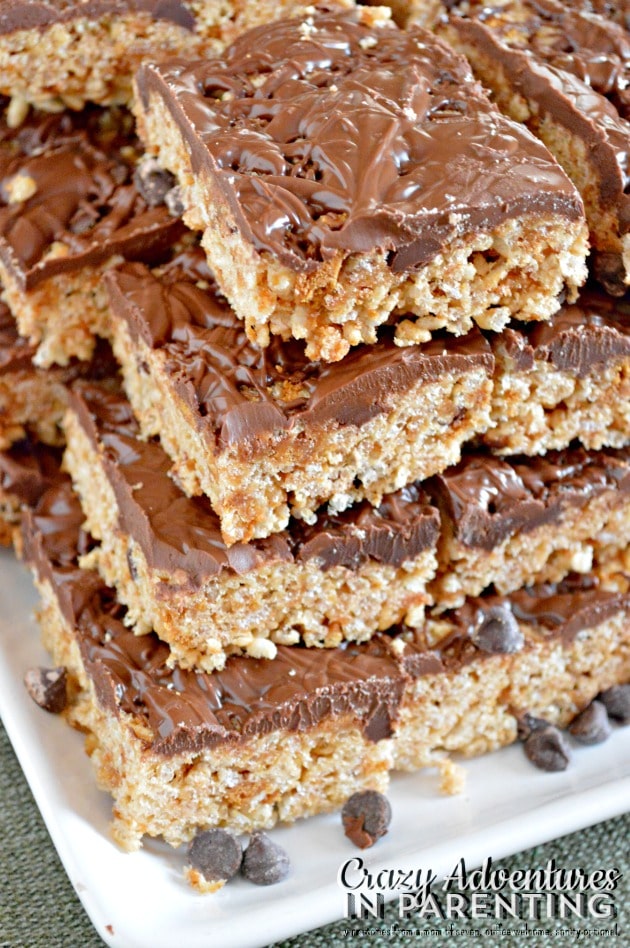 Do you have a favorite Rice Krispies Treats® recipe that you use? What do you do to shake things up with your recipe? Share yours with me in the comments below, or on Twitter and Pinterest using the #easytomake hashtag and show us whatcha got!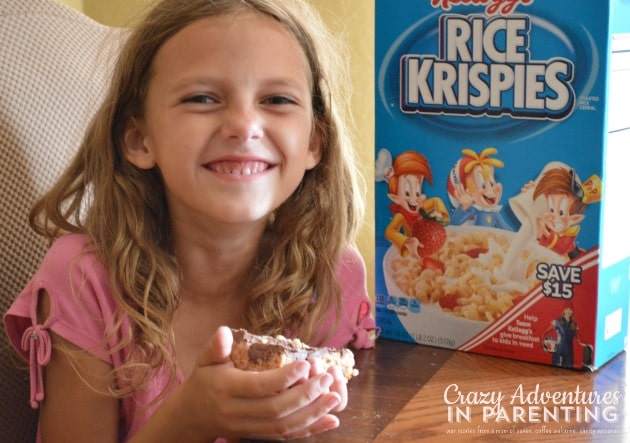 Now, if you need me, I'm gonna be over there in the corner vacillating between snacking on these and doing jumping jacks. (Y'know, so I can keep making and eating more.)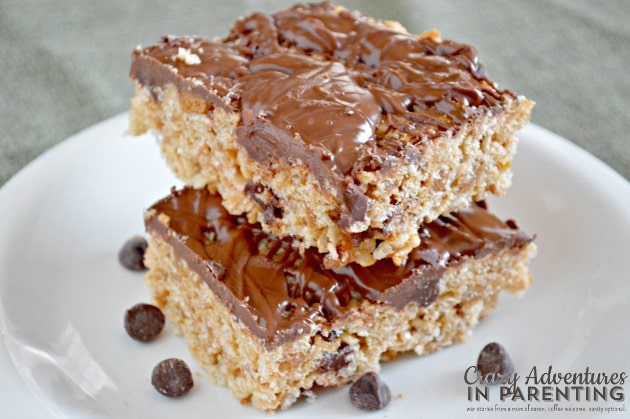 P.S. Full recipe is below! Click for more Nutella Recipes and here for more dessert recipes 😉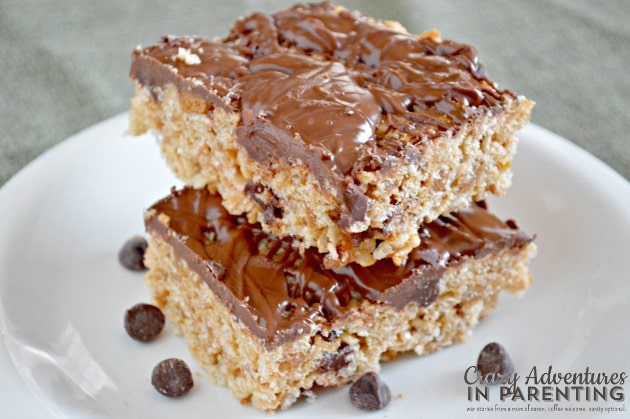 Nutella Cookie Dough Rice Krispies Treats
This is a nuttier, chocolatier twist on the classic Rice Krispies Treats® involving classic cookie dough flavors with a Nutella peanut butter drizzle.
Print
Pin
Rate
Ingredients
For the treats
16oz

bag

mini marshmallows

3

tbsp

butter

½

cup

almond butter

1

package

Biscoff Cookies

pulverized into crumbs

12

cups

Kellogg's® Rice Krispies® cereal

1

bag

Ghirardelli Semi-Sweet Chocolate Chips
Instructions
To make the treats:
Line wax/parchment paper into two 13×9 baking pans.

Pulverize the cookies in a food processor.

Melt 3 tbsp butter in a medium saucepan; add in the marshmallows and almond butter.

Mix until melted and smooth, making sure all the marshmallows are fully melted.

Pour the cereal into a large bowl and add in the pulverized cookies.

When melted, add the marshmallow mixture into the cereal and mix quickly.

Once fully mixed, sprinkle chocolate chips in gently as you pour into the pan.

Add more chocolate chips to the top before pressing down into the pan.

Top with another piece of wax/parchment paper over top and use a roller to press down the mixture firmly and evenly.

Repeat with the other pan, set both pans aside.
To make the drizzle:
Place butter in a small saucepan on medium; add in your chocolate chips, peanut butter and Nutella.

Stir gently but repeatedly with a rubber spatula until all the chocolate chips melt and the nut butters are blended well, and the mixture begins to liquify easily.

Remove from saucepan as you drizzle with the rubber spatula over each pan of treats.

Continually dip the spatula into the mixture and drizzle over top, returning to heat every 3 or 5 drizzles to keep it warmed and fluid, making it easier to drizzle.

Continue until all the Nutella mixture has been used.

Place the pans into the freezer for at least 15 minutes until drizzle sets to make it easier to cut.