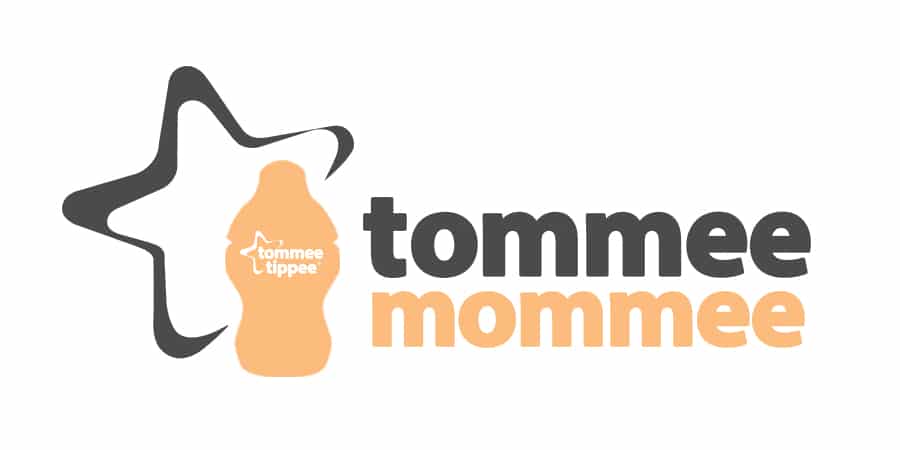 I'm excited to share with you that I'm now a Tommee Tippee Ambassador called a Tommee Mommee! I'm going to be sharing with you some fun products, news, and giveaways, woohoo!
If you aren't familiar with Tommee Tippee baby and toddler products, I'd like to share with you some of our favorites!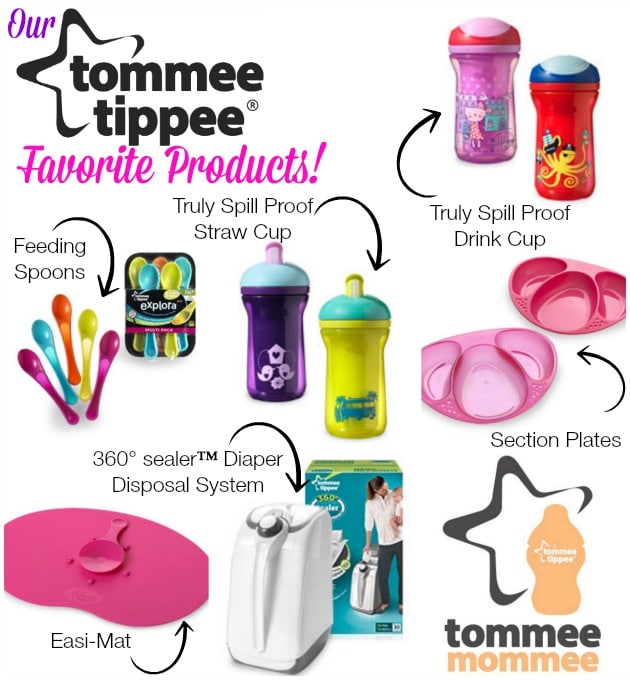 Truly Spill Proof Drink Cup – From me: If your toddler's anything like mine, she likes her messes the dirtier the better. My daughter has taken spills to a new level, painting with her juice or milk on the regular. Blerg. Thankfully, this Truly Spill Proof Drink Cup saves my bacon and prevents her from more toddler Picassos on my floor.
From the site: Our Explora Truly Spill Proof Drink Cup has a sipper spout specially designed to help your toddler practice open-cup drinking – and it's non spill. The Truly Spill Proof Drink Cup looks just like a fashionable grown-up cup, with a sipper spout that encourages open-cup drinking action. What's more, it's insulated too, so your toddler's drinks stay cooler, fresher and more thirst-quenching for longer.
Feeding Spoons – From me: She might not be eating baby food anymore, but these spoons are perfectly her size still, and great for cereal, yogurt, apple sauce, mac and cheese and more. Plus their colorful, fun, and adorable.
From the site: Our Feeding Spoons are designed with a big chunky handle for an easy grip, and a wide spoon base to scoop up and hold food in place, perfect for helping your baby feed themself and enjoy a fuller feed.
Truly Spill Proof Straw Cups – From me: These, too, are spill proof, and save my sanity when she feels the need to drink from a straw cup like we do. They're easy to flip-up and down as needed.
From the site: Our Explora Truly Spill Proof Straw Cup is designed to help toddlers learn to drink from a straw – and it's non spill! The Truly Spill Proof Straw Cup features a super-soft silicone straw that's gentle on little mouths, while its flip-top lid keeps things reassuringly clean. Like all our Explora cups it's truly non spill, and it's also insulated to keep drinks cooler and fresher for longer.
Section Plates – From me: At this age, I'm a huge fan of section plates, especially ones with nice deep wells like these. Toddlers can be particularly messy when feeding themselves, but these deep wells allow Baby V to move the food up the wall with her spoon so that it stays on her plate as she raises her utensil to her face.
From the site: Our Section Plates are perfect for family mealtimes: the 3 sections mean you can introduce your toddler to new tastes without them all merging into one. And because they fit with our Easi-Mat, there's less mess too.
Easi-Mat – From me: This. Is. Amazing. Baby V is a big fan of picking up her plate and "accidentally" spilling her food on the floor. Now, these "accidents" are a thing of the past. Did I mention how amazing these are? Because they are.
From the site: Our Easi-Mat works with all our plates and bowls, holding them firmly in place using a suction device in the middle of the mat that prevents your little one from moving, throwing or even tipping them up, making mealtimes a lot less messy.
360° sealer™ Diaper Disposal System –  From me: This I haven't gotten my hands on quite yet, but I'll have it soon, and I am SO EXCITED at the idea of sealing her diapers into something smell-proof and ridding me of the stinky-stink that comes from my baby's behind. With all this delicious "big people" food she's been eating, she's been FOUL and OMG, I just can't wait to try this!
From the site: The innovative 360° sealer™ Diaper Disposal System from tommee tippee® is a unique diaper pail that seals each dirty diaper, all the way around in antimicrobial film, helping to lock in odor. The system is easy to set up, easy to use and easy to empty, meaning you can spend less time changing and more time with baby.
Have you tried Tommee Tippee products before?
Which are your favorites? Which ones would you like to try?