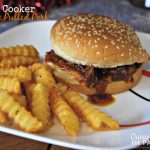 Print Recipe
Slow Cooker Barbecue Pulled Pork Sandwiches
This slow cooker dish is flavorful as well as easy, combining your favorite finger-lickin' barbecue sauce with a tangy marinade with seasonings.
Baste your meat slightly with the Carbonell© olive oil, and baste a medium-sized pan and/or slow cooker with the olive oil, too.

Grind the salt and pepper onto the meat, sprinkling the mustard and chili powder onto it, too, rubbing the seasonings into the meat and oil and place into the pan.

Brown the pork on all sides, cooking about ten minutes.

Place the pork into the slow cooker; add the onions, garlic, barbecue sauce, and marinade; cook on high.

After 6 hours or so, when fork inserted into the pork breaks it apart effortlessly, use two forks to pull at the meat gently to tear it into shreds (if cooked completely, will be effortless. If not, it'll need extra cooking time)

Let cook for an additional fifteen minutes, then place on buns and serve.