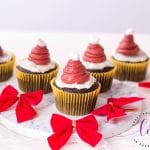 Print Recipe
Santa Hat Cupcakes with Homemade Frosting
This Easy Santa Hat Cupcakes Recipe is made with chocolate cupcakes, homemade buttercream frosting, and mini marshmallows! Bake these Christmas Santa Hat Cupcakes for your next holiday party!
Ensure your cupcakes are cool before decorating, you don't want your frosting to melt right off your cupcake, do you?

In a medium sized bowl using an electric mixer, beat together butter, sugar, and milk on medium speed, gradually increasing it to high. Once the ingredients are combined and form stiff peaks, your buttercream is ready.

Scoop out about ¼ cup of white buttercream and with an offset spatula and frost each cupcake.

Add cocoa to your remaining buttercream and mix on high. Add red gel food coloring and mix until completely tinted.

Using a piping bag, pipe out a tall, triangular shape onto each cupcake – like a cone.

Cut each mini marshmallow in half and top the buttercream hats.

Enjoy and happy holidays!