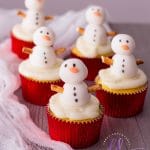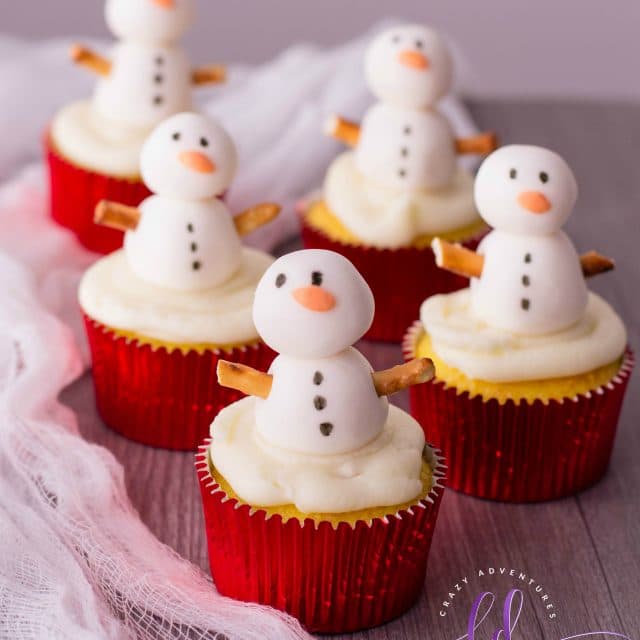 Print Recipe
Snowman Cupcakes
Learn how to make and decorate these absolutely adorable Snowman Cupcakes with this easy Snowman Cupcakes Recipe!
Ensure that your cupcakes are cool before decorating.

Start by making your buttercream. In a stand mixer, beat butter, icing sugar and milk on high until smooth.

Scoop buttercream in a piping bag and frost each cupcake.

Roll out 12 1 ½ inch fondant spheres. Then, roll out 12 1-inch fondant spheres.

With your black marker, draw two eyes on the smaller spheres for the snowman's eyes. On the larger spheres, draw three black dots, going down in a vertical line for the snowman's buttons.

Form small "carrot" fondant pieces with your orange fondant. Place on snowman's face, this will act as his "carrot nose."

Insert a toothpick in one of the larger fondant spheres, leaving the toothpick sticking out on both ends. Insert the bottom portion of toothpick into a cupcake. Take a snowman head and place on top. Do this for every cupcake.

Snap off little pieces (you'll need 24) of your mini pretzels and insert one the sides of snowman. These will act as his "tree branch" arms.

Enjoy and happy holidays!