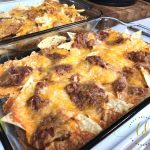 Print Recipe
Barbecue Pulled Chicken Nachos
It doesn't get any easier for weeknight and school night meals than preparing an easy dinner like this Barbecue Pulled Chicken Nachos recipe. This is just a three ingredient meal! So simple for those busy weeks when, after a long day at work and shuffling kids to and from practices, the last thing you want to have is fast food or to prepare an intricate dinner!
For the nachos:
4

bags

tortilla chips

I use Santitas

2

containers

Curly's Barbecue Pulled Chicken

large

family-size bag of shredded mexican cheese

(I use Lucerne 4-cheese blend)
Optional:
Chopped green onions

Diced white onions
You will also need:
In a sprayed 13x9 pan, with a layer of tortilla chips down, place dollops of the unheated barbecue pulled chicken onto the chips. I use almost a tablespoon per dollop.

Next is the generous application of shredded cheese (and I mean GENEROUS). I get the 2lb bag of cheese from the grocery store to ensure I have enough.

After you've cheesed up the first layer, g'head and add more tortilla chips, more dollops of barbecue pulled chicken, and another generous cheesing.

Spray your foil (so the chips don't stick), wrap your 13x9 pans, and bake until bubbly.

You can remove the foil and let it brown a little for about 5 minutes more if you wish.