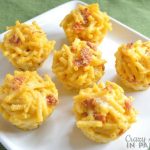 Print Recipe
Mac and Cheese Pizza Muffins
Using Horizon Organic products, these Mac and Cheese Pizza Muffins are super easy and tasty for your kids going back to school for a yummy school lunch!
1

box

Horizon Organic macaroni and cheese

whichever variety you prefer

Horizon Organic milk and butter

Horizon Organic shredded mozzarella cheese

Simple Truth pepperoni and turkey

or other meat/pizza toppings

Fresh ground salt and pepper

Parmesan cheese
Prepare the macaroni and cheese as per the instructions on the box, adding milk and butter once cooked and drained.

Preheat the oven to 350 degrees.

Spray your

silicone muffin cups

with cooking spray and set aside.

Once macaroni and cheese has been fully prepared, stir in a handful of mozzarella cheese and chopped pizza toppings.

Season generously with salt, pepper, garlic powder, and oregano.

Mix well in the pot, until the mozzarella cheese has melted well.

Add spoonfuls of the pizza mac and cheese mixture into the sprayed silicone cups, pressing down to allow you to overfill them.

Sprinkle parmesan cheese over top before baking in the oven for 5-10 minutes, until slightly browned on top.

Let cool before peeling the cups from the muffins.

Serve or refrigerate.