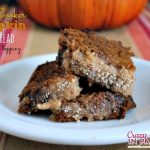 Print Recipe
Overnight Slow Cooker Pumpkin Beer Bread with Crumb Topping
This easy slow cooker pumpkin beer bread recipe makes a LOT of pumpkin bread that can be refrigerated or frozen for later.
Spray your slow cooker/crock pot with cooking spray.

In a large bowl, mix together pumpkin, eggs, butter, applesauce, beer, both sugars and syrup until well blended.

Add in the baking soda, salt, cinnamon, nutmeg, cloves and ginger (I add plenty of the spices to 'pepper' the mixture well).

Add in one cup of flour at a time, mixing fully before adding another cup.

Mix your crumb topping together with a pastry blender, two knives, or using your hands, until it forms the crumble.

Pour into the sprayed slow cooker/crock pot.

Sprinkle generously the crumb over top.

Bake on low overnight.

Bread is done when a toothpick/skewer/knife inserted in center comes out clean.