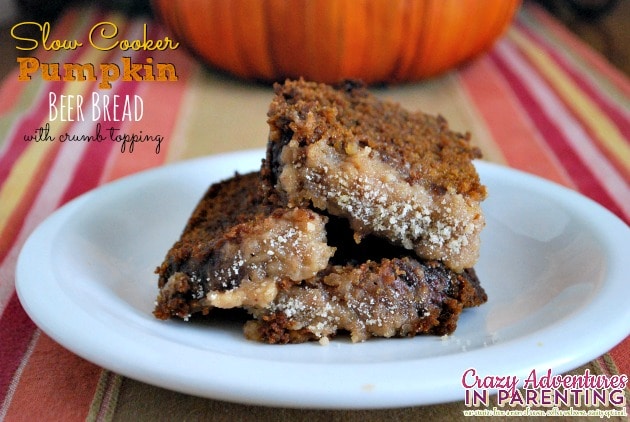 You already know my kids looooooove my Pumpkin Bread recipe. So much so, it leads my kids to a life of crime, forcing me to solve the "WHO DUN IT?" mysteries around the house, tracking a trail of pumpkin bread crumbs to the culprit. Last night, after a long day of reorganizing the pantry, laundry room, and kitchen, as I finally sat down, sipping a cold and refreshing Pumpkin beer, it totally hit me – what if I made my Pumpkin Bread recipe a Pumpkin Beer Bread recipe, and cooked it in my slow cooker overnight?
OMG.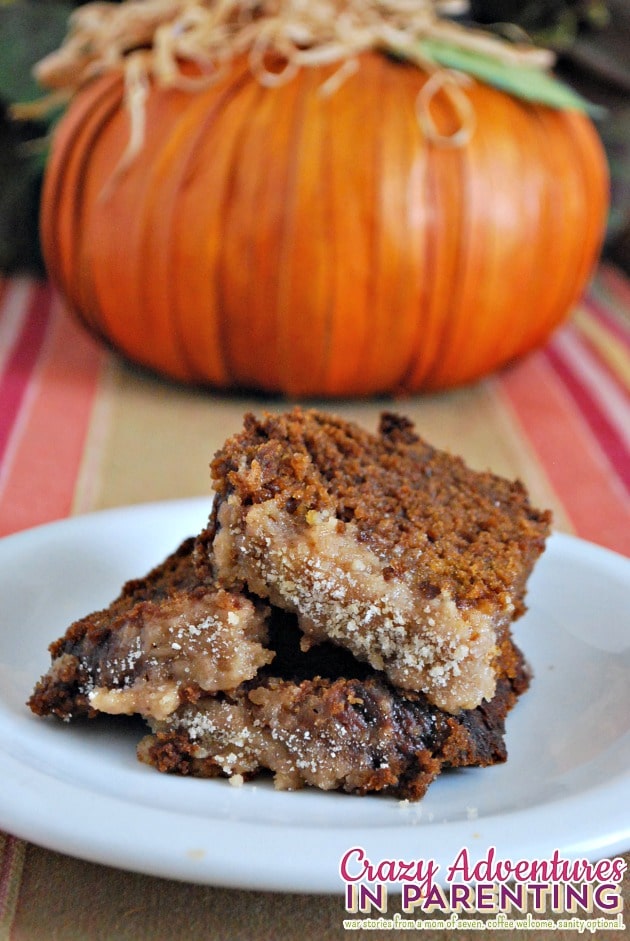 I did. I totally stood up right at that moment and made it. Because I was still on a roll from my homemaking organizing awesomeness and even though I deserved to sit, I couldn't be stopped. 25 minutes later, my magical idea was finished and poured into my slow cooker, turned on low, and ready to surprise my kids the next morning.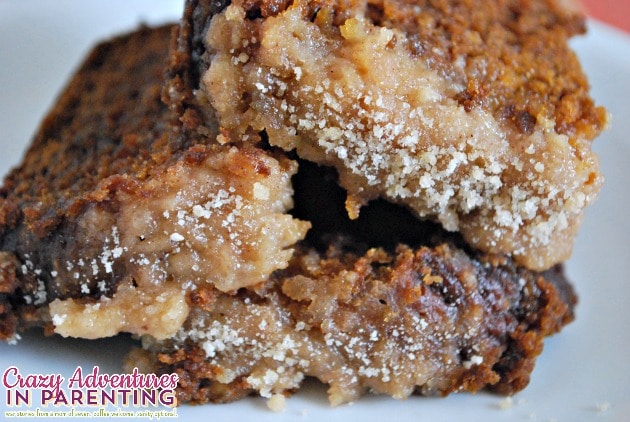 As soon as I took the lid off, this is what I saw: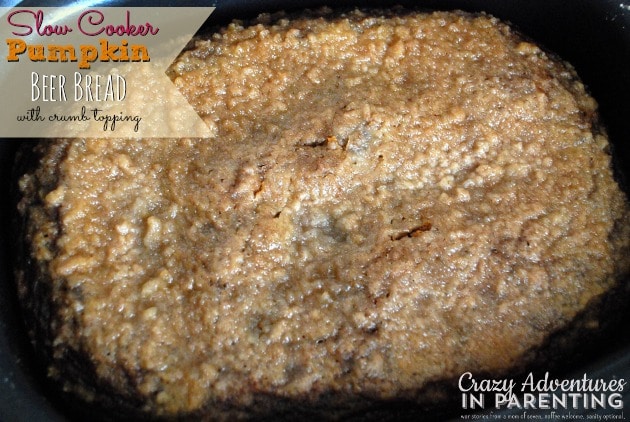 The crumb had gotten moist from the steam inside the slow cooker (but it tasted oohhhh so good). I had a little extra, so I sprinkled more on top before cutting and serving.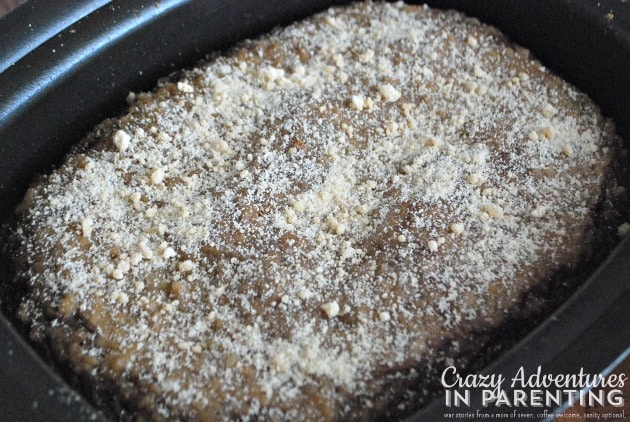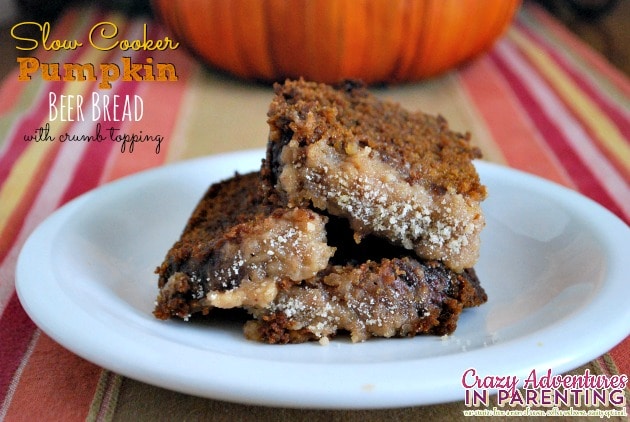 Overnight Slow Cooker Pumpkin Beer Bread with Crumb Topping
This easy slow cooker pumpkin beer bread recipe makes a LOT of pumpkin bread that can be refrigerated or frozen for later.
Print
Pin
Rate
Instructions
Spray your slow cooker/crock pot with cooking spray.

In a large bowl, mix together pumpkin, eggs, butter, applesauce, beer, both sugars and syrup until well blended.

Add in the baking soda, salt, cinnamon, nutmeg, cloves and ginger (I add plenty of the spices to 'pepper' the mixture well).

Add in one cup of flour at a time, mixing fully before adding another cup.

Mix your crumb topping together with a pastry blender, two knives, or using your hands, until it forms the crumble.

Pour into the sprayed slow cooker/crock pot.

Sprinkle generously the crumb over top.

Bake on low overnight.

Bread is done when a toothpick/skewer/knife inserted in center comes out clean.
Doesn't it look incredible? It tasted as good as it looks. And it makes A LOT. You'll have breakfast for almost a week! (Wouldn't this be a nice surprise treat for a school lunch?)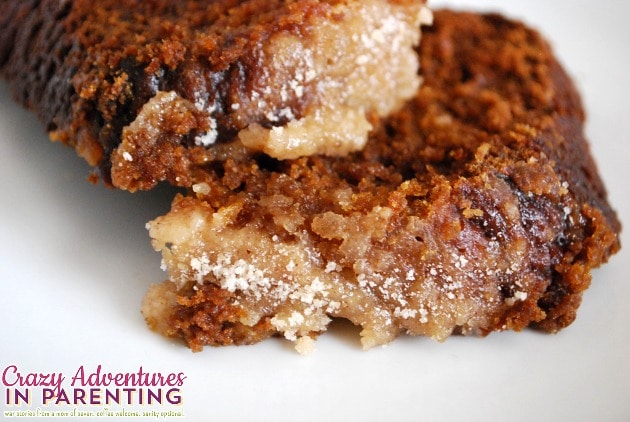 What do you think? Do you think your family would love this surprise for breakfast one morning (like my Slow Cooker Overnight Breakfast Casserole)? Be sure to check out my full list of recipes and my Operation Awesome School Lunch page for great school lunch ideas.

Disclosure: This dish was prepared in my Ninja Cooking System a product sent to me to try, and I am so freaking in love with it. Beware, many more ninja cooking system recipes with this forthcoming.
Current ninja cooking system recipes: The BEST Homemade Chili Recipe
Slow Cooker Potatoes au Gratin
Slow Cooker Overnight Breakfast Casserole
Crock Pot Spinach Artichoke Dip Lasagna
Knock Your Socks Off Pork Carnitas
Slow Cooker Barbecue Chicken
Slow Cooker Chili Tater Tot Hot Dog Casserole