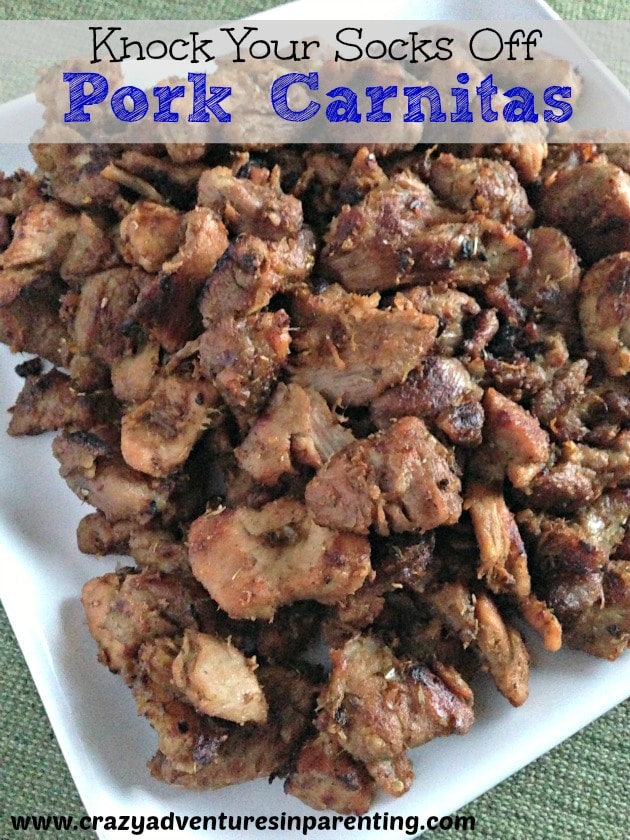 When I originally came across this pork carnitas recipe on Pinterest, I had no idea how addicting this dish was going to be. The ingredients list sounded a little strange at first, but oh, how the flavors melded together to make my mouth happy! With a few flavor-filled tweaks, though, I can promise you, this dish is a real crowd pleaser.
Be forewarned – this is addicting!
Knock Your Socks Off Pork Carnitas Recipe
Knock Your Socks Off Pork Carnitas Recipe
This recipe yields the most juiciest pork carnitas around. Serve with rice and your favorite fixings in a soft-shell tortilla.
Author:
Lisa Douglas - CrazyAdventuresinParenting.com
Ingredients
4 pound boneless pork butt, cut into small 2-inch cubes
2 tbsp minced garlic
2 tsp ground cumin
1 onion, peeled and quartered
2 bay leaves
2 tsp dried oregano
4 tbsp lime juice
2 tbsp lemon juice
2 cups water
4 medium oranges, cut in halves
Salt and pepper (fresh ground preferably)
Items needed:
Cooking spray
Slotted spoon
Spatula
Tin foil
Forks to separate pork
Instructions
Combine all the ingredients into a slow cooker, juicing the oranges over top and adding the spent orange halves into the pot.
Grind fresh salt and pepper generously over top, stirring gently.
Simmer for six hours on low. (If you're in a pinch and need this quick, you can cook on medium heat in a large saucepan instead of the slow cooker until cooked through, too)
If you're preparing this in the oven, preheat your oven to 300. If you're using the grill, start your grill, but keep the temperature low, using only about half your burners (for our five-burner grill, we used only two burners).
Using a slotted spoon, remove pork from sauce and onto a cookie sheet covered in tin foil and sprayed with cooking spray in a single layer; be careful to leave the orange peels, onions, and bay leaves in the pot.
Transfer the sauce and leftovers to a pot on the stove (including spent orange peels).
Stir repeatedly as you simmer over medium-high heat to reduce the liquid and get it to thicken to a syrupy gravy (should take about 20-30 minutes to thicken properly).
While the sauce is being prepared, place the pork either in the oven or on the grill. If in the oven, keep it on the foil-wrapped cookie sheet. If on the grill, slide the foil off the cookie sheet and gently onto the rack of the grill, slowly.
For oven preparation, turn the pork pieces over gently one time while the sauce prepares, monitoring the progression through the oven door.
For grill preparation, turn the pork pieces over two-to-four times while the sauce prepares, monitoring the pork every five minutes if not sooner.
Once the liquid has thickened, using a spatula and large spoon, press the spent orange peels into the spatula with the spoon to drain all the juice and sauce from it.
Scrape the orange halves and set aside in a bowl along with the spent bay leaves.
You should have approximately 1 cup of pork sauce remaining once finished.
Pour the sauce over the pieces of pork, folding the pork into the sauce in until each piece of pork is coated nicely; spread pork back out into a single layer.
You can separate your pork pieces gently with two forks while mixing if you'd like.
Taste a piece of pork here and re-season here with salt and pepper, lightly with cumin and oregano, too, if needed.
Continue to cook and flip the meat here until the pork is well-browned and edges are slightly crisp, about 10 minutes.
Remove from heat.
Serve with your favorite taco fixings in a tortilla, and enjoy!
Look at this gorgeous progression of the meat being prepared here. Every time I flipped it over, I took a picture. Gorgeous, isn't it?

I promise you, these are one-of-a-kind, and I think you're going to love them. Have you ever had pork carnitas before?

Disclosure: This dish was prepared in my Ninja Cooking System, a product sent to me to try, and I am so freaking in love with it. Beware, many more ninja cooking system recipes with this forthcoming.
Current ninja cooking system recipes: Slow Cooker Potatoes au Gratin
Slow Cooker Overnight Breakfast Casserole
The Best Homemade Chili Recipe
Slow Cooker Barbecue Chicken
Crock Pot Spinach Artichoke Dip Lasagna
Overnight Slow Cooker Pumpkin Beer Bread with Crumb Topping