It was almost 70 degrees yesterday, and the weather was begging for some barbecue to be made. What originally was going to be baked chicken in the oven became grilled chicken, all thanks to the delicious sun and spring-like temps. But with all the chicken pieces now being happily prepared on the grill, leaving no room for grilled baked potatoes, since our favorite default is usually mashed potatoes (and over-used at times), I had to dig into my potato bag 'o tricks to do something different. Something tasty. And marvelous. And easy.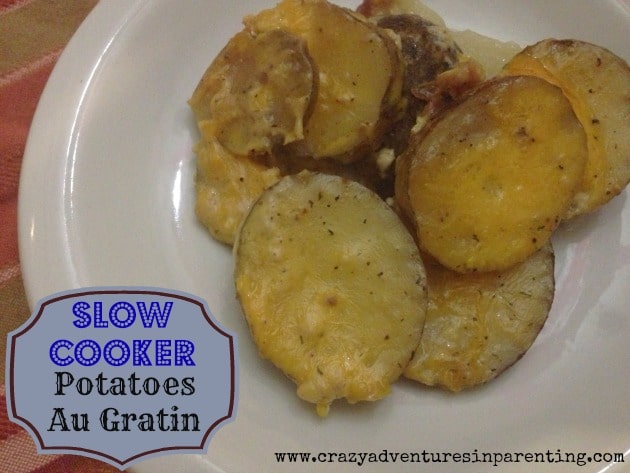 Slow Cooker Potatoes Au Gratin
Slow Cooker Potatoes Au Gratin
This slow cooker spin on potatoes au gratin add a little something special and different to your dinner menu.
Ingredients
8 whole potatoes, scrubbed with peels left on
4 Tablespoons butter, softened
3 cups milk
4 Tablespoons flour
3 teaspoons minced garlic
2 teaspoons salt
1 teaspoon ground mustard
Plenty of freshly ground black pepper (to taste)
2 cups sharp cheddar cheese, freshly grated
Instructions
With a basting brush, spread the softened butter all over the bottom of the slow cooker.

Cut potatoes into slices, as thick or thin as you'd like, and place in bowl and set aside.

In a separate bowl, whisk together milk, flour, minced garlic, salt, mustard, and black pepper.

Place ⅓ of the potatoes in the bottom of the baking dish. Pour ⅓ of the milk mixture over the potatoes.

Repeat this twice more, ending with the milk mixture on top.

Season once more.

Cover with slow cooker top and set on low for 4 hours.
After 3½ hours, remove foil and grate fresh cheddar over top.

Continue to cook in slow cooker for 20-30 more minutes.

Spoon carefully onto plates and let cool a few minutes before serving.

By preparing these potatoes ahead of time, to cook in the slow cooker, it helped us get everything else grilled and ready. Go on, grab a fork and dig in!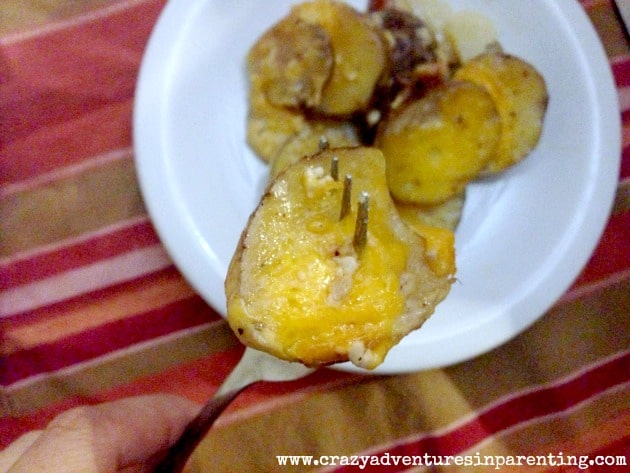 I promise you, this is a classic dish without being overly intricate.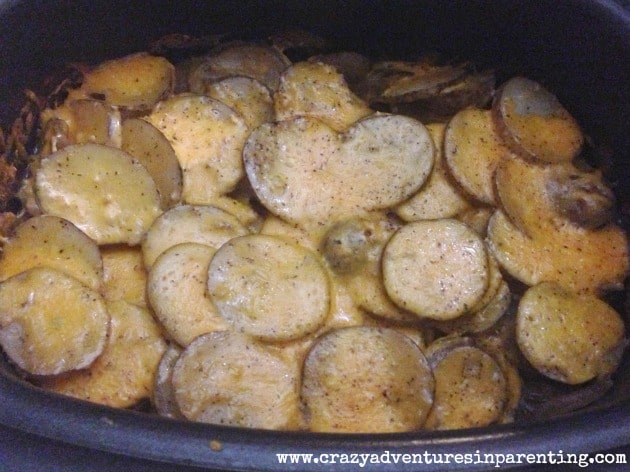 What do you think, do you like potatoes au gratin, too?
Disclosure: This dish was prepared in my Ninja Cooking System, a product sent to me to try, and I am so freaking in love with it. Beware, many more ninja cooking system recipes with this forthcoming.
Current ninja cooking system recipes: Crock Pot Spinach Artichoke Dip Lasagna
Slow Cooker Overnight Breakfast Casserole
The Best Homemade Chili Recipe
Slow Cooker Barbecue Chicken
Knock Your Socks Off Pork Carnitas
Overnight Slow Cooker Pumpkin Beer Bread with Crumb Topping