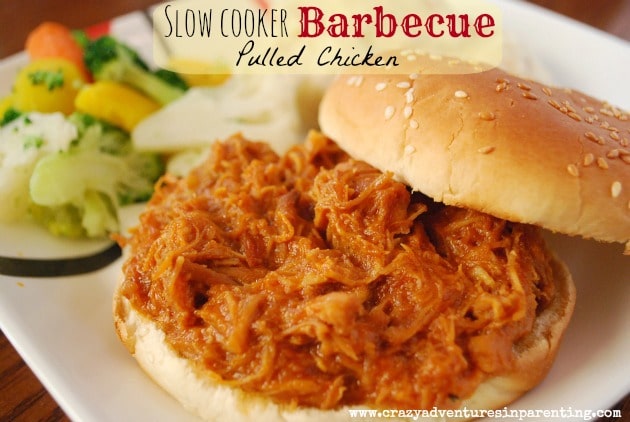 Ohh, friends. You're in for a real treat. This Barbecue Pulled Chicken recipe is one of those meals that you invite the neighbors over to enjoy. One of those meals you bring to a pot luck. And the beauty of this dish is it's simplicity – it tastes intricate, but it's actually not in the least.
Another fantastic thing is that you can really make it your own – start off with my ingredients and add to it, if you'd like. Want to kick it up a notch? Add some freshly diced jalapeño peppers. You can also mince some onion or bell peppers for color. The skies the limit!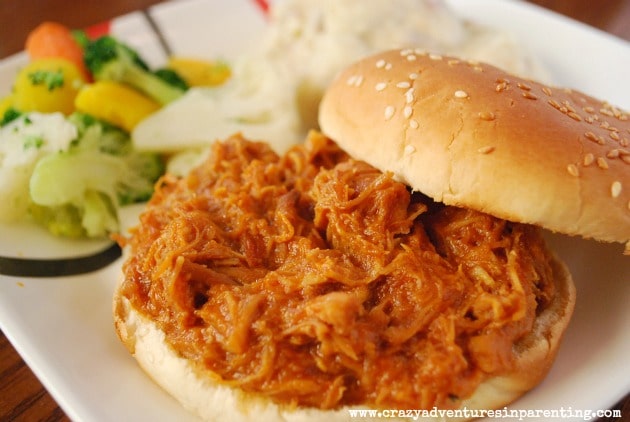 Slow Cooker Barbecue Pulled Chicken
Slow Cooker Barbecue Pulled Chicken
This simple barbecue pulled chicken recipe uses boneless thighs in the slow cooker with a homemade barbecue sauce. So delicious!
Ingredients
3-4 lbs. boneless skinless chicken thighs (you can buy them boneless or debone them yourself)
2 T olive oil
3 cups ketchup
¾ cup light brown sugar
⅓ cup Worcestershire sauce
3 T cider vinegar
3 T raw honey
3 T yellow mustard
2-3 T molasses
1 T ground mustard
3 T garlic powder
3 T onion powder
1 tsp ground red pepper
2 tsp minced garlic
pinch of celery seed
salt & pepper as needed (I have grinders for both)
Instructions
Lightly salt and pepper each chicken thigh and saute in large skillet with olive oil for about three-to-four minutes on each side, until browned slightly. (You're not cooking thoroughly here, you're just browning slightly to seal the juices into the chicken thighs.)
While cooking chicken in the skillet, combine the rest of the ingredients in the slow cooker, whisking until thoroughly combined.
Once chicken is browned on both sides, shake chicken over the pan to get the oils off, and start dropping chicken into barbecue mixture in the crock pot, until all the chicken has been sauteed. (You can even choose to place chicken onto a plate with a paper towel or napkin to blot to remove all the oil.)
Lightly toss the chicken in the barbecue sauce, pushing the chicken down into the sauce to completely cover.
Cover the slow cooker and cook on high for one hour; reduce the heat to low without removing the cover, and cook for five to six more hours.
A couple hours before serving (when chicken is fully cooked and is pulling apart when you lift it with a fork), remove the chicken from sauce with a slotted spoon and onto a plate to pull and shred it apart (I use two forks for this).
Return the shredded chicken back into the barbecue sauce and stir; taste.
Add in more seasonings and sauces here as you see fit. (You might want a tad more Worcestershire and molasses here if it seems too light. But add a little at a time, and taste-taste-taste!)
Cover and continue to cook until dinner time.
Once it's time to serve, spoon chicken with ample sauce onto hamburger buns (you can toast the buns to hold up to the barbecue sauce).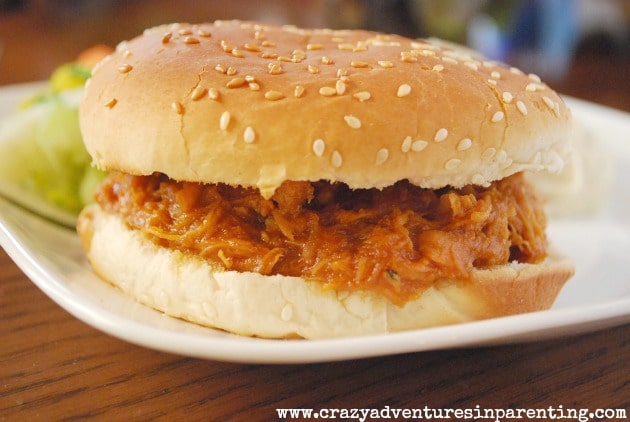 I served mine on a toasted sesame seed bun. Toasting it slightly helps it hold up to the weight of the chicken and sauce.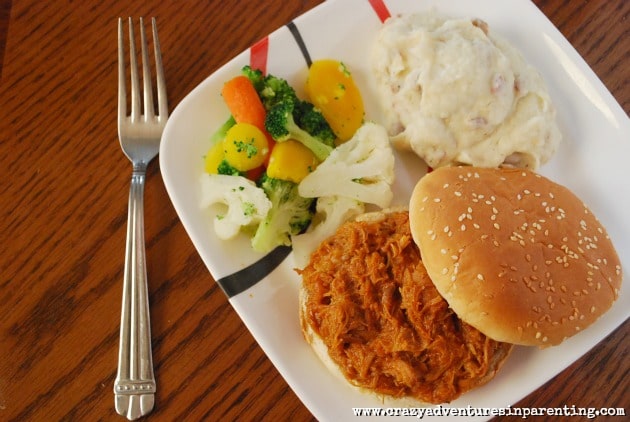 I love how fine it gets after cooking for so long, it practically melts in your mouth. It's like the chicken version of a sloppy joe, except better.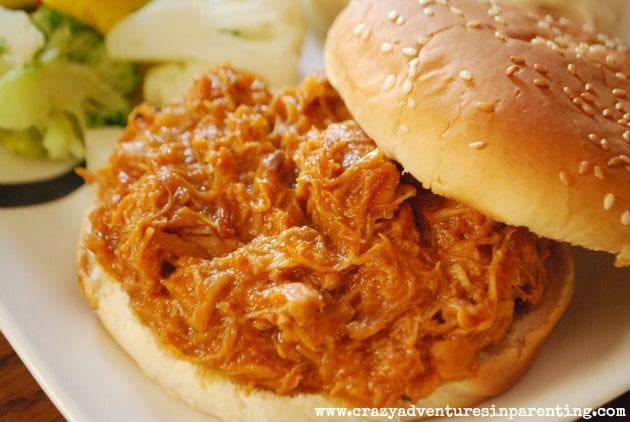 I served mine with some homemade smashed potatoes and a Normandy vegetable medley. So yum! Each plate was licked clean. I'd say that was a compliment!
Are you a fan of barbecue pulled sandwiches? Have you ever tried it with chicken before?
Disclosure: This dish was prepared in my Ninja Cooking System, a product sent to me to try, and I am so freaking in love with it. Beware, many more ninja cooking system recipes with this forthcoming.
Current ninja cooking system recipes: Slow Cooker Potatoes au Gratin
Slow Cooker Overnight Breakfast Casserole
The Best Homemade Chili Recipe
Crock Pot Spinach Artichoke Dip Lasagna
Knock Your Socks Off Pork Carnitas
Overnight Slow Cooker Pumpkin Beer Bread with Crumb Topping