What a fantastic way to wake up – to the sweet, scrumptious smell of breakfast already ready for you. There's nothing more fantastic to walking into a kitchen with breakfast already prepared, ready to serve, piping hot, and eager to be devoured. It makes me Carlton Dance kind-of happy.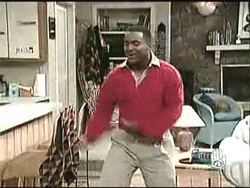 What if I told you that it required little more than a couple extra minutes in your evening?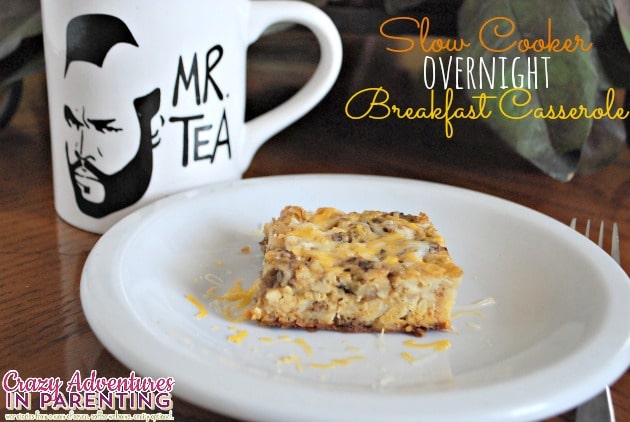 Slow Cooker Overnight Breakfast Casserole
You definitely want to make this just before you go to bed. You don't want to sit there, watching TV, and smelling this deliciousness. Trust me. We learned that the hard way on Christmas Eve; this was cooking in our crock pot for an easy Christmas morning breakfast (that went over like GANGBUSTERS) and we were STARVING smelling this while wrapping presents. GAH!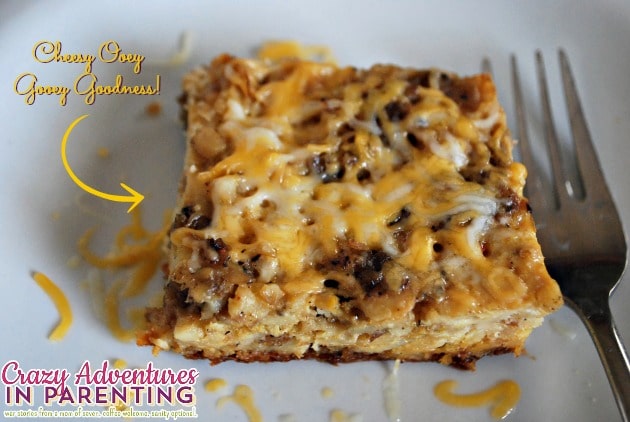 Slow Cooker Overnight Breakfast Casserole Recipe
This helped make our first day back to school this morning run SO much smoother for us. 6:30am was not kind to us, but it was definitely helpful to have breakfast already ready.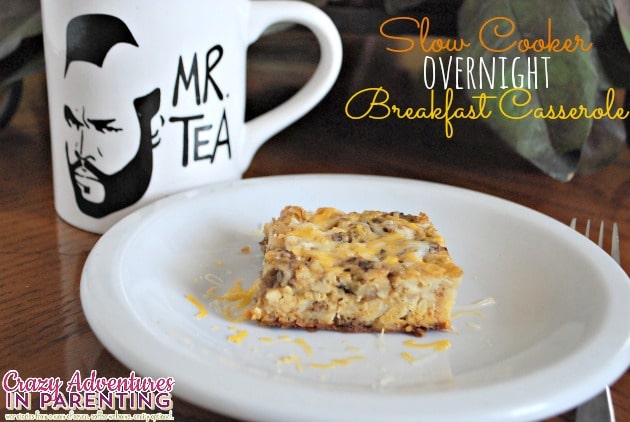 Slow Cooker Overnight Breakfast Casserole
This breakfast is a quick fixer-upper that's super easy and super delicious to wake up using minimal effort
Print
Pin
Rate
Ingredients
10

eggs

whisked

1/4

cup

milk

whisked with the eggs

1

package

pork breakfast sausage roll

uncooked (can use a package of uncooked bacon, too)

1/2

bag

shredded hash browns

frozen

1/2

cup

shredded cheddar cheese

seasoning to taste

salt, pepper, garlic powder, onion powder, Mrs. Dash Table Blend, etc.
Instructions
Before you go to bed the night before you want to serve, spray cooking spray into your crock pot in the bottom and all along the edges.

Place your sausage first, breaking it into small pieces.

Lay shredded hash browns over top, sprinkling evenly over the sausage.

Season the hash browns/sausage mixture before adding the eggs

Pour whisked eggs over top the potatoes and sausage, ensuring everything is covered in egg.

Season a little again on top and cover to cook on "low" overnight.

(TIP: Don't forget to ensure your crock pot will not shut off after a certain time without staying warm some how)

Moments before serving, sprinkle shredded cheese over top to melt.
What do you think? Is this something that would go over HUGE in your family, too?
Be sure to check out my recipe index for more tasty recipes like these.
Disclosure: This was cooked in my Ninja Cooking System, a product sent to me to try, and I am so freaking in love with it. Beware, many more ninja cooking system recipes with this forthcoming.
Current ninja cooking system recipes: Slow Cooker Potatoes au Gratin
Crock Pot Spinach Artichoke Dip Lasagna
The Best Homemade Chili Recipe
Slow Cooker Barbecue Chicken
Knock Your Socks Off Pork Carnitas
Slow Cooker Barbecue Chicken
Overnight Slow Cooker Pumpkin Beer Bread with Crumb Topping