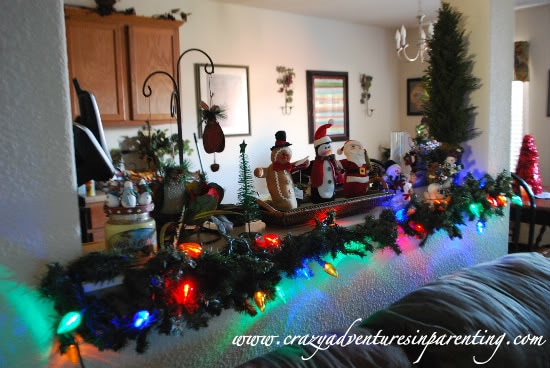 The Christmas tree and decorations are still up.
I hate taking down holiday decorations.
I am addicted to the twinkling LED lights at night. I hate the "after" to the holidays, when the house suddenly becomes so bare, so undecorated, so unjolly. When our porches are no longer lit with sparkling lights illuminating the night and our walls, ceilings, door frames and surfaces are a lot less exciting.
Each year I shop the after-Christmas sales and pick up marked down holiday decorations. It's like opening Christmas gifts when decorating for the holidays, finding the new gems I picked up – new things to decorate. We try to add to our decor every year.
But this year I"m resisting. I don't look forward to taking it all down, it's such a chore, it isn't nearly as happy-inducing as it was putting it up, gathering the kids around to get into the holiday spirit. It also doesn't help we put up our tree later this year than normal, so I feel it hasn't been up long.
I will say how thrilled I am to have an artificial tree, probably one of the scarce "artificial" things you'll find in our house given our organic and all-natural lifestyle, but my heart can't bear cutting down, then loving on a real tree for a couple weeks, only to watch it slowly die, to then be tossed out like the weekly garbage (even if they are recycled to mulch). My love for trees is a strong one. I hug them, I don't cut them down. And so, I embrace this artificial tree as one of the members of our family.
Are you as reluctant to take down holiday decorations as I am, or did you do as soon as the holiday ended? I'd love to hear your thoughts.